Swaddle vs sleep sack – discover the differences and what's right for you
Swaddle vs sleep sack – discover the differences and what's right for you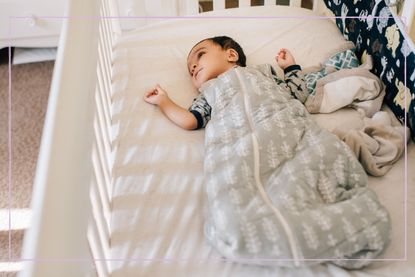 (Image credit: Getty images / Future)
The swaddle Vs sleep sack is one of those debates you never thought you'd have... and then you had children and can't stop researching it.
Sleep is such a huge topic for new parents. Deciding whether to wrap up your little one in one of the best swaddles or opt for a sleep sack can feel like a huge dilemma. How best to keep little ones safe, warm, and secure is any parent's priority. While broken nights are tiring, ensuring your baby is sleeping safely is vital to keep the risk of Sudden Infant Death Syndrome to a minimum.
Rest assured, whichever choice you make between the swaddles and sleep sacks it will be the right thing for you and your family. Baby Sleep the Night sleep consultant Sophie Wilkinson agrees that how you decide to prepare your baby for sleep is a personal decision: "Ultimately it is an individual preference, and up to you after weighing up the pros and cons."
What are swaddles?
Designed to replicate the safe cocoon of the womb, swaddling is an ancient practice of wrapping up a baby in thin material. Sophie Wilkinson explains, "Swaddling is to wrap your baby up in cloth such as a square muslin. Swaddling has been used throughout the world since 4000BC. Swaddling is usually used in the first few weeks of a baby's life."
Swaddling can also prevent babies from waking themselves up with a start. Startling is part and parcel of a young baby's reflexes but can lead to disturbed sleep.
Louise is a mom of two who has found swaddling really useful. "We tried swaddling as one of the midwives suggested it on the postnatal ward when my son wouldn't sleep at all. It definitely helped. My son's startle reflex was really sensitive so without swaddling he would start to drop off then jolt awake again."
What are sleep sacks?
"A sleep sack," Sophie tells us, "allows arms to be free with the rest of your baby's body in a loose sack maintaining constant temperature, more freedom of movement and feeling cozy but arms not being restricted." Sleep sacks are less restrictive than swaddles. They are used for longer as babies grow and move and develop into toddlers. For this ease, sleep sacks have become popular in recent years.
If you decide to use a sleep sack to get your baby to sleep, Sophie reminds us that you need to be mindful of selecting the right weight and size. Keep in mind the age and size of your baby, the time of year, and the temperature of the room baby sleeps in. "Choose a sleep sack and swaddle appropriate to the size of your baby. Sleep sacks usually come in sizes from 0-6 months, 6-12 months and 12-18 months, 18-24 months, and 24-36 months. Choose a tog appropriate for the room temperature and the night clothes being worn. There is often a temperature and tog guidance sheet to offer advice about the sleep sack tog and ideal clothing."
What is the difference between a swaddle and a sleep sack?
Babies are less restricted but also less cosy in a sleep sack. Sophie explains, "A swaddle is a material wrapped around a baby to hold in their arms and replicate a womb environment and position. A swaddle reduces the moro (startle) reflex from waking your baby by restricting the arm movement."
While both swaddling and sleep sacks are effective, experts remind us that swaddling only has a short shelf life. Parents need to be on the lookout for signs of rolling. Registered midwife Lesley Bland from MyExpertMidwife explains, "A baby will start rolling over from about three to four months old, however some will be early rollers, and some will take longer to master this skill so it is very dependent on the individual. An early sign of rolling is a rocking motion side-to-side as they try to gain momentum."
Which is better for newborns, swaddle or sleep sack?
While babies can sleep in either a sleep sack or a swaddle, swaddling is done while a baby is a newborn. Lesley from MyExpertMidwife tells us, "Swaddling is considered by many healthcare professionals to be a safe technique for soothing and calming an upset or stressed baby. However, it is important to follow safe swaddling and safe sleeping guidance and there are risks associated with swaddling if those guidelines are not followed."
How do you choose between a sleep sack and swaddle?
Lesley reminds us that there are safety guidelines to keep in mind when selecting a swaddle or a sleeping bag: "When swaddling your baby, it is important to use a cloth, blanket or wrap in a thin, breathable material such as cotton or muslin that will reduce the risk of baby overheating. Your newborn baby is unable to regulate their own temperature. Dress baby in temperature-appropriate clothing to avoid them becoming too cold or too warm."
While swaddling promotes cosiness, Lesley warns that babies shouldn't be wrapped up too much: "Do not swaddle your baby too tightly, allow unrestricted movement of baby's legs and hips to reduce the risk of causing complications such as hip dysplasia or dislocation."
Swaddles should be made from cotton or muslin and wrapped so it doesn't become loose. Zip up swaddles are also on the market which can make for an easier option.
Mom of two Sarah has always used sleep sacks: "Personally I could never get the hang of swaddling; my sons would always wriggle free. I know the sleep sack will keep my son warm when he fidgets in the night. We've now got a collection of sleep sacks in different sizes and togs."
What age do babies transition from a swaddle to a sleep sack?
Experts recommend parents keep an eye on developmental milestones. It's best to move babies out of swaddles and into sleep sacks before baby can roll over.
Sophie says, "I would suggest using a swaddle up until the age of 9 weeks and certainly before your baby can roll or becomes more mobile. A sleep sack can be used up until your baby moves into a toddler bed, after the age of 2.5 years. The sleep sack can be upgraded to a different size as your baby grows and removed when your child moves into a bed with a duvet."
Do experts recommend sleep sacks or sleep swaddles?
Neither method is thought to be better than the other. Most important, as outlined by the American Association of Paediatrics is practicing safe sleep and remaining aware of the risks of SIDS.
Recently the AAP issued a warning to parents not to use weighted sleep sacks or blankets. Babies' sleep environments must also be kept clear of other bedding and should be on a flat surface. Lesley reminds us, "It is important to follow safe swaddling and safe sleeping guidance and there are risks associated with swaddling if those guidelines are not followed. Never place an unsupervised baby, a swaddled baby, or a sleeping baby on their side or tummy as this can lead to suffocation."
Conclusion
How you choose to get your baby ready for sleep is a personal choice, as Lesley adds, "Not all babies enjoy being swaddled, after all they are all individuals with their own likes and dislikes. An age and weight appropriate sleeping bag allows their arms and legs to move freely without feeling restricted."
Related features:
Video of the Week:
Jo is a freelance journalist, writing for newspapers, magazines and websites such as Good Housekeeping, Grazia, Mother & Baby, The Daily Telegraph, Daily Express, Daily Mirror, Bella, Yours and Woman&Home. Jo started out in entertainment journalism and has scurried up plenty of red carpets and interviewed stars such as Joan Collins, Dawn French, Jane Fonda and Julie Walters. These days, she mainly covers health, parenting, lifestyle and consumer news but is always keen to vent in an opinion piece or dust off her schmoozing skills and interview a celeb. When not writing (and reading) Jo loves to get outside, wear out her two sons on a beach, drink good coffee and expand her baking repertoire.