Cobweb eye make-up tutorial
A few nifty tricks and a trusty eyeliner are all you need to pull off this spooky Halloween make-up look.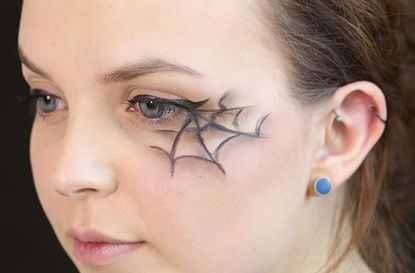 We might be scared of spiders when we find them lurking in the bathtub, but when it comes to this creepy cobweb design we might have to rethink our concerns!
This quick and easy Halloween make-up tutorial will take you less than five minutes to apply, but makes an effective addition to any Halloween costume - or, of course, a costume in itself, if you're not willing to don the full hat and cloak but still want to get into the spirit of the season.
You will need
Black gel eyeliner with a brush
Grey eyeshadow (this can be matte or have a hint of shimmer)
A small, soft eye make-up brush for blending
How to create cobweb eye Halloween make-up
Start by applying your normal face of make-up, if you wish - we've applied a neutral base of foundation and concealer and some winged eyeliner
Using the black gel eyeliner, draw a line extending from the corner of your eye across your temple
Repeat the process until you have four corresponding lines
Connect the lines to create the cobweb shape
Add a light layer of grey or black eyeshadow around the edges of the web to give it some depth
Smudge to combine
Use the black gel eyeliner to retrace the lines of the web for definition
Head to your Halloween party in style!
Tip: Make your cobweb more cutesy and less creepy by drawing a small spider hanging from one of the threads! This make-up would also work with other colours of eyeshadow like purple or green.
Have you recreated our cobweb eye Halloween make-up tutorial? Leave us a picture of your work in the comments below!
Products used in this video: GOSH Extreme Liquid Gel Eyeliner, Revolution Iconic Pro 1 Eyeshadow Palette, Real Techniques Starter Set eye brushes