The top baby name trends for 2018
Expecting a little one next year?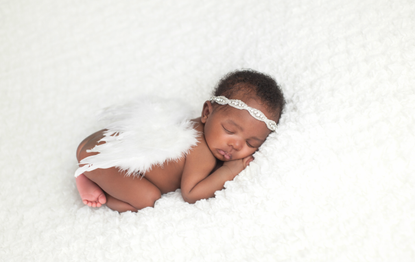 According to BabyCentre the next big baby name trend for 2018, is giving your baby an angelic name. If you don't fancy choosing an angelic baby name, take a look at the trending baby names for 2018 for a little more inspiration.
Settling on a baby name (opens in new tab) can be tricky, and it's one of the biggest decisions you'll ever make, with many parents turning to popular baby name lists (opens in new tab) for inspiration.
No doubt, you'll want to pick the perfect name for your gorgeous new bundle of joy, but there are so many different things to think about before you decide.
Do you like the shortened version? Does it go with the surname? What if the child doesn't look like its name? Do the top baby names of 2017 (opens in new tab) feel outdated already?
Parents are opting to call their babies more angelic-inspired names, trends have shown.
According to Bounty, more and more parents are opting to call their little ones more ethereal names this year.
Mums and dads-to-be can choose from popular names Angelica, Raphael and Angelo.
More traditional names, like Samuel and Michael, are also in the trend.
For those looking for a more unique take on the trend, there are plenty of options.
Seraphina, meaning the winged angels that surround God in the Bible, has become an increasingly popular choice for girls, while Zuriel, meaning angel of harmony, is listed as a more unique name for a baby boy.
Trending baby names for girls in 2018
Amelia
Rose
Mila
Aurora
Cora
Genevieve
Isla
Charlotte
Trending baby names for boys in 2018
Logan
Jasper
Elijah
Milo
Declan
Atticus
Oliver
Asher
Spanish names predicted to be a big baby name trend in 2018
According to BabyCentre another big baby name trend for 2018, is giving your baby a Spanish name.
This seems more realistic that naming your baby after IKEA flat-pack furniture...
BabyCentre lists Luna, Lucía and Alba as potential Spanish girls' names and Luciano, Rafael and Eduardo for boys.
Surnames predicted to be a big baby name trend in 2018
Author of 'The Baby Name Wizard', Laura Wattenberg told the Chicago Tribune that it is become increasingly popular:
'Whether or not the parents change their names at marriage, there's a feeling that you want both families to be represented equally in the kids' names,' she explained.
Obviously, this could only work once, so you will have to be more inventive with the siblings.
While it's more popular in the US, this adorable baby naming idea is gaining traction here in the UK too, meaning that naming your little one after your own surname is now more popular than ever. More and more millennial mums are overlooking the traditional names and opting, instead to name their little one after their own family name.
Although it may not be a totally new concept, it is a very sentimental nod to your past.
However, using your surname as a first name means if you choose to use your married name as your children's surname - you can retain your moniker even if you change your name after marriage, and it will always be part of their - and your - lives.
Love the idea, but not feeling your own surname as a first name? Here's a little extra inspiration...
Surnames that work well as baby names Cooper, Quinn, Cassidy, Dawson, Sawyer, Harrison, Lincoln, Tyler, Kennedy, Cole, Ellis or Finley
Do you prefer a more traditional name for your little one or something a little more trendy? Join the conversation on our Facebook page.