26 of the best toys for 2 year olds in 2023
The best toys for 2 year olds reviewed by tiny testers and their parents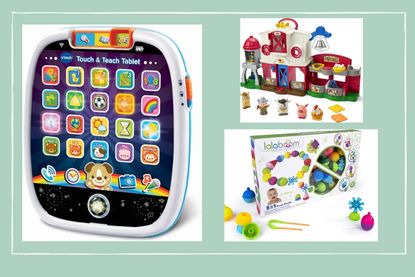 (Image credit: Future)
The best toys for 2 year olds keep them entertained and help them learn through play.
At 2 years old, a child will have a vocabulary of around 50 single words. So, when choosing a birthday gift or an items from the top Christmas toys (opens in new tab), look out for educational toys (opens in new tab) that help to develop those language skills. Games and toys that will help 2 year olds to recognise and practice words are both stimulating and fun.
At this age, your child may also begin to show an increased interest in playing with other children. So, encouraging sharing and co-operation through play is also a good idea. Child development expert and psychologist Dr. Amanda Gummer (opens in new tab) told us: 'Building a tower with bricks develops hand-eye coordination and spatial awareness. But when children are playing together to build the tower, there's a lot more going on - communication, collaboration, turn-taking, discussing strategies, imagination, and a shared sense of achievement.'
The best toys for 2 year olds will depend on what stage they have reached in their development. Research shows that boys often reach physical milestones earlier, while girls tend to learn to speak at a younger age and have better fine motor skills. So buying toys for 2 year old boys may differ from the best toys for 2 year old girls if they are at different childhood development stages. (opens in new tab)
At the age of 2 when kids are learning and growing so quickly, parents should try to spend at least 10 minutes each day giving their child their full, undivided attention. No matter what developmental stage they are at, children thrive on love and attention. So chooseing toys that can be played with together with loved ones is always a great idea.
Best toys for 2 year olds - how we tested them
We enlisted a panel of two-year-old testers and their parents to put the toys in our roundup to the test, rating them on everything from how fun they were to use to whether they'd buy them for friends. All the toys we've included are designed to have your child returning to them again and again, with many becoming family favourites, not just with our testers, but with their parents too. In our quest to find the best toys for two-year-olds, we made sure to include toys across a range of budgets and types to appeal to two-year-olds with all sorts of interests and abilities.
Best toys for 2 year olds in 2023
---
---
---
---
---
---
---
---
---
---
---
---
---
---
---
---
---
---
---
---
---
---
---
---
---
---
See more of our toy features
Grace Holliday is a freelance journalist, travel writer and part-time journalism lecturer. She is also a proud northerner and mum-of-one.