Best toys for 8 year olds: 23 of the top games to buy in 2023
From scooters to Playmobile sets, discover the best toys for 8 year olds right now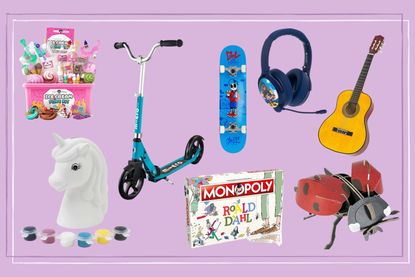 (Image credit: Future)
The best toys for eight-year-olds are games that reflect their likes and dislikes, while helping them develop, engage in social interaction and learn at the same time.
Hunting down the best toys for this age can be tricky. But for eight-year-olds, it's less about the game they are playing and more about who they are playing with. So if you're a parent, you might find that your eight-year-old would much rather spend time playing games with their friends and peers instead of you. This is also a good thing to keep in mind when you're shopping for this year's top Christmas toys for your little one.
If you're shopping for toy bargains at this time of year, our guide to the best Black Friday toy deals is worth keeping an eye on too.
But, as Catherine Lynch, senior manager at PlanBee and a qualified Play Therapist, tells us — it's nothing personal. "Eight-year-olds often don't like missing out on things that are going on with their peers and will spend an increased time with friends," Catherine says. "They are likely to spend a large amount of time playing games that develop skills to help them improve competency and can be very self-critical."
So how best can you support your child, even if you're not the first person they'd rather play with now? "Parents and caregivers of eight-year-olds can support children by providing opportunities for social interaction with friends," Catherine explains. "Maybe one of the most important things is to listen when the child is being self-critical and support them. Do your best to help them feel heard, supported and encouraged."
This might sound overwhelming, but Catherine added that while eight-year-olds might seem much more grown up than when they were younger, the way they play is still the same. "Children play to learn, to understand, and to process," she explains.
The best toys for 8 year olds in 2023
According to Research Psychologist, Dr Amanda Gummer, the best toys for eight-year-olds include arts and crafts, music, sports and social games that are popular with peers like collectible items and trading cards.
To find the best toys for eight-year-olds, keep scrolling. We've compiled a list of the items that are on their wishlist. You might also want to check out the top Christmas toys.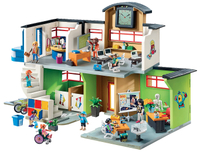 Playmobil 9453 City Life Furnished School Building with Digital Clock, £75 - Amazon
Stereotypes such as 'boys become doctors' and 'girls become nurses' may start to creep in around the age of 8, so buying toys that dispel these assumptions are a great idea. You can choose from a range of Playmobil play sets that include a range of figures and reflect real-life environments such as schools, hospitals, vets, fire stations and shops. Not only does Playmobil encourage imaginative play, but collecting the sets can help build up a world of imaginative play.
'When my daughter was 5 years old I bought her a Playmobil set, but I soon found that the pieces were just a little too small for her,' says Emily, mum to Bethany and William. 'By age 8, however, she seemed more engaged with the set and loved playing with it. Now we've collected quite a few.'
The School is an accessible building with classrooms, office, and a stairwell with lockers, toilets and a lift. The clock is digital and has a school bell too. As with all Playmobil sets, it comes with loads of pieces, people and accessories that make the miniature play really realistic.
---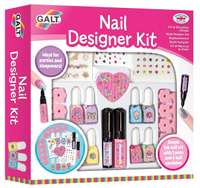 Galt Toys, Nail Designer Kit, £14.99 - Amazon
If you wear nail varnish there's a high chance your child will have asked if they can wear polish too by now. Nail play sets for 8 year olds tend to include specially formulated polishes that are safe and suitable for children. They also include fun stickers and stamps that they can play with to get creative with nail art.
'You can't go wrong with a toy like this for an 8 year old,' says our parenting and shopping expert Heidi Scrimgeour says. 'My daughter's favourite thing to do is paint her nails with me, and anything that keeps my expensive nail polish safe is a hit with me!'
This set includes 7 different nail colours, 1 glitter varnish, 2 nail pens and a host of stickers and gems so your 8 year old will enjoy customising their nails over and over again, with or without friends.
---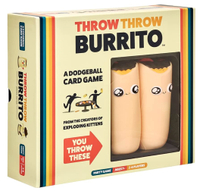 Throw Throw Burrito, £18.99 - Amazon
Throw Throw Burrito is a family friendly party game unlike any you may have played before. That's why we've added it to our list of best toys for 8 year olds.
It's a combination of a card games and dodgeball where players go head to head collecting cards, earning points and throwing squishy toy burritos at one another. Sounds fun, right? It is! And kids will find it hilarious too. 'This is a really silly game but my kids seem to love it every time we play,' says Susie, mum to Emilie and Charlotte.
---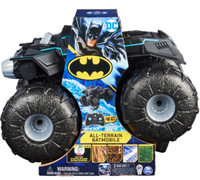 Batman All-Terrain Batmobile Remote Control 1:15 Water-Resistant Vehicle, £58.80 - Smyths
Most 8-year-olds love playing with remote control cars, which is why we've included this as one of our suggestions for best toys for 8 year olds. With the Batman All-Terrain Batmobile, all surfaces inside and out are game. You can try it on wooden floors and carpets inside and also outside on grass, mud, through puddles and in water.
It comes with a 2.4GHz dual joystick remote control, which is USB rechargeable and gives you up to 25 minutes of playtime on a 60-minute charge. The control can also be used up to 100 feet away should kids want to test the boundaries. 'My kids love anything remote controlled,' says Emily, mum to Bethany and William. 'I don't think you need to be a fan of Batman to want to play with this car as the Batman styling is very discreet. It's also a very versatile car and you won't need to worry about it getting messy.'
---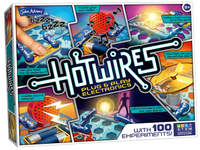 Hot Wires: Plug and Play Electronics Set, £49.99 - Amazon
Kids can learn about electronics in a safe and fun way with this Hot Wires: Plug and Play Electronics Set.
An 8 year old really can make exciting electric circuits within minutes using this kit. The set contains a booklet that explains how to create circuits with can power a fan, radio, buzzer, light and more.
The components are enclosed in plastic and snap together with poppers, so there is no risk involved whatsoever. Once they understand the concepts of electronics, your 8 year old can create circuits of their own too, so it's a superbly fun and educational toy.
---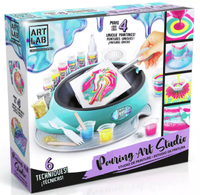 Art Lab Pouring Studio, £20 - Argos
Another art medium for 8 year olds to get to grips with, the Pouring Art Studio makes it easy to create unique works.
Inside the box you'll find 4 canvases, 5 paint bottles and some silicone oil, tools and decorations too.
With all this in mind, this Art Lab Pouring Studio gift will make sure your 8 year old creates the most eye-catching artworks. 'What I love most about this set is that it is designed so that everything is kept neatly in place,' says Jenny, mum to Logan and Becky. 'My kids love making pictures with special effects each time they use it.'
---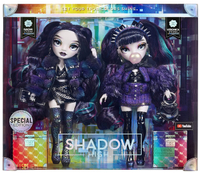 Rainbow High Special Edition Twins - NAOMI & VERONICA STORM - Fashion Dolls, £66.99 - Amazon
Rainbow High Dolls are very popular with 8 year olds. The good news is there's a vast range of designs to choose from including this Special Edition Twins set.
The dolls come in a fashion outfit and a choice of accessories to dress them in, which include necklaces, a purse, hair combs and each doll has their own stand. 'My daughter loves playing dress up herself and even more so with these Rainbow High dolls,' says Emily, mum to Bethany and William. 'My daughter loves to collect dolls and already has her eye on Winter Break Violet Willow too, which includes a pair of skis in the box that double as a stand.'
---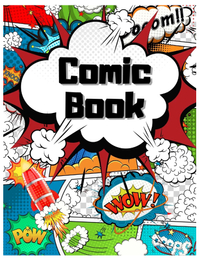 Create Your Own Comic Book, £8.78 - Amazon
Your 8 year old may have an interest in reading and perhaps even collecting comics. With this book, 8 years olds have the skills and imaginations to create their own comics inspired by the graphic novels and stories they like to read. We think it makes a great gift for any child that loves to draw and doodle.
There are 205 blank template pages in the book, with 15 action comic book page templates included to inspire. 'I'm a big fan of doodling as a form of relaxing,' says Emily, mum to Bethany and William. 'I think if you're keen on encouraging kids to draw and colour as a way to express themselves, this makes a great gift for a child, but also for an adult too.'
---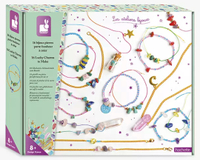 Janod Lucky Charms Jewellery Kit, £25.99 - John Lewis
Whether it's learning the basics of needlework for fabric crafts, painting pottery or making clay models from scratch, crafting is a great way to enhance fine motor skills and imagination. We think this Jewellery Kit is a really classy gift for an 8 year old.
The kit has everything you need to make 16 bracelets and necklaces, including real stones and step-by-step instructions, should you need them.
---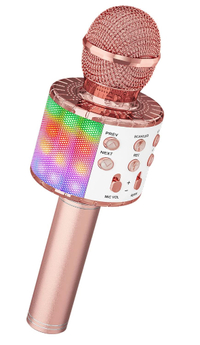 Karaoke Wireless Microphone, £16.97 - Amazon
Most kids love to perform and sing songs they've heard on the radio or learnt at school. Having some noisy fun with the Karaoke Wireless Microphone is a great way to burn up some energy and have fun. Kids will love being able to sing along to their favourite tunes and dance using this clever gadget. It really comes into its own at family parties too.
This clever gadget can be used as a bluetooth microphone, speaker, recorder and player, and even has its own built-in LED lights, which change along to the beat of your music, to add to the fun.
The microphone is compatible with all bluetooth devices and connects to a wide range of apps, so your kids can enjoy this wherever they have their music stored and comes in a range of colours to suit their style too.
---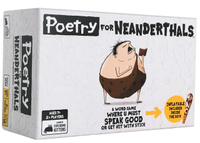 Poetry for Neanderthals, £19.99 - Amazon
Poetry for Neanderthals is a competitive word-guessing game where you can only give clues by speaking in single syllables. So, instead of saying 'broccoli,' you'd say something like 'green thing you eat to live long and have good health.'
If you mess up and use a big word - such as 'vegetable' - you get bopped on the head with a NO! Stick. It's a game that forces you to explain complicated ideas using simple vocabulary. In short, it's great fun for the whole family and it will no doubt make you laugh along the way.
---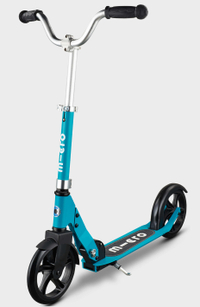 Micro Scooter Cruiser, £129.95 - Micro Scooters
If you're looking to upgrade your child's scooter from 3 wheels to 2, you can't go wrong with one of the latest designs from Micro Scooter. The Cruiser comes in 6 pop colours including a bold orange, blue, teal, pink, purple and black to suit. It has adjustable handlebars to accommodate riders from 110cm to 146cm tall.
What's noticeably good about the Micro Scooter range is how stable the scooters feel for the rider. The large 200mm wheels on the sporty Cruiser are perfect for absorbing any bumpy roads so kids can scoot fast and smoothly - be it in the town or more leafy areas. This make's it ideal for country roads and rough terrain, as well as for gliding along the path in the local park. There's a low footplate that aids stability, and a kickstand and simple folding body, which makes it easy to store too - especially in the boot of the car. Team it with a Micro Scooter helmet for the ultimate gift idea for an 8 year old.
---