Why are nurseries still open in lockdown when schools are shut?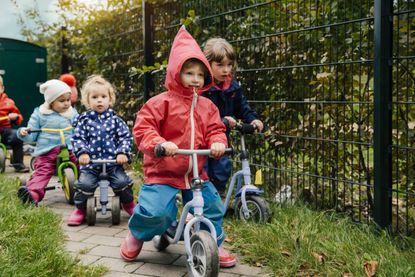 (Image credit: Getty Images/Westend61)
With schools closed across the UK many are asking 'why are nurseries staying open?'
Covid-19 infections across England reached new levels over the Christmas period, as cases topped 80,000 for the first time ever. In reaction to this and as part of new lockdown restrictions this month, the government announced that schools would close until at least February half term. Despite schools closing, nurseries can stay open during lockdown.
The question of why are nurseries staying open when schools are closed has sparked widespread debate since the lockdown 3.0 was announced earlier this month.
While some parents see nurseries as a lifeline and a necessity as we continue to navigate the pandemic, some organisations, parents and nursery staff have been asking why, if children are "vectors for the new Covid-19 variant" is it safe for nurseries to stay open?
Why are nurseries still open in lockdown?
Vaccine minister Nadhim Zahawi has explained that the reason nurseries are allowed to remain open during lockdown is because they present "very little risk" and are 'Covid-safe'.
This is partially due to the fact that coronavirus is proven to be "less severe in younger children (opens in new tab)", with the Covid symptoms in kids tending to be mild - if they show at all. Throughout the pandemic, younger children have had the lowest admission rates to hospital compared to all other age groups.
In addition to this, there is evidence that infant children are considerably less likely to pass on the virus than older children. In the Scientific Advisory Group for Emergencies (SAGE) minutes from December 22, the scientific advisors for the government said that the "closure of secondary schools [is] likely to have a greater effect than closure of primary schools."
Scientists have also confirmed (opens in new tab) that the new variant of coronavirus does not cause more severe illness in any age group - so nursery-age children are not more at risk in this sense.
However, Early Years Alliance - the largest and most representative early years membership organisation in England - has argued that those working in nursery environments have had little to no guidance given on financial support and the risks of staying open, leaving them vulnerable.
Launching the #ProtectEarlyYears campaign, Neil Leitch, chief executive of the Alliance, said: "It is simply not acceptable that, at the height of a global pandemic, early years providers are being asked to work with no support, no protection and no clear evidence that is safe for them to do so.
"We know how vital access to early education and care is to many families, but it cannot be right to ask the early years workforce to put themselves at risk. That is why it is vital that the government takes the urgent steps needed to safeguard those working in the sector, particularly mass testing and priority access to vaccinations."
Why parents need nurseries to remain open during lockdown
For millions of parents and carers juggling working from home with managing childcare, nurseries have been a lifeline.
"Having both of our children at home whilst trying to juggle our jobs during the first lockdown was just one of the most awful experiences," said Amy Grantham, mum-of-two and founder of PR consultancy Neon (opens in new tab). "My husband and I both work full time and have two young children, ages five and three."
"A five year old can't study independently, a three year old can't study at all. We felt that we were failing as both parents and professionals because we were struggling to manage the roles of teacher, nursery worker, caterer, employer and employee all at the same time. We tried our best, working in two-hour shifts on 'childcare duty' from early in the morning until late at night, but our experience ended in my husband having to request to be furloughed as it just wasn't sustainable. Everyone was miserable!"
"Whether to send him in was a huge dilemma as we do worry about the even greater risk this version of the virus poses; however, we believe that the positive benefits of his being there far outweigh the negative."
But she adds, "Parents have to all make decisions based on what's right for them but for us, this was absolutely the right choice and I have every trust in our nursery to ensure that the environment there is as safe as possible for both children and staff."
For mum-of-two Rebecca Lockwood (opens in new tab), going back to homeschooling with schools shut means that nursery for her 2-year old is an essential. "It's funny really," she says, "I had two children because I wanted them to keep each other company and play together. I never imagined that what I would usually encourage (them playing together) would the one thing I would try to limit for a few hours a day to sneak in some homeschooling."
"On the days one of my children is at nursery, we can really focus on educational based activities."
Erin Parnell, mum-of-one and founder of Eternally Cherished UK (opens in new tab), agrees that her daughter's development had to be a priority this time around. "She needs social interaction with other children and I really noticed how much she missed out on this during in the 1st lockdown."
Like most parents, the transmission of Covid-19 from nursery to home and vice versa is a concern. "I do worry about the transmission," Erin says, "However, I trust the carer and the nursery to take care of my child and they have always dealt with highly infectious viruses. I also learnt more about the impact of her age group. We haven't seen our at-risk family for some time so we don't fear passing it on should we get it, which although unlikely it is better to be safe than sorry.
"I do worry yes, but I have to think long term big picture. I need to run my business, I need an income and I also need my child to be happy. We will not know the true extent of how this has impacted our children for many years and I want to know I did what I thought was right."
But some feel that the risk is too high to send children into nursery
Jess, a mum-of-two, says that it's a day-by-day decision as to whether to send her child to nursery. However, for now, the discrepancies around primary school verses nursery coronavirus transmission are too big.
"We've decided against sending the kids to nursery during this lockdown." Jess told GoodtoKnow. "We felt that if primary schools were closed, nurseries should be too as we think the risk levels are pretty much the same. We're lucky enough to have a childcare bubble with a grandparent, so have been able to rely on them to help out for now. We're going to be taking it a week at a time until we feel comfortable enough to let them go back."
While Sinead, mum-of-three in London says: "I don't think that nurseries should be open around where we live. I heard on the radio this morning that in our area [borough of Barking and Dagenham], over half of the people living here either have coronavirus or have already had it. I'm not letting my kids out the house, let alone taking them to nursery or school if they were open."
But she adds: "My two kids that go to nursery love it normally so we're just really disappointed that things have got to where they are with this thing [the virus]. I don't blame parents in areas with lower cases wanting to send their children to nursery and I don't blame the nursery staff for wanting to close, it all depends on your own situation."
Emma Bristow, who works in a nursery, also told GoodtoKnow about her concerns: "It is definitely a worry that we have been told to remain fully open during a national lockdown, especially since it has been announced (opens in new tab) that the decision to keep nurseries open [may be] for political reasons and not because they are safe, or safer than schools."
She also questions why are nurseries still open in lockdown when schools are shut - as toddlers are not able to social distance and it's not always possible for staff to do their jobs whilst wearing the necessary PPE:
"Like many Early Year's educators have mentioned, it is impossible to social distance in nursery settings and it is not always possible to use face masks or other PPE. My workplace encourages face masks when walking around the setting and talking to parents, but this is not always possible, especially if the child is upset when being dropped off; they need to see our faces and expressions.
"I think the most upsetting thing though, is feeling like, once again, the Early Years is being under-appreciated and treated as if we are merely glorified babysitters with no real consideration for the safety of the staff. Yes, young children are less likely to spread the virus, but it's not just young children that we are spending 10 hours a day with or interacting with. We have to hand over to parents, we have to work with multiple adults in the same room."
"As of right now I am currently self-isolating along with the rest of the under-2 yrs staff because myself and two of my colleagues have tested positive since January 6, which just seems to prove just how fast the virus can spread in nurseries."
"Nobody really wants the nurseries to close, the reason that we work in education is because we have a genuine passion for children and helping them to develop to their full potential. But when our safety and the safety of our families is on the line, the government need to be looking at the bigger picture here. We are not babysitters and should not be treated as such."
Grace Walsh is a Features Writer for Goodto.com, covering breaking news health stories during the Covid-19 pandemic as well as lifestyle and entertainment topics. She has worked in media since graduating from the University of Warwick in 2019 with a degree in Classical Civilisation and a year spent abroad in Italy. It was here that Grace caught the bug for journalism, after becoming involved in the university's student newspaper and radio station.