Now THAT'S a cake! The most calorific cakes we've ever seen
Dieters, look away now!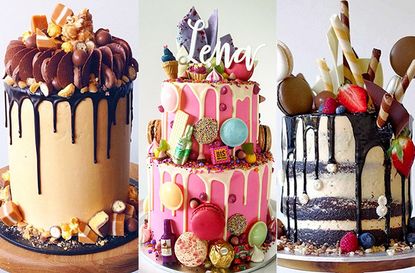 Dieters, look away now!
There is no such thing as over the top when it comes to cake, and this collection proves exactly that. These ingenious cake creators have taken a normal cake recipe and gone one step further, combining well-known sweets and storecupboard treats to result in the most jaw-dropping cakes we've ever seen.
If you're bored of the same old fondant topper, or a dusting of icing sugar just doesn't cut it for you anymore, you've come to the right place. Say hello to the new breed of immense, extreme and no doubt, calorific cakes. They're certainly not for the faint hearted!
These mind-boggling cakes are the perfect inspiration if you're looking for something a little outside the box when it comes to cake decorating. How about a whole jar of Nutella spread on top of your sponge? Or what about Haribos, Kinder eggs, KitKats... the list goes on!
Are you ready to say goodbye to your diet and hello to the most calorific cakes you've ever seen?
1. The Kinder Surprise cake
[instagram]
[/instagram] Yep. That's a whole Kinder egg balanced on top of this calorific cake. Not to mention Kinder bars, buttercream swirls, chocolate ganache and rather large amounts of chocolate bark in the background. Sold!
2. The Candyland cake
[instagram]
[/instagram] How amazing does this cake look? It doesn't even look like a cake. It looks like a piece of art work. Macaroons, flying saucers, liqueurs, Ferrero Rocher... It's the most random cake we've ever seen and we WANT it.
3. The dripping caramel cake
[instagram]
[/instagram] This. Cake. Oozing with caramel, it's decorated with all sorts of goodies - including popcorn, chocolate scrolls and gold leaf... We just can't get over it.
4. The chocolate favourites cake
[instagram]
[/instagram] It's like a game of Where's Wally spotting all the delicious chocolate, biscuits and sweets piled high on these cakes. We've spotted a Freddo on this one and we're hoping that means we get to eat the whole cake. Yes?
5. The cookie dough ball cake
[instagram]
[/instagram] Ok, so it's more like a heart attack than anything BUT doesn't it just look wonderful? Cookie dough, churros, Nutella ganache. Oh, we seem to be drooling...
6. The Nutella cake
[instagram]
[/instagram] There is a jar of Nutella on this cake. Is anyone else seeing this or is it an illusion? Kinder treats, Happy Hippos and Ferrero Rochers also feature. How do we get our hands on one?
7. The Woody and Buzz cake
[instagram]
[/instagram] Surely this cake is every child's dream?! Our two favourite Disney characters, a purple (yes, purple!) cake and a whole mountain of sweets. This one certainly takes cake decorating to infinity and beyond.
8. The rainbow cake
[instagram]
[/instagram] Look at all those beautiful colours! It's like a magical cake you'd find in a Disney film. It just doesn't look real. We'd give up our diet any day for a slice of this one.
9. The Peppa Pig cake
[instagram]
[/instagram] Yes, it's a Peppa Pig cake and whoever decorated this beauty has gone mad. We see edible toppings, we see non-edible and we even spy Chupa Chup lollies. Gimme!
10. The sophisticated cake
[instagram]
[/instagram] Bounty bars, Oreos, popcorn - this one is taking sophistication to a whole new chocolate-y level. We'd definitely ditch the diet for a slice of this sophisticated little number. Don't judge...
11. The crushed Oreos cake
[instagram]
[/instagram] There is no such thing as calories when it comes to this bad boy. Oreos, Oreos and more Oreos. Melted chocolate, icing, sprinkles, more Oreos. We want some NOW.
12. The 'healthy' cake
[instagram]
[/instagram] This cake is amazing! A least there's some fruit on there we suppose, makes it that little bit healthier - right? Or maybe not...
13. The 'crunchy, caramelly & chocolatey' cake
[instagram]
[/instagram] How many heads would turn if you brought this cake out for a special occasion or birthday party? And how many jaws would drop when you grab a fork and start tucking in by yourself? It's not for sharing!
14. The red velvet Oreos cake
[instagram]
[/instagram] Now, why didn't we spot this beast before Valentine's Day celebrations? It would have made our evening much more entertaining. A red velvet cake, dusted with red velvet crumbs, red velvet Oreos and a few random helpings of popcorn. Whatever floats your boat!
15. The KitKat-wrapped cake
[instagram]
[/instagram] The base cake is decorated with what appears to be crushed Maltesers set in chocolate and the top layer is decorated with KitKats aplenty. Not forgetting the cut up Snickers randomly scattered over this cake too. Goodbye diet!
Jessica Dady is Food Editor at Goodto.com and has over 10 years of experience as a digital editor, specialising in all things food, recipes, and SEO. From the best food hampers to cookbooks, from the best cake stands to kitchen appliances, Jessica has a wealth of knowledge when it comes to must-have food products. A passionate baker, she spends some of her time creating celebration cakes for friends and family including her two lucky children.