Why are energy prices going up and will your bills be affected?
While households might be protected from the full affect of rising prices, why are energy prices going up and when might they come down again?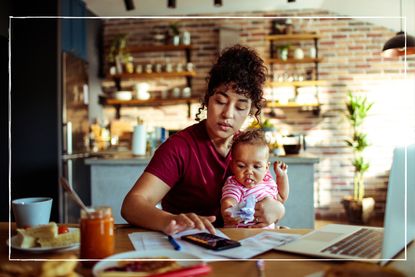 (Image credit: Getty images)
Wondering why are energy prices going up and what this means for your bills? You're not alone. Energy prices have been rising sharply over the last 12 months and there have been various measures introduced by the government to help families make ends meet, but with so much going on, it can be difficult to know how energy prices stand now.
While households are now protected from the full effect of runaway energy prices by the government's Energy Price Guarantee (opens in new tab), wholesale gas costs are still volatile. Limited gas supplies and the conflict in Ukraine mean energy prices could continue to be volatile into 2023.
But despite the government help, energy bills (opens in new tab) are higher than ever before for everyone in the UK. Overriding the energy price cap (opens in new tab), the Energy Price Guarantee will take average energy bills based on typical use from £2,500 to £3,000 in April 2023 – so bills will be higher from spring onwards.
Sarah Coles (opens in new tab), personal finance expert at Hargreaves Lansdown, says: "Ofgem [the energy regulator] says the energy price cap would have been £4,279 between January and April 2023, but the price guarantee will keep average annual bills at £2,500 until April - which is a massive saving of £148 a month.
"But while £2,500 is clearly much more manageable than £4,279, and while the instalments of the £400 energy rebate (opens in new tab) from the government are helping to take the pain out of the cost for now, there are still an awful lot of people struggling with bills at this level. When it rises to £3,000, it's going to make life even tougher."
But while everyone is still feeling the pinch and worrying over how much their energy bills will cost (opens in new tab), it may not be obvious why prices have been rising.
Why are energy prices going up?
The reasons why energy prices are going up are complicated. They mostly relate to the soaring price of wholesale gas in Europe during 2021. Before that, between 2013 and 2020, gas prices were stable or falling for most of the time. Wholesale gas prices have been affected by a number of factors. These include:
war in Ukraine
supply and demand after the pandemic
storage issues
and the weather.
War in Ukraine
Russia's invasion of Ukraine in February 2022 caused huge uncertainty, especially in the gas and oil market. While only around 5% of the gas we use in the UK comes from Russia, this figure is around 40% for Europe's energy supply.
If European countries receive less gas from Russia, they need to source it from elsewhere. This, in turn, means more countries are trying to buy their gas from other sources, which increases demand on the gas that's available and drives the price up.
In September 2022, in apparent retaliation for Western sanctions over Russia's invasion of Ukraine, Russia decided not to resume gas flows through the main Nord Stream 1 pipeline to Germany. This prompted a new surge in wholesale costs, intensifying worries about the gas supply in Europe over winter.
Increase in demand after the pandemic
Gas prices soared when the world started to get back to normal after Covid-19 lockdowns. As countries around the world began to open up, demand for gas increased from the low-level gas consumption we saw when most businesses were closed and international travel was virtually banned.
Demand has soared even further in the past few weeks as temperatures drop.
Lack of suitable storage facilities
How we store gas in the UK has added to the problems too. The use of gas stores can act as a buffer against rising prices by allowing countries to buy in bulk in periods of low demand and storing it for later use.
But the UK has very little in terms of gas storage capacity, after the 2017 decision to close the Rough facility in the North Sea that had provided 70% of the UK's storage capacity for more than 30 years.
This prevents the UK from being able to buy gas in bulk during the summer months, when demand is lower, and storing it to use in the winter when demand increases.
This has not previously been an issue and the UK has relied on a combination of domestic gas sourced from the North Sea, imports from Europe and liquified natural gas from the Middle East to meet demand. The UK is still importing its gas, but we're now having to pay a much higher price for it.
Unusual weather patterns
The weather hasn't helped energy prices either. Europe had a cold winter in 2020/21 and a less windy and less sunny summer than normal. This means renewable sources like wind and solar produced less power. These adverse weather conditions also caused food prices to go up.
How can we increase supply?
One option to increase gas supply, without relying on Russia or Europe, would be "fracking (opens in new tab)" – a process by which shale gas is extracted from rocks by breaking them up. Fracking was banned in 2019 due to fears it might trigger earthquakes, but Liz Truss lifted the ban when she was prime minister. However, new prime minister Rishi Sunak has reinstated the ban.
Even if fracking was allowed, some experts say that the process would do nothing to ease energy prices this winter as it would take many years for an industry to develop, and it remains unclear how much gas could be extracted.
The government is also supporting a new oil and gas licensing round in conjunction with the North Sea Transition Authority (NSTA). These licences will enable developers to search for new oil and gas sources within the areas of their licences.
Will energy prices continue to go up?
With so many complex factors involved, it is difficult to predict what will happen with energy prices.
Without the government's price guarantee, prices would definitely rise for consumers, even with Ofgem's energy price cap. But some experts say we might see prices fall later in 2023, compared to 2022 levels.
Daniel Kostecki, global markets analyst at Conotoxia (opens in new tab) says: "It is possible that in 2023, with the decline in economic activity, as a recession is forecast in both the Eurozone and the UK, energy prices may also fall.
"However, this does not necessarily mean that it would be cheap. Electricity or heating prices may remain well above previous averages but should not rise further. As the World Bank calculates in its report, 'prices will remain more than 50% above the five-year average through 2024'. In 2023 prices could be lower by about 11% compared to 2022 levels."
How much could energy bills go up by?
While wholesale energy prices might continue to go up, households will be protected by the price guarantee. The current energy price guarantee caps average energy bills at £2,500 a year for the typical user up until April 2023. From April, the energy price guarantee will be £3,000 a year and this will run until the end of March 2024. (Read our easy-to-follow guide if you need you don't quite understand what all the information on your bill means and you need your energy bills explained (opens in new tab).)
A lot of money experts predict that many people will struggle with energy bills at this level.
"The Office for National Statistics (ONS) found that 45% of us found it difficult to afford energy bills between June and September, which rose to 72% of those on prepayment meters and 60% of renters. These groups are particularly likely to struggle when the energy price guarantee rises to £3,000," says personal finance expert Sarah Coles.
"But even average earners won't be immune to the pain. £3,000 is around a third more than the price cap in April 2022 (when it was £1,971), and more than two and a half times the level in April 2021 (when it was £1,138). Very few of us will be able to take bills at this level on the chin, so there will be some tough cuts to make in 2023 too."
It's important to understand that the £2,500 and £3,000 figures are an illustration of an average household's yearly bill, and not a fixed limit. If you use more energy than the average household then you will pay more than the capped figure, and you will pay less if you use less energy than the average household.
As oil and energy companies report eye-watering profits, even the government's energy price guarantee has led to frustration, with calls for a higher windfall tax (opens in new tab) on energy companies' profits and trade unions setting up the Enough is Enough campaign (opens in new tab) to fight the cost of living crisis.
When will energy prices come back down?
It is currently unknown when energy prices will go down (opens in new tab) as we move into 2023. Up until the conflict between Russia and Ukraine escalated, most experts predicted energy bills would start to fall in 2023. But, unfortunately, the ongoing Russian aggression changes things.
However, UK households now have the protection of the Energy Price Guarantee until spring 2024.
In a report by the Social Market Foundation about energy bill support, authors Amy Norman (opens in new tab) and Scott Corfe (opens in new tab) said: "Energy bills will continue to have a significant impact on household finances in future. With average bills at £3,000, households will still be exposed to spending over twice as much on energy compared to 2019/20. We calculate that 12 million households would spend over 10% of their income after housing costs on energy."
Beware if you are on a tariff that means your electricity is cheaper at night (opens in new tab) as energy you use during peak times could be very expensive. In any case, the key to keeping your bill down is to know how to save energy in your home (opens in new tab). Although involving an initial cash outlay, installing an energy-efficient boiler and insulating your home will significantly reduce the amount of energy you use.
If you don't have the money to spend upfront, small changes such as turning down your thermostat, not leaving appliances on standby, and switching to LED lightbulbs can cut your bill too.
You can normally protect yourself from energy price hikes by opting for a fixed tariff – but right now, this would be a gamble. If you come across a fixed deal, it's likely to be significantly more expensive than the price guarantee.
If you're struggling to pay your energy bills (opens in new tab), you're not alone. Speak to your supplier in the first instance to see what help with energy bills it can provide. You might also qualify for free gas and electric vouchers (opens in new tab) so it's worth speaking to your supplier for advice.
Will more energy suppliers go bust?
The government has intervened to help prevent energy suppliers from going bust amid rising prices, especially in light of more than 30 energy suppliers, including Bulb, Arvo, Orbit and Pure Planet, going bust since summer 2021.
Emma Lunn is a multi-award-winning journalist who specialises in personal finance and consumer issues. With more than 18 years of experience in personal finance, Emma has covered topics including mortgages, first-time buyers, leasehold, banking, debt, budgeting, broadband, energy, pensions and investments. Emma's one of the most prolific freelance personal finance journalists with a back catalogue of work in newspapers such as The Guardian, The Independent, The Daily Telegraph, the Mail on Sunday and the Mirror.
With contributions from