9 of the grossest baby shower cakes EVER
Get ready for some of the most hilarious and horrifying baby shower cakes ever to grace the internet...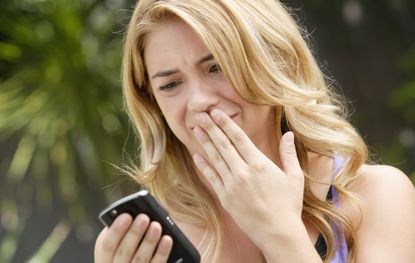 GoodTo newsletter
Sign up to the GoodTo Newsletter. You can unsubscribe at any time. For more information about how to do this, and how we hold your data, please see our privacy policy
Thank you for signing up to . You will receive a verification email shortly.
There was a problem. Please refresh the page and try again.
What do you imagine when you picture the celebration for an adorable bundle of joy entering the world?
Presenting you with a round-up of the grossest possible baby shower cakes that we could find...
Baby showers conjure up images of pastel decorations, piles of prettily wrapped presents, twee baby shower games (opens in new tab) and of course, lots of baby-themed food treats (opens in new tab)... right?
Well, no actually. It turns out that for some people, a baby shower is just an excuse to show off their skills at creating a massive buttercream vagina - and therefore scaring the life out of the mum-to-be.
Hilarious and horrifying in equal parts, we've put together the top 10 worst (but also kinda the best) baby shower cakes we've ever seen. We'd suggest that you brace yourselves...
9 of the grossest baby shower cakes ever
1. Amy Schumer's 'gift' from her sister-in-law
Amy Schumer kindly reminding us of that age-old lesson that being rich and famous will not protect you from being given a disgusting cake to herald the arrival of your child. The look on her face in the third pic says it all...
2. Yes, that dinosaur is eating babies
https://imgur.com/a/gmK9g#6cnPS
Why not kick off the list with something really hard-hitting? In a scene that resembles Jurassic Park crossed with the Rugrats, someone clearly took the baby shower theme to a much darker level.
3. It's nothing if not encouraging
https://imgur.com/cdNMLvq
We're sure that Kate felt filled with confidence after being given this cake...
4. GOAAALLL
https://imgur.com/wxD2y9b
The absolute best thing about this beauty is it was baked by the father-to-be's grandmother, aka legend.
5. The no baby shower baby shower
https://imgur.com/sCcxI
Not the most conventional baby shower cake we've ever seen, this sweet treat was made by a gentleman's girlfriend in celebration for him getting the snip!
6. Arms first?
https://imgur.com/g1TQlgu
We've heard of being born breech but we've never seen a baby claw their way out of the womb quite like this.
7. Just... the strawberries
https://imgur.com/3wotzlw
A protruding baby head is one thing, but detailing a lady's insides with chopped up strawberries is just too much for us.
8. Placent-aagghhhh get away!!!!
Only way we could eat this cake is if we were blindfolded.
9. And last, but certainly not least...
Chilling. Disconcerting. Frightening. Shocking. Just plain scary. We've run out of words.
Have you got any particularly awful baby shower cake pictures to share? Share them with us in the comment section below!