7 things you didn't know you could make with a hand blender
The hand blender takes on another dimension with these recipes you'd never guess you could make with it! Make muffins, sauces, milkshakes and plenty more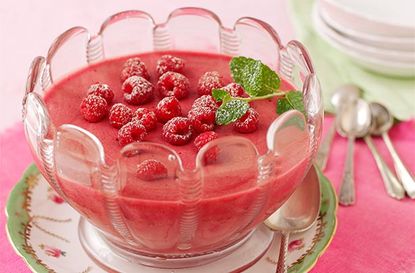 The trusty hand blender is an underrated piece of kitchen equipment that has so much potential that's just waiting to be unleashed. It's time to dig it out of the back of the cupboard because we've gathered our hand blender recipes that will give this tool another lease of life. Learn to make muffins, milkshakes, cake, sorbet and plenty more with it...
The hand blender is usually pigeonholed as a liquidiser. Making a soup or a sauce? You'll be reaching for your hand blender, of course. But we want to expand your horizons a little and show you that the hand blender can be so much more than that...
1. Muffins
Using a hand blender in this muffin recipe will give you perfectly light, fluffy muffins. Instead of beating together the eggs and milk, use your hand blender - it's much easier and gets it to the right consistency right away - the same when you add the bananas and voila, they're ready to bake! Get the recipe: Banana muffins (opens in new tab)
2. Hummus
Making your own hummus really couldn't be easier. The hand blender is what gets the hummus to that familiar consistency, and it really couldn't be easier to make your own. Once you've mastered the basic recipe, you can even start adding different flavours to really spice it up! Get the recipe: Homemade hummus (opens in new tab)
3. Milkshake
Who'd have thought you'd need a hand blender for a milkshake? This recipe is so indulgent and naughty, but we're allowed to treat ourselves once in a while, right? Use the hand blender to get the Creme Egg to the right consistency and mixed in properly with the milk and ice cream. Enjoy! Get the recipe: Cream egg milkshake
4. Cake
You might be suprised that cake is on the list as most recipes will require an electric whisk or a free standing mixer. But this recipe uses a hand blender to puree cooked butternut squash. Once you've got it to a creamy consistency, it can be mixed with the rest of the ingredients to make mystery ingredient cake! Get the recipe: Spiced squash ring cake (opens in new tab)
5. Soup
Ok, yes, this is an obvious one, but we had to mention it... It's the easiest way to get a super smooth, creamy soup to warm you up from the inside out. Once your soup has cooked, you just need to blitz it with the hand blender. Don't faff trying to get it into a food processor when it's so hot. That's a recipe for disaster! Get the recipe: Tomato and chilli soup
6. Mousse
Your hand blender comes in really handy with this raspberry mousse recipe. Once you've got the raspberries and jelly together, you need them lump-free and completely combined. Pass that stick blender! Get the recipe: Raspberry mousse
7. Sorbet
Blitz the egg whites with the rest of the mojito sorbet mixture so that everything is perfectly cobined and you're ready to stick your sorbet in the freezer to set. That's easy enough, the tough part is waiting for the sorbet to set, which can take several hours! (opens in new tab)
Get the recipe: Mojito sorbet (opens in new tab)
Our state-of-the-art Total Control Collection makes food preparation easier, giving you the power to create with confidence. With Smart Response Technology for total control and one touch operation for pre-set tasks, the Total Control collection takes the hard work out of preparing your baking tasks. Read more about the Total Control Collection (opens in new tab)
Burnt your buns? Messed up your meringue?
Morphy Richards' Baking Surgery is here to help! If you've been inspired by the GBBO but just can't seem to get it right, Barry Lewis from My Virgin Kitchen will show you how to avoid the biggest baking fails using the Total Control Range.