We earn a commission for products purchased through some links in this article.
We've found a quick and easy way to make potato wedges in seconds. If you thought an apple slicer was just for slicing apples, you thought wrong. This food hack will save you time and cut down on the washing up too.
If your apple slicer has been collecting dust in the back of your cutlery draw for the past few years, it's time to dust it off and put it to good use – tested and proved in the goodtoknow kitchen.
This apple-cutting gadget can be used to make deliciously even potato wedges in a matter of seconds.
To make your potato wedges, you don't even have to peel your potatoes (or if you do, you'll make chips!).
Pop your potatoes onto a wooden board, grab your apple slicer, press down firmly and ta-dah! You've got potato wedges.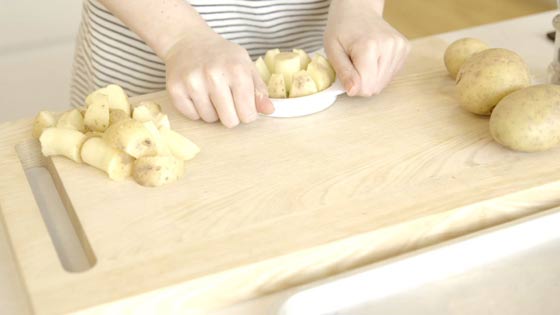 This hack works best on small or medium-sized potatoes, but if you only have larger spuds you can cut them in half before you start.
The apple slicer has to be able to fit over the potato that you want to make into wedges. Spread out onto a tray, drizzle in oil, season and cook in the oven at 200C for 30-35 mins or until golden and crisp on the outside.
This method is perfect if you're cooking with kids and trying to get them involved in the kitchen, especially as it doesn't involve using a sharp knife.
Try this hack using sweet potatoes or butternut squash instead.