We earn a commission for products purchased through some links in this article.
Sometimes decorating a cake can be a bit of a faff especially if you do it on a regular basis. This nifty little food hack will show you how you can use cookie cutters to create shapes and patterns on your sponge in a matter of minutes.
It really is as simple as it sounds. All you need to do is decide on which cookie cutters you'd like to use (we've opted for heart shapes) and then you want decide on whether you're going to decorate with icing sugar or sprinkles (or both, as we have).
Draw around your cookie cutters onto greaseproof paper and cut those out as templates or use the cookie cutter directly onto the cake.
Watch how to put this method into action – it really is as simple as that!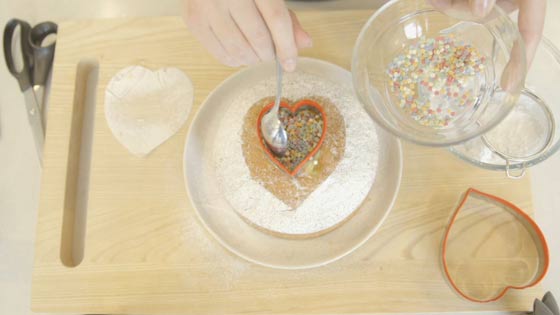 If you're looking for a quick and easy way to decorate a cake or cupcakes for a special occasion, we'd recommend this easy technique.
It's also perfect for beginners if you're new to cake decorating and is ideal if you haven't got time to whip up buttercream or get fancy with designs.
This method is best tried on plain, non-frosted cakes like a classic Victoria sponge or lemon drizzle cake. You could try this technqiue on other cakes too – how about a chocolate cake decorated with white chocolate sprinkles? Or a strawberry cake decorated with dried strawberries?
Try using different cookie cutter shapes too. We've used hearts but you could experiment with stars, circles, squares or even, when it comes to special occasions like Christmas or Easter you could try themed shapes instead. A red sprinkled Santa or icing sugar Easter egg.