Carb swapper: Healthy swaps for your usual sides
Trying to eat a little more healthily? There's no need to completely change your meal. By giving your usual sides a little tweak, you can dramatically reduce the calorie and fat content of your meal.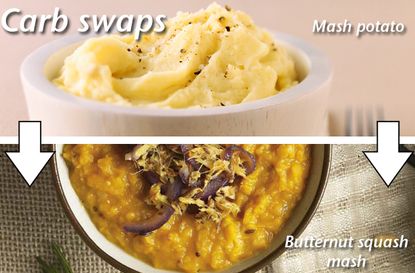 Trying to eat a little more healthily? There's no need to completely change your meal. By giving your usual sides a little tweak, you can dramatically reduce the calorie and fat content of your meal.
Trying to eat a little more healthily? There's no need to completely change your meal. By giving your usual sides a little tweak, you can dramatically reduce the calorie and fat content of your meal.
Our carb swapper gives you healthy ideas for alternatives to your usual heavy white carbs. Of course, there is always the brown, wholegrain alternative to carbs such as rice and pasta, which do siginifcantly improve the healthiness of your meal, these carb swaps go one step further than that.
Easy vegetable substitutions, healthier grains and clever tricks can not only make your meal healthier - they can make it tastier too!
Click through our swaps for mash potato, chips, pasta, rice - and even a way to have sandwiches without bread....
Carb swaps: Healthy mash potato alternative
Swap mash potato for butternut squash mash
Mashed potatoes are an absolute comfort food treat but the white starch in potatoes means they're not exactly diet friendly. The basic principle of the dish, mashing, can be applied to lots of other vegetables, and combinations of vegetables, to give your dish the same type of side - just without the extra calories.
Other options:
Most vegetables can be boiled then mashed down, try parsnips, carrot or swede - or a delicious combination of all 3. Our cheesy cauliflower mash is also a delicious potato-free option.
Carb swaps: Healthy chips alternative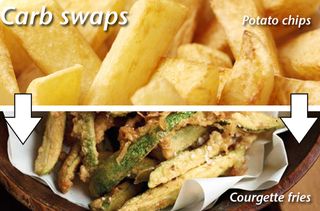 Swap chips for courgette fries
Fish and chips, chicken and chips, burger and chips - so many things are just delicious with a side of freshly cooked chips. Again, our old friend white starch will make this side a diet enemy but you can fake it slightly. Vegetable chips are getting popular with restaurants offering sweet potato fries or courgette fries instead of the potato version and you can easily make your own at home. Lightly coat the veg in a batter and bake (much healthier than frying), you'll be surprised how much you enjoy vegetable fries.
Other options:
Sweet potato fries are lovely without batter so are a little healthier. Asparagus will also make lovely battered fries.
Carb swaps: Healthy spaghetti alternative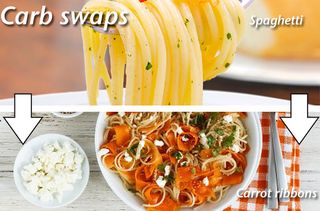 Swap spaghetti for carrot ribbons
A big bowl of spaghetti with sauce is an easy and delicious option for dinner time. Not only is spaghetti hard to portion control, it's full of naughty white carbs too. Thin strips or ribbons of carrots can replace part or all of the spaghetti in your usual dish and is a great accompaniment to your pasta sauces. Boil it in the same way as pasta until soft.
Other options
Courgette and peppers would work well in this way too - the three combined would get you well on your way to your 5-a-day.
Carb swaps: Healthy pasta alternative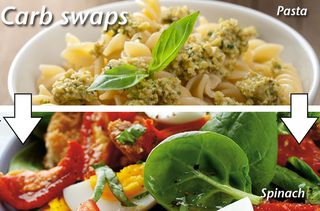 Swap pasta for spinach
The problem with swapping pasta for another grain is the sauce. Pasta is one of the nation's favourite meals because the sauces can be so varied. If you swap pasta for couscous or quinoa, you may struggle pairing them with your favourite sauces. Iron-rich spinach may sound like an odd option but, when uncooked, it works well with so many different ingredients. Try substituting some of your pasta with spinach first, then increase the amount of greens.
Other options
Courgette ribbons can also replace your pasta, or a portion of your pasta, to lighten your meal.
Carb swaps: Healthy rice alternative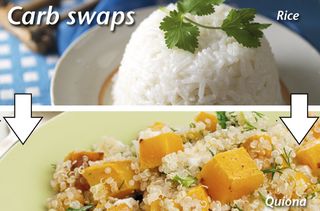 Swap rice for quinoaQuinoa is a grain that has similar properties to rice so makes a good substitute for traditional rice-based recipes such as risotto. While not much lower on the carb scale than rice, it has many more other nutritional benefits. The gluten-free grain is rich in fibre, protein and vitamins. Use it as a side for curry, stroganoff or casserole or to bulk out a salad.
Other options Add filling ingredients to a curry, such a lentils or sweet potato, so you don't need to serve it with a side at all. Pearl barley is also a lighter rice alternative.
Carb swaps: Healthy roast potatoes alternative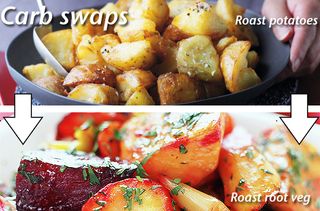 Swap roast potatoes for roasted root vegetables
Root vegetables have the same filling consistency as potatoes but are richer in nutrients and count towards your five-a-day. You can opt for parsnips, carrots, swede, turnips, beetroot or a delicious combination of root veg.
Other options
Tray bake your root veg with lemon and garlic to give them extra flavour. You could even add in sweet potatoes for a more filling twist.
Carb swaps: Healthy bread alternative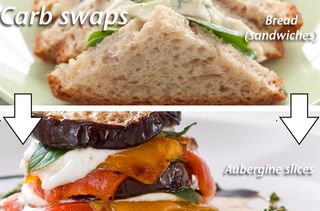 Swap bread for aubergine slices
Love a sandwich for lunch? This clever twist substitutes bread for thick slices of grilled aubergine. The meaty veg has a thick consistency which makes it a perfect bread alternative, simply layer your sandwich fillings between chunky slices. The only difference is that you may need a knife and fork to eat it! You could also use this technique for burgers and replace the bun with slices of veg.
Other options
You can slice the aubergine thinly lengthways instead and wrap it around your sandwich fillings for an easier-to-eat option. The thick consistency of portobello mushrooms makes them a good alternative to bread and buns also.
Carb swaps: Healthy crisps alternative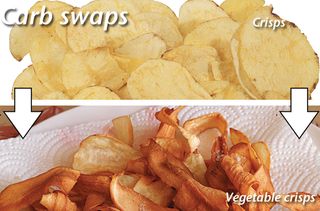 Swap crisps for vegetable crisps Do you crave a packet of crisps with your lunch or as a snack? Simply substituting what vegetable the crisps are made of can make a massive difference. You can buy vegetable crisps in the shops or you could try making them yourself with our recipe for parsnip crisps (and bake them rather than deep-frying if you're watching your weight!)
Other optionsBags of popcorn are everywhere these days and will satisfy the crisp craving for less calories. We have some nice popcorn recipes that you can make yourself too.
Carb swaps: Healthy baked potato alternative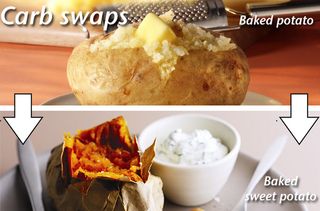 Swap baked potatoes for baked sweet potatoes
While their carb count may be similar, the nutritional values of a sweet potato make it a far healthier choice for a side. Baking a sweet potato is actually quicker than a regular potato - they can be ready in minutes if you give them blast in the microwave!
Other options
Baked cauliflower may not look the same as a jacket potato but it will make a chunky side for your plate. As you're being so healthy, a little sprinkling of cheese could be allowed...
Where to next?
Parenting advice, hot topics, best buys and family finance tips delivered straight to your inbox.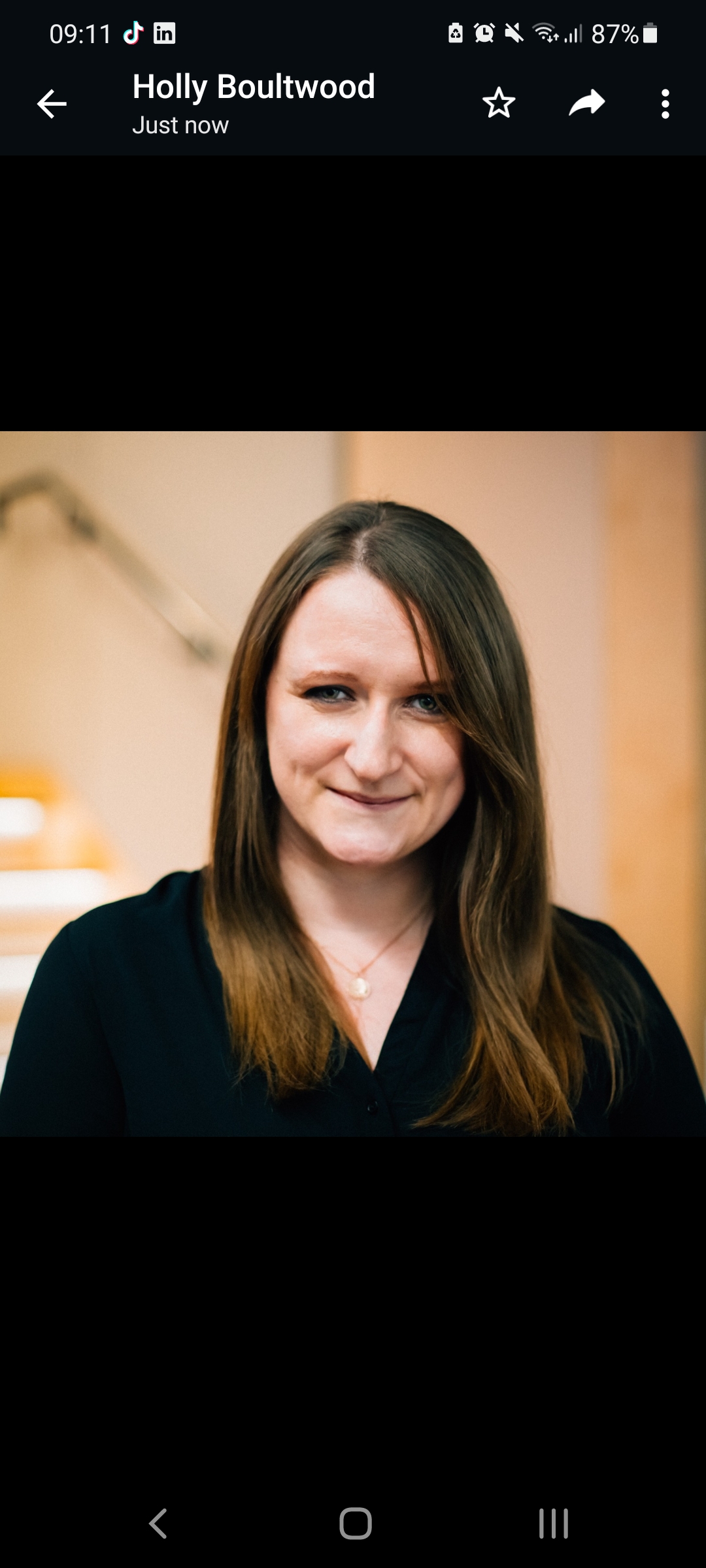 Holly has over 15 years' experience understanding and creating digital content that people want to read and share. Holly's has created news and lifestyle content for brands, such Now Magazine, Best Magazine and Goodto.com.