9 incredible ways to pimp your hot chocolate
As we dip into the colder season, what's better than dipping a biscuit into a heavenly hot chocolate? Not much. Hot chocolates are a great winter warmer and when you're feeling extra indulgent why not make your drink extra special. These are great for having guests round or for a fun night in and are especially great for those of you with a sweet tooth. So get pimpin'!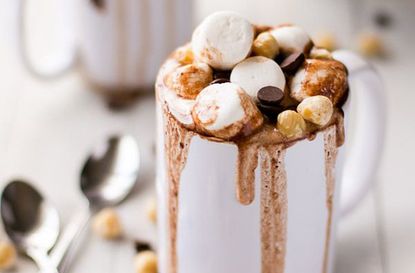 When the temperature drops hot drinks are just the thing to keep you warm and cheer you up on a dreary day! However, these are not just your average hot chocolate, oh no, these are 'pimped' up hot chocolates - the ultimate indulgence. Take a look at our great ideas for all your hot chocolate worries, you'll never have a standard hot chocolate again!
Have a watch of our how-to video for a step-by-step guide on how to make the top three. You'll want to have already made your hot chocolate but the rest is simple!
1. Crunchy caramel
If you're a biscuit lover, this hot chocolate makeover will have you wanting to keep it all to yourself! The Biscoff spread gives the hot chocolate a delicious caramel twist which melts in the mouth, whilst the rum adds that extra kick to spice it up, perfect for a special occasion! Make sure you've gathered together your Lotus Biscoff spread and biscuits, rum, whipped cream and caramel sauce and you'll be ready to go.
2. Fairy fluff
Fairy fluff is always a crowd pleaser for the little ones and you can now buy jars of the marshmallow version in most supermarkets. The sticky marshmallow makes the hot chocolate ever so indulgently gooey, perfect to pile high as many Oreos as you wish! We love using hundreds of thousands to give it that colourful, happy feel but feel free to use any type of sprinkles you fancy - why not try chocolate sprinkles and a chocolate flake on top for a chocoholic treat.
The basic ingredients are marshmallow fluff, sprinkles of your choice, and Oreos but you can use any other biscuit if they're not quite to your fancy.
3. Nutella and Bailey's
This hot chocolate is indulgence in a cup. Nutella gives the hot chocolate an earthy nutty flavour which is complimented by the liqueur tang that comes with the Bailey's. Both these ingredients make for a velvety smooth hot chocolate which is topped off perfectly with the stroopwaffel and marshmallows.
The name says it all but make sure you've got some Nutella, Bailey's, mini marshmallows, cocoa powder and stroopwaffels (or a biscuit of your choice) and enjoy!
4. Red Velvety smooth
Why not have hot chocolate and cake in one with this rosey red velvet hot chocolate (opens in new tab) from blogger Annie's Noms. This one is perfect for a romantic evening in or for a special occassion such as Mother's Day or Valentine's. You can skip the first step if you've already prepared your hot chocolate and start with the food colouring to ensure that the hot chocolate is oozing with love.
5. Peanut b-utterly delicious
When you really fancying spoiling yourself or some guests, this peanut butter hot chocolate (opens in new tab) 'float' is the ultimate treat, particularly for the Reese's piece's fanatics - it really is liquid gold. Hot chocolate floats are a fun and different way to pimp up your hot chocolates by using ice cream. When you try this you really will tease your taste buds as you experience hot with cold and smooth with crunchy, b-utterly delicious!
6. Nutella gooey goodness
Nutella fans, this hot chocolate (opens in new tab) is your heaven - and for those of you who aren't this will make you one! The nutty tones that come through the Nutella make for a deliciously warming and satisfying drink which will be sure to warm and cheer you up on a miserable day.
7. Cinammon and white chocolate
If you're an Easter bunny who loves the spring months, this white hot chocolate (opens in new tab) will suit you perfectly and is a nice change from the standard milk chocolate. The cinnamon is complimentary to the white chocolate and the pecan nuts to top are a perfect crunchy accompaniment.
8. Sweet and salty
This hot chocolate is oozing with sticky and sweet salted caramel (opens in new tab) goodness. The mixture of dark and milk chocolate ensures that the milk is rich and intense whilst the combination and sweet and salt never lets you down. Enjoy it with a Lotus Biscoff biscuit dipped in, perfect for those of you with a sweet tooth! This recipe serves 8 but just cut it down by ratio if you'll be enjoying this alone!
9. S-more please
Like s'mores (opens in new tab)? You're going to love this. If you fancy jazzing up your classic hot chocolate with marshmallows but are limited of ingredients, then this is perfect! All you need is some crackers and chocolate syrup and it is perfect if you're camping as you can toast your marshmallows over the fire and plonk them right onto your hot chocolate!
10. Ginger galore
This gingerbread hot chocolate (opens in new tab) is a fun and festive drink for the winter season, especially if ginger is your favourite spice. We love it in a hot chocolate because it has a warming sensation when you drink it which gives you that festive feeling. Definitely appropriate on the countdown to Christmas!