I made hot chocolate in a slow cooker and it was the most delicious mess I've ever made (and I'd do it again)
If you think making hot chocolate in a slow cooker sounds like fun, you're right - it was the best mess I've ever made…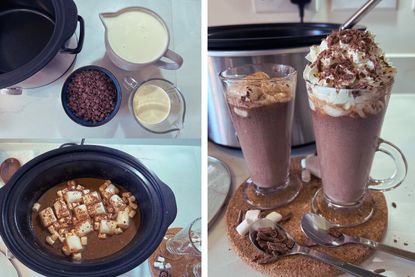 (Image credit: Future)
Roll up those sleeves, get out your favourite hot chocolate mug (yes, the extra large novelty mug that's been collecting dust in the cupboard during the summer!), and say hello to hot chocolate in a slow cooker.
'Tis the season for hot chocolate; whether that's hot chocolate powder mixed with warm milk and served simply as it is, or hot chocolate made with real chocolate topped with lashings of whipped cream and heaps of marshmallows. Whatever kind of hot chocolate drinker you are, you'll want to know all about the trend that is - slow cooker hot chocolate.
Now I am a massive fan of a slow cooker and have had mine for over two years now and over the years of owning one, I have never once thought to make hot chocolate in it. And boy, have I been missing out. For those of you new to the slow cooker world, a slow cooker is a kitchen appliance that cooks food at low heat for a lengthy period of time. It is often associated with stews, casseroles, and sauce-heavy meals meaning it's a great choice when it comes to brewing hot chocolate.
To make hot chocolate in a slow cooker you will need a slow cooker, to begin with, hot chocolate powder of your choice and real chocolate that you can melt - be it dark, or milk - and anything extra for serving e.g. whipped cream, marshmallows, chocolate flake, candy canes or mini gingerbread men if you're getting in the festive spirit. Once you've got everything you need, it's time to get started.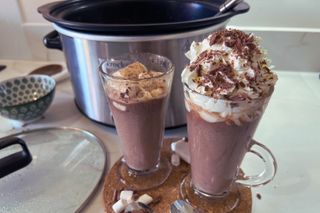 How to make hot chocolate in a slow cooker
Below I have included a step-by-step guide on how to make hot chocolate using a combination of both chocolate chips and hot chocolate powder to ensure the most luxurious, silky smooth hot chocolate.
Of course, this recipe can be adapted to suit you and your family. For example, if you're looking for a dairy-free option, you could easily swap the milk for oat milk or almond milk for an earthier, nuttier flavour instead. The cream can also be substituted for a plant-based alternative.
You can also use your favourite chocolate bar too - be it Cadbury, Galaxy, or even Terry's Chocolate Orange - you just need to make sure you chop the chocolate into small, chocolate chip size pieces so they can melt evenly. You also want to stir regularly so chocolate doesn't get stuck to the bottom of the slow cooker and burn.
I've topped my hot chocolate with a simple can of foam cream, however, whipped double cream or whipping cream would work just as well. You could even dollop a spoonful of sticky marshmallow fluff on top for an extra-sweet alternative.
This recipe makes 6-8 cups of hot chocolate - depending on what cup size you go for. I chose tall SoHo glasses to serve my hot chocolate in and it made around 6 cups, however smaller mugs you may get 8 servings.
You will need:
1 litre semi-skimmed or full-fat milk
300ml single cream
300g milk or dark chocolate chips (or finely chopped chocolate chunks)
100g hot chocolate powder
And a slow cooker of course!
Step 1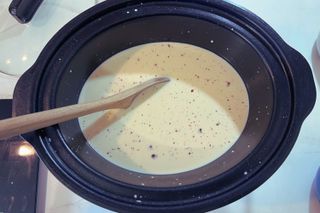 Add the milk, cream, and chocolate chips to the slow cooker and stir. Put the lid on the slow cooker and set the machine on a low heat for 2 hours - stirring occasionally.
Step 2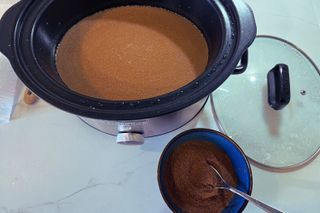 After 2 hours, remove the lid and add the hot chocolate powder stirring continuously until the powder combines with the warm milk, cream, and chocolate mixture. Put the lid back on and continue to cook for a further 20 minutes.
Step 3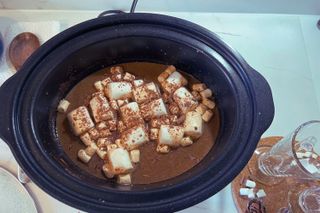 Turn the slow cooker off or put on the warming setting and serve immediately. Top with marshmallows, whipped cream, chocolate flakes, etc. the choice is yours!
Other hot chocolate recipes to try in your slow cooker:
Is it best to make hot chocolate with powder or real chocolate?
If you're looking for a quick and easy way to make hot chocolate, hot chocolate powder is the best choice, however, if you're looking to make something more indulgent and luxurious, real chocolate is the go-to.
Cocoa powder doesn't contain cocoa butter like a chocolate bar, so you miss out on the rich, creaminess of hot chocolate powder. Hot chocolate powder also tends to be sweeter as it often has added sugar meaning it is sweeter, and less rich than real chocolate.
What is the best cream to serve on top of hot chocolate?
If you're looking for luxurious hot chocolate and you're happy to overindulge, freshly whipped double cream or whipping cream is a great choice. It's thicker than squirty or foamed cream you get in a tube or can so is much more indulgent and maybe a bit too much for some people, however, if you're a fan of clotted cream on scones or fresh cream on cakes, it'll be your best bet.
Of course, if made properly and to perfection, you may not need to top your hot chocolate with any cream, and could easily serve as it is so you can really embrace the rich chocolate flavour. Cream will also cool the hot chocolate down quickly so if you prefer your beverage to be on the boiling side when serving, you may skip the cream.
Where can I buy hot chocolate powder from and what is the best brand?
Hot chocolate powder can be found in most supermarkets, well-stocked corner shops, or bought online from a range of retailers. Popular brands include Cadbury, Bournville, Options, Starbucks, Whittard, Clipper, Galaxy, Twinings, and supermarket brands of hot chocolate including Tesco and Asda.
I have tried pretty much all of the brands listed above in my time, but my two favourites are Starbucks Signature Chocolate which works well mixed with both boiled water and milk, depending on how rich you like your hot chocolate (and how hot!), and Whittard Luxury Hot Chocolate powder which, when you follow the instructions to a tee, makes the richest, silkiest hot chocolate out there.
What is the difference between hot chocolate powder and cocoa powder?
Hot chocolate powder is sweetened, but cocoa powder is not. Cocoa powder has a much more concentrated, rich chocolate flavour as it is made from roasted and ground cacao beans, with most of the cocoa butter removed. Hot chocolate is typically made with cocoa powder, however with added ingredients such as sugar, powdered milk, and flavourings in some cases.
The sweetness of hot chocolate powder vs. cocoa powder is the most significant difference meaning hot chocolate is ready to drink whereas cocoa powder, if drunk, would need sugar to be added to achieve the best flavour. Hot chocolate is typically creamier and has more of a subtle chocolate flavour. Whereas cocoa powder has a much more intense chocolate flavour making it ideal for baking.
Best slow cookers - my top picks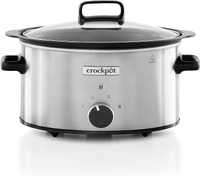 Crockpot 3.5L Sizzle & Stew Manual Slow Cooker - View at Amazon
This small, but mighty slow cooker is great for making an array of comfort foods; from stews to chilli - and now hot chocolate. It's a manual slow cooker so there is no timer or buzzer to go off to say it is done, which can be a slight pain however it doesn't bother me now as I often time it with my day and when it's home from school time, the slow cooker goes off if its been stewing all day. Super easy to clean, dishwasher safe, and compact design so can fit in the smallest of kitchens - and in the kitchen cupboard too for those who don't have much kitchen counter area.
---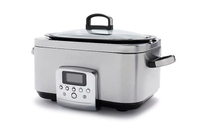 GreenPan 6L Slow Cooker - View at Lakeland
A large slow cooker perfect for bigger families who love batch cooking, or making hearty stews with plenty of leftovers. This 6L slow cooker from GreenPan features smart settings with a slow cook function for up to 24 hours as well as 8 hours warming mode once food has been cooked. I've made various meals in this slow cooker including slow cooker Spag Bol, chicken stew, and sausage casserole - all of which came out perfectly - especially with the digital timer on display and loud alert when the cooking is done.
---
For more of the best slow cookers on the market, check out our handy guide including brands such as Russell Hobbs, Ninja Kitchen, and Sage.
We've also got a nifty guide answering the question; how much does it cost to run a slow cooker? As well as a range of different slow cooker recipes including our best vegetarian slow cooker recipes and best slow cooker chicken recipes.
Parenting advice, hot topics, best buys and family finance tips delivered straight to your inbox.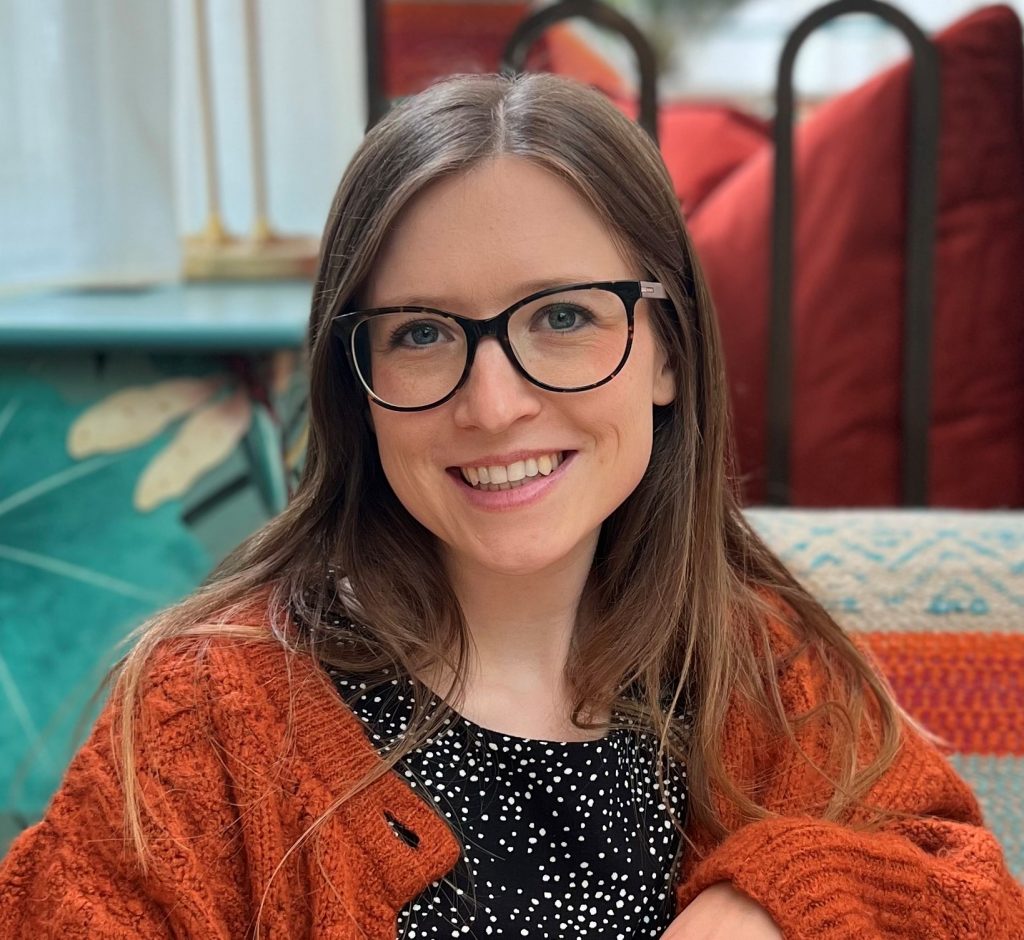 Jessica Dady is Food Editor at GoodTo and has over 11 years of experience as a digital editor, specialising in all things food, recipes, and SEO. From the must-buy seasonal food hampers and advent calendars for Christmas to the family-friendly air fryers that'll make dinner time a breeze, Jessica loves trying and testing various food products to find the best of the best for the busy parents among us. Over the years of working with GoodTo, Jessica has had the privilege of working alongside Future's Test Kitchen to create how-to videos exclusively for GoodtoEat - as well as writing, testing, and shooting her own recipes. When she's not embracing the great outdoors with her family at the weekends, Jessica enjoys baking up a storm in the kitchen with her favourite bakes being chocolate chip cookies, cupcakes, and a tray of gooey chocolate brownies.