Food prices predicted to jump up £380 over the next year
New research reveals that food prices could rise by almost £400 in the next 12 months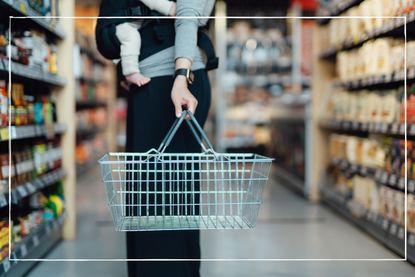 (Image credit: getty images)
According to new research from data analysts Kantar, families will pay £380 more on food shopping over the next year. This is over £100 more than its initial prediction for rising food prices back in April this year.
These rising food prices and the ongoing energy crisis have been key influences on inflation reaching a 40-year high.
More shoppers are now looking for ways to save money on food, including swapping branded products for 'own label', according to Kantar, with sales of branded items down by 1% since April. Supermarket value lines are seeing sales up by 12% since April.
There has also been widespread criticism that the price of basic foods like pasta and rice have shot up way beyond inflation levels. Anti-poverty campaigner Jack Monroe publicly called out Asda earlier this year after finding the price of its basic pasta had gone up by 141% in one year and rice by a staggering 344%, while trade unions have set up the Enough is Enough campaign to tackle the rising cost of living.
What can you do to combat rising food prices?
Finding the cheapest supermarket is one trick to lowering the cost of your food shop, but as most chop and change deals and discounts – this can be hard unless you have time to visit the lot. One easy way to do this is by using a supermarket comparison site like Trolley to help you find out which supermarket is the cheapest each week.
Making sure to use your supermarket loyalty card can mean savings too - Tesco regularly offers Clubcard members special offers and deals whereas shoppers without its card pay full price.
Shopping later in the day can also help. Most supermarkets start discounting fresh food or items with a short shelf life from midday – with the biggest discounts – often up to 75% - popping up early evening. Look for those little yellow stickers and most supermarkets have special reduced sections to make it easy to track down bargains.
It pays to get creative with leftovers too. While batch cooking and storing meals in your freezer is a simple solution, food waste apps like Olio and Too Good To Go mean you can snap up 'leftovers' from local supermarkets and cafes. With Too Good To Go, you can usually get around three times the amount of food you pay for – with prices for a bag from just £2.
If you're really struggling you may be able to use a food bank – with some you may need a referral from Citizens Advice, which other food banks run by local churches or community groups may have different rules.
Related features:
Video of the Week
Parenting advice, hot topics, best buys and family finance tips delivered straight to your inbox.
Sue Hayward is a personal finance and consumer journalist, broadcaster and author who regularly chats on TV and Radio on ways to get more power for your pound. Sue's written for a wide range of publications including the Guardian, i Paper, Good Housekeeping, Lovemoney and My Weekly. Cats, cheese and travel are Sue's passions away from her desk!