Does everyone get 15 hours free childcare? How the scheme works
With various schemes available to help with costs, does everyone get 15 hours free childcare a week?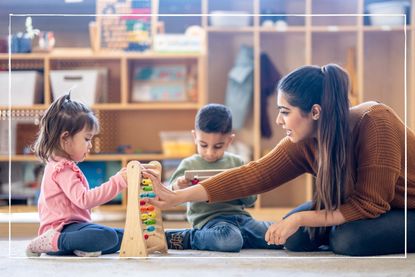 (Image credit: Getty Images)
If you are paying for childcare, you'll need to know if everyone qualifies for 15 hours free childcare and whether your circumstances mean you qualify for more assistance.
Whether you put your child in a nursery, use a childminder or hire a nanny, average childcare costs can be eye-wateringly expensive and will put a big dent in the family budget. And these rising costs mean the cost to raise a child is getting more expensive.
According to Coram Family and Childcare, a full time (50 hours a week) nursery place will set you back an average of £1,240 per child each month. Thankfully, there is help with childcare costs available from the government, such as the 15 and 30 hours free childcare schemes. Many families wouldn't be able to cope financially without this assistance.
Personal finance expert Emma-Lou Montgomery, who is also associate director for personal investing at Fidelity International, said: "Juggling childcare costs with wider cost of living challenges means that being able to access free hours of childcare has never been more important for families. It can make a real difference when balancing work commitments, other care responsibilities, household outgoings and starting to think about being able to put money aside, be that for emergency savings or planning for the future."
This article talks about the childcare scheme in England. There are different schemes in Scotland, Wales and Northern Ireland.
Does everyone get 15 hours free childcare a week?
Yes, but only when children reach a certain age. In England, all three and four-year-olds can get 570 free hours per year. This is usually expressed as 15 hours a week for 38 weeks of the year. Depending on the provider, you can use fewer hours per week to cover more weeks in the year, but you can't use more than 15 hours each week. This can be a lifeline to parents who are worried about how much nursery will cost. Although the childcare is free, you may have to pay for extras like meals, nappies or trips.
The 15 free hours are available from the start of the term after your child's third birthday. You don't have to apply for this - your childcare provider will apply on your behalf - and there are no eligibility requirements, but you will need to find an approved provider who can offer you a place.
In some circumstances, parents of two-year-olds can also get 15 free hours per week. Money expert Rajan Lakhani, who is also head of money at Plum, said: "In England, parents of two-year-olds may be entitled to 15 hours of free childcare per week, term-time only, if you are on a low income, getting certain benefits or if your child has additional needs."
What is the income threshold for 15 hours free childcare?
There isn't an income threshold to qualify for 15 hours free childcare. All three and four-year-olds can qualify. However, if you receive the following benefits, you can get the 15 hours free childcare earlier (when your child turns two):
Income Support
Income-based Jobseeker's Allowance (JSA)
Income-related Employment and Support Allowance (ESA)
Universal Credit, and your household income is £15,400 a year or less after tax, not including benefit payments
The guaranteed element of Pension Credit
Child Tax Credit, Working Tax Credit (or both), and your household income is £16,190 a year or less before tax
The Working Tax Credit 4-week run on (the payment you get when you stop qualifying for Working Tax Credit)
Who gets 15 hours free childcare and who gets 30 hours?
While the 15 hours free childcare is available to all three and four year olds (and in some circumstances, two year olds), some families are eligible for 30 hours (1,140 hours per year) of free childcare when their child is three or four-years-old.
To be eligible for 30 hours free childcare in England, you and your partner must earn, on average, the equivalent of 16 hours a week at the national minimum wage. However, you can't earn more than £100,000 a year.
"If both parents are working, 30 hours may be available depending on what you both earn," explains money expert Rajan Lakhani. "Meanwhile, all parents in Scotland can access 30 hours of free childcare during term-time, and in Wales, there are a variety of different offerings depending on the local authority, but some parents will be able to access 30 free hours."
Upcoming changes to the free childcare scheme
Chancellor Jeremy Hunt announced in March 2023 that free childcare for working parents in England will be expanded to cover all children between nine months and five years old by September 2025. The new scheme will be introduced in the following stages:
From April 2024, eligible working parents of two-year-olds will get 15 hours of free childcare per week
From September 2024, children between nine months and two-years-old will get 15 hours of free childcare
From September 2025, all eligible under-fives will get 30 hours of free childcare each week
The aim of these changes is to get more parents back to work. At the moment, many parents (mainly women) find the cost of childcare makes going back to work unaffordable.
Chancellor Jeremy Hunt also announced that, by summer 2023, parents on Universal Credit will be able to access the funds to pay for childcare upfront rather than having to pay for childcare then claim the money back.
"News that parents on Universal Credit will now get payment for childcare costs upfront will make returning to work, or increasing their hours, financially viable for many more people. While the hike in maximum costs to £951 for one child and £1,630 for two children, for those on Universal Credit, this will be well received by those who typically work longer hours," says personal finance expert Emma-Lou Montgomery.
"The increase from April 2024 in childcare hours and provision for babies from the age of nine months is welcomed, however it won't help the parents who need help now."
How can I apply for 15 hours free childcare?
The first step is to find a nursery, childminder or other 'approved provider' who participates in the scheme and has a space for your child. The provider must be registered with Ofsted and can be a nursery, pre-school, after-school club, playgroup, childminder, school or Sure Start centre.
The provider will apply on your behalf once you have shown them proof of your child's age, such as their birth certificate.
Emma Lunn is a multi-award-winning journalist who specialises in personal finance and consumer issues. With more than 18 years of experience in personal finance, Emma has covered topics including all aspects of energy - from the energy price cap to prepayment meter tricks, as well as mortgages, banking, debt, budgeting, broadband, pensions and investments. Emma's one of the most prolific freelance personal finance journalists with a back catalogue of work in newspapers such as The Guardian, The Independent, The Daily Telegraph, the Mail on Sunday and the Mirror.