What are the average childcare costs in the UK?
Average childcare costs are rising in the UK, making it crucial for working parents to understand their different childcare options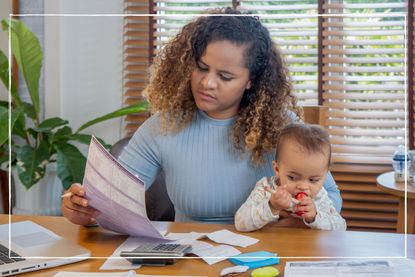 (Image credit: Getty Images)
Average childcare costs in the UK have gone up yet again, putting even more pressure on already stretched household budgets and adding to parents concerns about how much it costs to raise a child (opens in new tab).
CEO and co-founder at private pension provider Penfold, Pete Hykin (opens in new tab), told us: "Childcare costs are becoming increasingly unaffordable for many households, and this is putting significant pressure on family budgets. The high cost of living, coupled with the rising cost of childcare, is leaving many families struggling to make ends meet."
While you might benefit from the tax-free childcare allowance, be entitled to child benefit or qualify for 30 hours free childcare each month (opens in new tab), it's still important to understand how much you're paying and how it compares to the average costs in the UK. It can also help if you are weighing up whether it's financially worth returning to work (opens in new tab) after your maternity leave.
What are the average childcare costs in the UK?
The latest Childcare Survey (opens in new tab) from Coram Family and Childcare shows that the cost of full-time childcare for children under two has risen by 5.9% over the past year, making the cost unmanageable for many families. The availability of childcare places has also dropped.
Separate data from the Early Years Alliance (opens in new tab) also reveals that almost nine in 10 nursery providers said they would "probably" or "definitely" increase their fees this year, with an average rise of 8% expected.
Ultimately, the average childcare costs in the UK depend on the type of childcare you choose. This could be nursery, childminders, nannies or au pairs. Here we compare the average costs of each.
Swipe to scroll horizontally
| Header Cell - Column 0 | Typical cost per month (part-time based on 25 hours a week) | Typical cost per month (full time – 50 hours) |
| --- | --- | --- |
| Nursery | £646 | £1,240 |
| Nanny | £1,040 | £3,300 |
| Nanny share | £520 | £1,650 |
| Childminder | £547 | £1,074 |
| Au pair | £390 | £390 |
SOURCE: Coram Family and Childcare
Nursery
A popular option for childcare is nursery. When it comes to how much nursery costs (opens in new tab), according to Coram's 2023 Childcare Survey, nursery fees for under 2s have risen by 5.6% for a part-time place (25 hours), while fees for two-year-olds have risen by 6.1%.
The average price of a part-time nursery place for a child under the age of two was £138.70 a week in 2022. That worked out to be £6,658 a year based on 48 weeks.
By comparison, in 2023, the average price of a part-time nursery place for a child under two costs £148.63 a week or £7,134 a year.
Childminder
Parents can opt to use a childminder, where like nannies, they have the responsibility of picking the children up or dropping them off at their different settings. However childminders would take your child or children back to their own home and work on a self-employed basis.
The average cost of a childminder is £125.91 a week (on a part-time basis) for children under two, or £126.59 a week for two-year-olds, according to Coram Family and Childcare.
Nannies
Many families choose to hire a nanny who will look after your little one or ones at your home, prepare meals and take children on outings and to any classes should you wish. It can be more flexible, but you'll pay for that personal service.
Nanny salaries have soared since the pandemic, with wage expectations from professionals seeking work up a fifth since 2020 alone, according to a study by agency Harmony at Home.
Wages vary but its latest figures suggest a full-time nanny will cost up to £42,000 a year – that's £3,500 a month. This is the top end that you would likely pay in London. But it's still far more expensive than a place at a nursery in most cases.
Parenting expert and founder of the website Devoted to Home (opens in new tab), Melissa Agyei, says: "One way to reduce childcare expenses is to propose a nanny-share arrangement to a friend or neighbour who is also seeking cost savings. This not only allows for shared expenses but also provides more opportunities for socialising among the children." The weekly cost could be cut by 50% if you share the exact same hours of childcare.
Online companies such as childcare.co.uk (opens in new tab) and tinies.com (opens in new tab) can help arrange a sharing service. You can use one of these sites to tap in your postcode and find a match with a local family also looking to share the childcare costs. Typically you'll alternate with the other family in terms of which home the children are based in during the day.
However, bear in mind that having a nanny to look after your children at home means you'll become an employer and as such, there will be obligations on your part. You will be responsible for including statutory sick pay, maternity pay and a pension, for example. You will also need to prepare a contract of employment which should spell out all the terms and conditions of the employment including hours, duties, benefits such as holidays, and wages.
Au pairs
Hiring an au pair is one of the least expensive childcare options. Au pairs are young people from outside the UK who live with you, as part of your family and cares for the children. In return they get free accommodation, meals and some pocket money – rather than a salary – around £90 a week.
There will be other expenses, as your au pair will be staying in your home adding to energy bills. You'll also need to pay your au pair's share on family outings. If you have a spare room in your home and wouldn't mind sharing it, this might be for you.
This option could get more expensive in the future. Last year, the Government said it would push through new legislation saying au pairs will be entitled to the minimum wage (opens in new tab). At present, families are exempt.
Is a childminder cheaper than nursery?
A childminder can be cheaper than nursery, depending on where you live and the hours of childcare you need.
According to Coram Family and Childcare, a childminder costs £125.91 a week. Some childminders may offer a discount if they are caring for more than one of your children. Yet you may find that childminders charge more if you live in an area where there's high demand.
Crunch the numbers once you've got prices for your area and see what's most cost-effective and what works best for the family.
Childcare costs for older children
Once children are at school, life can be easier for parents. Though there's still a gap between when school finishes and the end of the working day. Schools typically offer after-school clubs which differ in length and cost.
According to Coram Family and Childcare, the average weekly price for families using an after-school club for five days a week is £67.42 a week, or £292.94 a month. Alternatively the average cost of a childminder until 6pm is £72.46 a week, which equates to £314.84 a month. While the school option is cheaper, clubs might not run as late as 6pm so it still might be necessary to use a childminder to fit in with working hours.
Swipe to scroll horizontally
| Header Cell - Column 0 | Cost per month (five days a week) |
| --- | --- |
| After-school club | £292.94 |
| Childminder | £314.84 |
SOURCE: Coram Family and Childcare
What's the cheapest childcare option?
There's no one-size-fits-all cheapest option with childcare because every family will need their children cared for on different days and for varying numbers of hours. You'll need to crunch the numbers carefully for the different options – nurseries, local childminders, a nanny at home – to see which one works best for you.
Parenting expert Melissa Agyei says: "Consider your work schedule, commute time, and other factors that might affect your childcare needs. This will help you figure out what option will work best for you and your family." The ages of your children will make a difference too as this will impact on the overall cost as some children might qualify for some hours of free childcare. To find childcare near you and compare prices, use the Coram Family and Childcare finder tool (opens in new tab).
It's worth bearing in mind that the best cost-effective nurseries often get snapped up fast, so you should have your child on a waiting list as soon as you can.
Families expert Melissa Agyei also suggests visiting different childcare providers to see what the environment, staff and facilities are like. "Don't be afraid to ask questions about their qualifications and experience," she says. "Every child is different, so it's important to think about your child's personality and what kind of setting they might thrive in. Some kids do better in nurseries, while others might prefer one-on-one attention from a childminder."
It's also worth trying to find free childcare by enlisting the help of family – usually retired grandparents – who might be happy to give up spare time to look after your children. This is mostly only viable where grandparents live nearby and there's a good relationship between you all. Don't forget that your relative will need time off too. Check out these other ways to cut your childcare costs (opens in new tab) if you need some inspiration.
You might also entertain the idea of grouping with another family and working out a system where you can look after each other's children. You'll need to find one with a child around the same age, a similar approach to parenting, and the same need for affordable childcare. If you take them for one day each, you get two days of childcare for the price of one day off work. If you work part-time, this could be ideal.
What support can I get to cover childcare costs?
There's currently help from the government for childcare once your child reaches three. Right now, parents of three- and four-year-olds get up to 30 hours of free childcare per week in school term time. But the government has announced changes to who is eligible for 30 hours free childcare (opens in new tab) to help parents back into work after having children.
This works out as 38 weeks of the year and you can claim 30 hours as long as you or your other half don't earn more than £100,000 a year for hours with an establishment from Ofsted's childcare register. This includes childminders, day nurseries, playgroups, pre-schools and nursery schools, but the hours cannot be used for care with a nanny.
Be prepared for some costs, however, as nurseries are allowed to ask for payments to cover the cost of things such as snacks, lunch and extra-curricular activities, for example music classes.
Remember that not all nurseries participate in the government free hours scheme, so check before you sign up to any nursery at childcarechoices.gov.uk. This also flags any voluntary charges.
If you claim benefits such as income support or universal credit, there might be more help available to you earlier on. You may be able to claim 15 free hours for your two-year-old. This also applies if your children have a statement of special educational needs or are looked after by a local authority. Find out more about how much universal credit will pay towards childcare (opens in new tab).
You could put child benefit (opens in new tab) towards the cost of childcare. The government will pay £21.15 per week for your first child and £14 per week for any children after that. In April, this is rising to £24 a week for your first child and £15.90 a week for additional children.
Since 2013 the benefit has been capped so households where one earner makes more than £50,000 start to lose some entitlement. If they earn £60,000 you don't get anything.
However, it can be worth signing up for child benefit even if you are not entitled to it because signing up will earn you national insurance credits that will be important for your state pension if you are not working.
If so, you should register for it, then not claim the money so you can still claim the credits.
You can also use the tax-free childcare allowance as a tax-efficient way of paying for nursery or the nanny. You pay money into the online account and the government adds a top-up to the account. You can then use the account to pay any childcare provider on the government's approved list, which includes childminders, nurseries, nannies, after-school clubs and play schemes.
For each 80p that you pay into your childcare account, the government will pay in 20p. The top-up is capped at £2,000 per child, per year and £4,000 per child, per year if they are disabled.
Holly Thomas is a freelance financial journalist and writes across all areas of personal finance, specialising in investments. Holly's work can mainly be seen in The Times, The Sunday Times and the Daily Mail. Previously she worked as Deputy Personal Finance Editor at The Sunday Times, Money Editor at the Daily/Sunday Express and also at Financial Times Business. She has won a number of professional awards, most recently Investment Freelance Journalist of the Year at the Aegon Asset Management Media Awards in November 2021. Others include Freelance Financial Journalist of the Year at the Headlinemoney Awards.