How much does nursery cost? Average costs for parents explained
Wondering how much does nursery cost? Here, we look at average prices and how parents can cut costs to save money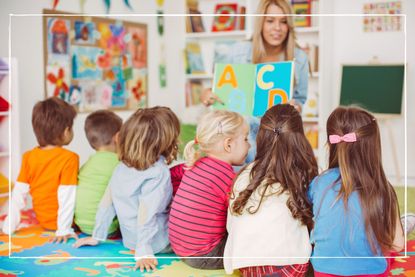 (Image credit: Getty Imaeges)
How much does nursery cost is an important question for parents to ask, given that the cost of raising a child (opens in new tab), and in particular average childcare costs in the UK (opens in new tab), are soaring thanks to high inflation.
Understanding how to claim 30 hours 'free' childcare (opens in new tab) and checking whether you qualify for the tax-free childcare allowance (opens in new tab) are some of the ways parents can reduce childcare costs. But even with that assistance, paying nursery fees can still make a considerable dent in your household budget.
Sue Learner (opens in new tab), editor of daynurseries.co.uk, says: "Parents are already treading water with the cost of living crisis and now they are seeing nursery fees rise this year as childcare providers struggle to stay sustainable. The Early Years Alliance has revealed that the majority of nurseries will increase their prices by 8% this year. So it is vital to be aware of any government help that parents can access."
How much does nursery cost?
The average cost of a full-time nursery place (50 hours) for a child under two is £285.31 a week or £13,695 a year (based on children being in nursery 48 weeks of the year), according to data compiled by children's charity Coram (opens in new tab). If we based the annual figure on 52 weeks of the year, the average cost for a child under two going to nursery full time would be £14,836.
The average cost of a part-time nursery place (25 hours) for a child of the same age is £148.63 a week, or £7,134 a year (also based on 48 weeks).
England has higher costs for nurseries compared to Wales and Scotland, and there are also regional variations. For example, the cost of a part-time nursery place for a child under two in inner London is £199.01 a week, which is 56% higher compared to Yorkshire and Humberside at £129.32 a week.
Nursery costs for those under two are also generally more expensive due to higher staffing ratio requirements for younger children (meaning higher staffing costs), as the table below highlights:
Swipe to scroll horizontally
| Header Cell - Column 0 | Child aged under two | Child aged two |
| --- | --- | --- |
| Full-time nursery place (50 hours) | £285.31 a week or £13,695 a year | £279.60 a week or £13,421 a year |
| Part-time nursery place (25 hours) | £148.63 a week or £7,134 a year | £144.01 a week or £6,912 a year |
Source: Coram's Family and Childcare Survey 2023. Annual costs are based on children being in nursery 48 weeks of the year.
Can I get nursery care for free?
Whether you can get nursery care for free will depend on the age of your child and your financial situation. You can usually claim help from the government once your child reaches the age of three, although Chancellor Jeremy Hunt announced in his Spring Budget that this is set to be extended to children aged nine months and above, but it won't happen straight away. The new rules will be phased in over the next two years.
Childcare expert and community manager at childminder agency tiney, Lisa Holmes (opens in new tab), explains: "All families in England are eligible for 15 hours free childcare per week (or 570 hours a year) for three and four year olds. Working families (earning over £139/week) are eligible for 30 hours free childcare per week for three and four year olds, so it's important to check whether you qualify."
You'll be able to claim the full 30 hours if:
You live in England
You and your partner (if you have one) are in paid work
You each earn at least the equivalent of 16 hours a week at National Living Wage
You each earn less than £100,000 annually
You have a National Insurance number
If you don't qualify for the full 30 hours, for example if one parent doesn't work, your child will get 15 funded childcare hours. You will need to inform your nursery that you want to take advantage of the free hours when you sign up.
Be warned that it's unlikely your nursery costs will be completely free as nurseries are allowed to ask for payments to cover the cost of extras like snacks, meals and nappies.
You might also be able to claim 15 hours of free childcare per week if your child is aged two and you claim benefits such as income support or universal credit (opens in new tab). Even if you don't receive a qualifying benefit, you will still qualify if your child has a statement of special educational needs or gets Disability Living Allowance. Find out more on the government website (opens in new tab).
How to keep nursery costs as low as possible
As well as free hours, you can also cut nursery costs by taking advantage of the tax-free childcare allowance, which is a tax-efficient way of paying for nursery.
Editor of daynurseries.co.uk (opens in new tab), Sue Learner explains: "For every £8 spent on childcare, the government pays an extra £2, up to the value of £2,000 per child per year (or up to £4,000 per child if they are disabled)."
To be eligible, you must earn less than £100,000 a year and your child must be aged 11 or under.
Note that you cannot get tax-free childcare if you also get universal credit. But if you do qualify for universal credit, you'll get the child element on top of your standard allowance. This pays £290 a month for a first or only child born before 6 April 2017 or £244.58 a month per child born after that date - you can only claim the child element for up to two children.
If both parents are working, you can also get up to 85% of your childcare costs covered. This is currently up to a maximum of £646.35 a month for one child, or £1,108.04 a month for two or more children. But Chancellor Jeremy Hunt has announced in his Spring Statement that these figures will be increasing to £951 for one child and £1,630 for two children.
Make sure you are also claiming child benefit (opens in new tab) as you can put this towards your childcare costs. You'll get £21.80 per week for your first child and £14.45 per week for any children after that.
Money expert Rajan Lakhani (opens in new tab), from smart money app Plum, adds: "There are a few things you can do to keep nursery fees lower too. Firstly, if you live in an area where nurseries get oversubscribed quickly, look for a suitable nursery well in advance. That way you will have more choice and may be able to sign your child up to the cheapest option.
"Another tip is to make sure you're clear on the drop off and pick up times, as some nurseries charge steep fees if you are too early or late."
What to do if you can no longer afford nursery costs
If you can no longer afford nursery costs and you've claimed everything you're entitled to, it could be time to look for an alternative childcare setting, such as a childminder.
Childcare expert Lisa Holmes says: "Childminding is the most affordable form of high-quality childcare and at least 12% cheaper than nursery, on average. Childminding brings the additional benefits of being a smaller, more intimate setting, meaning your child will receive care that is specific to their needs. Childminders are subject to the same rigorous safeguarding practices as nurseries, so you know your child is in safe hands."
You could also consider a nanny or an au pair, although bear in mind that an au pair will need to live with you.
Alternatively, it's worth asking a grandparent or close friend if they are able to help out a few days a week. For more tips, read our guide on how to reduce childcare costs (opens in new tab).
Rachel is a freelance personal finance journalist who has been writing about everything from mortgages to car insurance for over a decade. Having previously worked at Shares Magazine, where she specialised in small-cap stocks, Rachel developed a passion for consumer finance and saving money when she moved to lovemoney.com (opens in new tab). She later spent more than 8 years as an editor at price comparison site MoneySuperMarket where she helped support the CRM programme, as well as the SEO and PR teams, often acting as spokesperson. Rachel went freelance in 2020, just as the pandemic hit, and has since written for numerous websites and national newspapers, including The Mail on Sunday, The Observer, The Sun and Forbes. She is passionate about helping consumers become more confident with their finances, giving them the tools they need to take control of their money and make savings. In her spare time, Rachel is a keen traveller and baker.