Is Tesco cheaper than Sainsbury's? We did the same shop at each to compare
Neither are the cheapest option for your weekly food shop, but is Tesco cheaper than Sainsbury's? Our money expert finds out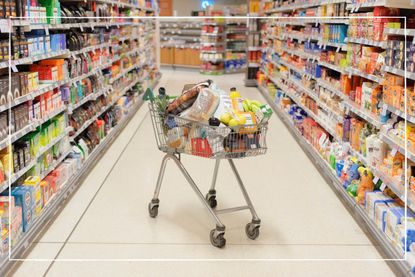 (Image credit: Getty Images)
Both sit at the middle of the supermarket hierarchy, but is Tesco cheaper than Sainsbury's or does Sainsbury's come out on top, price-wise? Neither are one of the cheapest supermarkets like Aldi or Lidl and some other big-name supermarkets, but nor are they as expensive as Waitrose or Marks & Spencer at the upper end.
Tesco is undoubtedly the biggest supermarket in the UK, with a market share of 27.4% according to analyst Kantar, but Sainsbury's comes in second at 15.2%. Both supermarkets also offer huge loyalty schemes that offer lower prices for those that have signed up, but which works out cheapest of the two?
To find out which of the two supermarket giants is the cheapest, we sent personal finance expert Rachel Lacey, to do a shop at each for her family of four.
This is how she got on.
My Sainsbury's v Tesco shopping list
For my experiment I filled up my trolley with 15 things I regularly buy for me and my (hungry) family. It included basics like fresh chicken, eggs, apples, pasta as well as my boys' favourite breakfast cereal, chocolate biscuits and yoghurts. As it's Christmas (well, nearly), I also threw in our first mince pies of the season.
Before going any further I should add that I'm a die-hard Sainsbury's shopper and have done my weekly shop there for more than a decade. But we all need to get out of our comfort zone from time to time so I was curious to see if Tesco could challenge my loyalty to Sainsbury's and I was determined to stay in a neutral mindset when doing my shops.
Is Tesco cheaper than Sainsbury's?
In my experiment, Tesco wasn't cheaper than Sainsbury's - in fact it was more expensive. Sainsbury's worked out at £37.03, while Tesco came in at £40.54 - so thankfully I feel vindicated in my favourite supermarket choice.
I used a Nectar card and a Clubcard at each to get the best price, but the table below also shows the price customers who haven't signed up to the loyalty schemes pay.
Here's how prices compared at each supermarket:
Swipe to scroll horizontally
| Header Cell - Column 0 | Sainsbury's | Tesco |
| --- | --- | --- |
| Ariel Pods (25) | £5.70 (£6.50 without Nectar card) | £5.75 (£6.50 without Clubcard) |
| Jordans Country Crisp Cereal | £3.60 | £3.90 |
| Hovis Seed Sensations 800g | £2 | £2 |
| Muller Corner Yoghurts (6 x multi-pack) | £2.50 (£4 without Nectar card) | £4 |
| Own brand Fusilli (500g) | £0.75 | £0.75 |
| Pink Lady Apples (6 bag) | £2.80 | £2.80 |
| Chicken breast mini fillets (small pack) | £2.39 | £3.15 (£3.35 without Clubcard) |
| Twinings Everyday Tea (80 bags) | £3.00 (£4.80 without Nectar card) | £3.50 (£5.50 without Clubcard) |
| KitKat (2 finger 9 pack) | £2 | £1.65 (£2 without Clubcard) |
| Mince pies (x6) | £1.75 (£2.75 without Nectar card) | £1.50 (£3 without Clubcard) |
| Meat feast pizza | £2.50 (£3.50 without Nectar card) | £3.50 |
| Unsalted butter (250g) | £1.69 | £1.69 |
| Edam slices | £2.75 | £2.75 |
| Golden Shred marmalade | £2.10 | £2.10 |
| Medium eggs (6) | £1.50 | £1.50 |
| Total | £37.03 | £40.54 |
However, while Sainsbury's was noticeably cheaper than Tesco for my particular shop, it was clear that a lot of the 'basics' on my list like the butter, eggs and pasta were exactly the same price at each. And the only branded item on my list that was priced differently (without being on promotion) was the cereal which cost £3.90 at Tesco – 30p more than at Sainsbury's.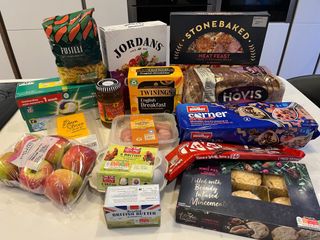 Ruby Lizon-Walker, a content manager at money saving website Savoo, also points out that the price differences between the two will always fluctuate. This is because the Clubcard and Nectar prices are temporary promotions, not permanently lower prices. "Both Tesco and Sainsbury's rotate their loyalty card deals regularly, and tailor offers to your personal taste once they have enough historical data on your purchasing habits. Because of this, you're unlikely to find that your supermarket shop is consistently cheaper by shopping only at Sainsbury's or only at Tesco."
But she adds, that whatever store is your preference, savvy shoppers should always sign up for both loyalty schemes. "Everyone should have both a Clubcard and a Nectar card, no matter which supermarket they usually shop at. This means that not only can you make the most of every food shop - but you can get the benefits of the schemes that have nothing to do with groceries. For example collect and spend Nectar points at Argos, collect Clubcard points with Tesco Mobile and spend Clubcard points at Zizzi."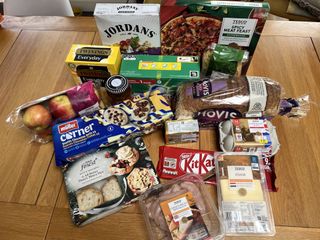 How the Sainsbury's versus Tesco shopping experience compared
I did each of my shops at large, out of town stores. Although I was admittedly much more familiar with the Sainsbury's store, both had everything I wanted on my list and nothing was overly difficult to find.
The Tesco store was a bit more of a schlep to get to – but for a cheaper shop or better experience, I would have put up with an extra 10 minutes in the car. But the fact remains that even discounting the price difference, I can't see myself switching allegiance to Tesco.
With two hungry boys to feed I often turn to easy meals I can just chuck in the oven on busy evenings and pizza is always a winner. For me the quality of these own-brand options is a key differentiator between supermarkets – I don't want to pay more for branded or premium own brand options if I don't have to. And, when we put the two supermarkets' own brand pizzas head-to-head, Sainsbury's won the taste test hands down.
If you are a Tesco shopper and part of it's loyalty scheme, then make sure you know how to collect more Clubcard points and how to reclaim up to two year's worth of Clubcard vouchers to ensure you are getting the best in return for your loyalty.
Parenting advice, hot topics, best buys and family finance tips delivered straight to your inbox.
As well as being a mum, Rachel Lacey is a freelance journalist with more than 20 years' experience writing about all areas of personal finance and retirement planning. After 17 years at Moneywise magazine as both writer and editor, Rachel now writes for a variety of websites and newspapers as well as corporate clients. She is passionate about financial education and simplifying money matters for all.