Experts reveal the best and worst dates to buy popular Christmas gifts, and it's not necessarily when you think
These are apparently the best dates to buy popular Christmas gifts at cheapest price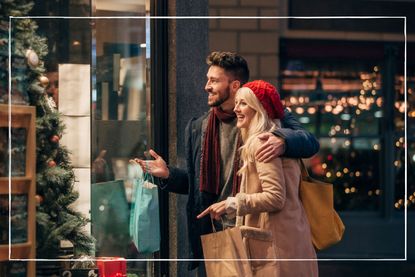 (Image credit: Getty Images)
With Christmas fast approaching, it's an expensive time for parents. But new research has revealed the best and worst dates to buy a selection of popular gifts, including some of the best toys and perfumes, as well as things like TVs, coffee machines and smart watches.
To determine the best and worst dates to buy, expert analysts at price comparison site idealo.co.uk have used their price history data to predict the best dates to buy products across popular gifting categories that could save shoppers hundreds of pounds.
Katy Philips, senior brand and communications manager at idealo, commented on the findings: "It's interesting to see that for many categories, the key to success when landing a bargain is holding out until around October and November when buying gifts."
But as well as showing the best time to buy, the data also shows the worst, and most expensive, times to buy.
The best and worst dates to buy popular Christmas gifts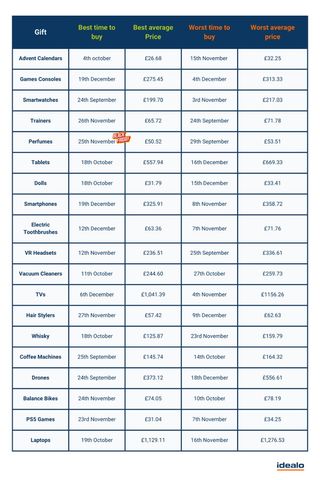 For example, according to the research, the best time to buy a games console is just before Christmas, on the 19 December, where you will pay an average of £275.45. But if you purchased a couple of weeks earlier, on 4 December, you'd pay an average of £313.33, £37.88 more.
Similarly, the best time to buy a smartphone is also 19 December, when you'll pay £325.91 on average, compared to £358.72 on average if you bought it a few weeks earlier on 8th November. By holding off, you can save £32.81.
While some of the best dates to buy have passed for 2023, the research suggests that Black Friday is a great time to snap up a deal. Perfumes, trainers, hair stylers, PS5 Games and balance bikes all have their best price around Black Friday and Cyber Monday, so it's worth starting your research now, choosing which you want to buy, and then keeping a look out for in the Black Friday sales.
Katy Philips from idealo adds: "When looking for a bargain, always remember to use idealo's price comparison app which allows you to search for the best prices across a range of products and set price alerts to get the best deal. At a time where saving money is paramount for some, being able to check multiple retailer costings at once can prove a hugely helpful resource."
If you're keen to bag a bargain over Black Friday, it's worthwhile knowing when Amazon Black Friday is, and the hidden benefits of being a Prime member, so you can take full advantage of the discounts. We'll also be scouring the internet for the best offers and discounts so you don't have to - sign up to our newsletter so you don't miss out.
Parenting advice, hot topics, best buys and family finance tips delivered straight to your inbox.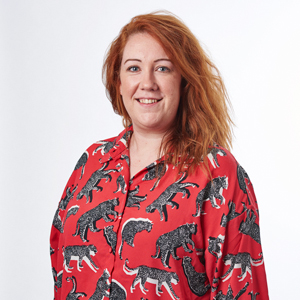 Sarah is Goodto.com's Money Editor, covering various aspects of family finance - everything from energy price cap, cost of living payments and food prices to major sales, money saving tips and how to get more for less. A writer, journalist and editor with more than 15 years' experience, Sarah is allergic to confusing jargon and hates money-saving hacks that don't actually save you money. As well as putting a spotlight on the money news that will actually impact your family life, Sarah is also the Goodto team's guru on how to tell a good deal from a dud and the best way to dodge price hikes. When not writing about money, or picking the brains of leading personal finance experts, Sarah can be found hanging out with her rockstar dog Pepsi, getting opinionated about a movie or learning British Sign Language.