I tried this mum's clever hack to save 25% on cheese and it works
I wish I'd done it sooner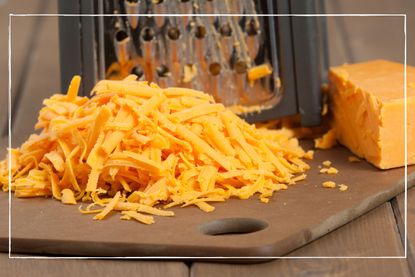 (Image credit: Getty Images)
A popular mum and money influencer, who has more than 300,000 followers on Instagram, has shared a super simple hack that can save you 25% on a shopping trolley essential.
Filming in her local supermarket, @Moneymumofficial shared how she compares the prices of grated cheese and a block of the exact same cheese and shares her tip for getting the convenience of the more expensive option for less.
For many households, grated cheese is a family favourite - being the perfect cheesy companion to anything from a sandwich or jacket potato to a really yummy lasagne or pasta bake. But with food prices high and families more concerned than ever about how to save money on food, this kind of simple hack has never been more important.
But many people (myself included) don't always realise just how much extra they are paying for the convenience of pre-prepared items, like grated cheese. It's also worth wising up to other sneaky ways supermarkets get you to spend more money.
Watch @Moneymumofficial's cheesy tip
Gemma Bird, aka @Moneymumofficial, shared an example in a recent Instagram reel. In her local Tesco supermarket, a 250g bag of grated extra mature cheddar costs £2.65, while a 400g block of the same cheese costs £3.20.
So on the face of it, you might opt for the bag of grated cheese because it's cheaper and super convenient (even though you actually get less).
But Gemma goes on to point out that it is crucial to compare the price per kilogram of each of the cheese options to discover the true price difference. Looking at the labels on the supermarket shelf, Gemma points out that the grated cheese costs £10.60 per kilogram, while the block of the exact same cheese costs only £8 per kilogram (if you tend to do your food shopping online, you should find a price per kilogram next to the product price for easy comparison).
That means for every kilogram of this grated cheese you buy, you are paying £2.60 (or an extra 25%) for someone to grate it for you.
Gemma then shares her hack of buying the block version of her favourite cheese and grating it when she gets home, storing it in food bags (and even freezing it) so that it's still super convenient and ready whenever she needs it.
Followers commented on Gemma's post, offering even more tips for perfect at-home grated cheese. One commented that if you add a teaspoon of cornflour to the bag of grated cheese you can prevent the cheese from clumping together. Similarly, another commented that she likes to spread the grated cheese out on a tray and freeze it before putting it in a bag to also prevent clumping.
For anyone like me, who has been paying extra for grated cheese because of the convenience, I timed myself grating an entire 400g block of cheddar - and it took me less than two minutes.
Sarah is Goodto.com's Money Editor. After segueing into the world of personal finance from the Homes sector, and acting as launch editor of Goodto's sister brand TheMoneyEdit.com, Sarah now focuses on family finance. She is passionate about cutting through confusing jargon to help people make sound financial decisions, avoid overspending and set themselves and their families up for a financially-stable future.