Where is the cheapest place to buy pumpkins this year?
This supermarket has slashed the price of its pumpkins to help families amid the rising cost of living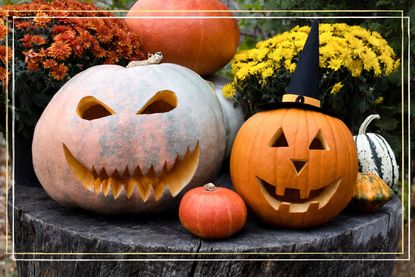 (Image credit: Getty Images)
Families struggling to justify splashing out on pumpkins for their kids to carve might be wondering where the cheapest place to buy pumpkins is this year.
Whether you're too busy to visit a pumpkin patch or find the whole Halloween decorations and Halloween food ideas too costly, shoppers can find a purse-friendly option for every budget and it's not necessarily at the cheapest supermarket.
A supermarket chain has slashed the price of its most popular pumpkins from 99p to just 75p this year, to help families stock up on the spooky season staple for less amid the rising cost of living.
The lower price of 75p is available for all More Card customers while these standard carving pumpkins are still only 99p for those without a More Card. A More Card is something shoppers at Morrisons can sign up for to get exclusive savings off certain food items and earn points on selected products in-store, online, and on fuel too.
The move comes as Brits are set to spend a whopping £777 million on Halloween in 20231 – leaving parents anxious about their finances.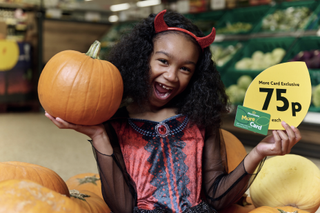 Where is the cheapest place to buy pumpkins this year?
If you're wondering where to buy the cheapest pumpkins this year then it depends on what size you're after. The cheapest place to buy munchkin pumpkins - the really small cute ones - is Morrisons, Aldi, and Lidl, who are all selling them for 59p.
Small pumpkins (+600g) are cheapest at Aldi and Tesco, which have price-matched the low-cost supermarket.
Morrisons is selling the cheapest medium-sized pumpkins, which are perfect for carving, and they're a steal for just 75p with a More Card, or 99p without. This means that if you've not got a More Card, Aldi and Lidl are cheaper, as they're selling medium pumpkins for 95p.
Large pumpkins are the cheapest at Aldi, who are selling them from £1.49.
Extra large pumpkins are being sold at Lidl for the cheapest, with one priced at £2.85.
You can check out our price comparison table below...
Swipe to scroll horizontally
Pumpkin price comparison

| | | | | | |
| --- | --- | --- | --- | --- | --- |
| Supermarket | Munchkin Pumpkin (tiny) | Small pumpkin | Medium Pumpkin | Large pumpkin | XL pumpkin |
| Morrisons | 59p | n/a | 75p with More Card (99p without) | £1.99 | £8.99 |
| Tesco | £1.10 | 95p-£1 | £1.90 | £1.90 | n/a |
| Asda | 59p | n/a | £1 | £2 | £3 |
| Sainsbury's | £1 | n/a | £2 (£1.75 Nectar card)) | £3 | n/a |
| Aldi | 59p | 95p | 95p | £1.49-£2.49 | £5.99 |
| Lidl | 59p | n/a | 95p | £1.89 | £2.85 |
| Ocado | £1 | £1.70 | £3 (white 'Ghost' pumpkin) | n/a | n/a |
To take the stress out of paying for Halloween, Morrisons is helping families by offering the market's cheapest price for a medium-sized pumpkin this year; it is part of the wider frighteningly fantastic pumpkin range at Morrisons which includes munchkin pumpkins (59p), ghost pumpkins (£2.99), large pumpkins (£1.99) and even giant pumpkins (£8.99).
Chris Smith, fruit buying manager at Morrisons, said, "Any seasonal moment can be a cause for celebration but with budgets also top of mind this year we hope that by offering these cut-price options parents and little shoppers don't have to compromise on carving the perfect centrepiece this Halloween."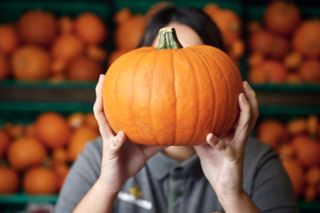 Morrisons has also introduced QR code stickers on all pumpkin displays in stores this year, which take customers to information on how to get the most out of their pumpkins and avoid them simply going to waste.
How to make the most out of your pumpkin
Use pumpkin leftovers to make delicious pumpkin recipes including Pumpkin Seed Pesto, Pumpkin Seed Flapjack, and Pumpkin Spice and Pecan Bread. Just like their cousins, butternut squash, pumpkins are tasty and every part of them is edible except for the stalk. Recipes are available online at My Morrisons
Pumpkins are great to put into household compost. Remove seeds and any wax residue, paint, or decorations and cut them into smaller pieces that are easier to compost. Add to the compost heap and wait patiently!
Save and plant the seeds; remove these from the pulp, wash them thoroughly, and pat dry with a tea towel. Put the seeds in a dry, well-ventilated place for one or two weeks until dried out. Then transfer to an old envelope for storage and keep somewhere cool and dry until ready for planting next spring. The seeds should be planted from the end of May or early June, sown a metre apart in holes 2-3cm deep, and watered well.
In other food news, Aldi's new Christmas sandwich range has dropped, including 8 fillings and a genius twist on a festive favourite and McDonald's Halloween menu 2023 features a flavour we didn't know we needed until now (and it's not pumpkin spice).