8 toxic spending habits parents should ditch RIGHT NOW
The art of saving money for your family includes eliminating those harmful spending patterns that could be costing more than you realise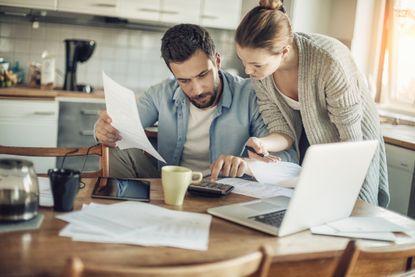 (Image credit: Getty Images)
For busy families with hectic schedules, it's all too easy to pick up toxic spending habits that end up costing you a fortune. Kids are expensive, as is the cost of going out and treating yourself from time to time. But with the cost of living so high, it's really important to understand how to save money to ease the pressure on your family's budget. (Check out our guide if you're not sure how to start budgeting.)
Goodto.com's Money Editor Sarah Handley says: "When life gets busy, it's all too easy to take your focus off what you're actually spending and why. And we all have these spending habits that might start off small, but can grow into something that is actually working against your family finances, rather than for them."
These are the most common harmful spending habits and how to crack them to free up more money to save or spend on the things that matter.
1. Paying for convenience
Anything that cuts the time it takes to get lunches packed or dinner on the table is an easy sell to frazzled parents. But before you throw ready-grated cheese or pre-prepared veggies in the trolley, check how much you're paying for someone else to do the prep. It could be more than double the price.
Take a bag of frozen diced onions from Sainsburys for £1.30. It might not sound like a total rip-off, but when you look at the price per kilo it's £2.60, compared to just 95p for regular loose onions.
If you really miss the convenience, you can always grate your cheese or chop your veg in bulk and keep an easily accessible supply in the fridge or freezer. Our money editor tried it with grated cheese and is a complete convert!
2. Upgrading your phone as soon as it comes up for renewal
Mobile phones are essential for families, but when parents and kids are faced with heavy marketing to upgrade to the most up-to-date handsets, it can be monumentally expensive. So it pays to be wise and drill down in to what you, and your kids, actually need rather than what you want.
Laura Suter, head of personal finance at money management company AJ Bell, explains: "Automatically upgrading your phone every year or so is one of the most common ways people get sucked into spending hundreds of pounds without realising it.
"Most people could easily keep their current handset for another year or two and switch to a SIM-only plan for a far cheaper rate. The savings can be huge: if you get a brand-new iPhone 14 on O2 with 30GB of data on a three-year contract it will cost you just over £600 in your first year alone. In comparison a SIM-only deal with 50GB of data will cost just £216 a year, saving you almost £400 just for keeping your handset for another year."
3. Spending more on the kids than yourself
As parents, it's far too easy to get into the habit of spending money on the kids and neglecting yourself. But it's important to set aside some money if you can for some self care, whatever that may look like.
Maddy Alexander-Grout, founder of the Mad About Money app agrees: "It's important to prioritise your needs as much as the kids'. Start a self-care fund, and allocate money to you and your well-being, your social life. It's important for parents to have an identity of their own. I was guilty of spending money on the kids over myself for years. Now I budget so I can do both and it benefits the whole family."
4. Guilt spending
Parents should be careful too about falling into the guilt-spending trap, which can quickly tot up. But in the long term, the money you spend in this way could be used to save for the family or ease money-pressures elsewhere, on the weekly food shop for example.
Sarah Coles, head of personal finance at Hargreaves Lansdown warns: "You might feel bad because you've been away, busy, or working, so you want to 'treat' the kids. They're not going to say no, but they don't really need whatever you're buying. You can ditch the spend – they'll still be happy to see you."
5. Living for today, at the price of the future
Living in the moment is great for your mental health, but failing to think about the future can be disastrous for your finances, and be incredibly stressful for your family should anything bad happen.
"It's important to save for your kids, but also for your own retirement," says Mad About Money app's Maddy Alexander-Grout. "Have a will in place, and think about insurance against illness." Both parents should also have life insurance too.
"Not enough families prepare for the worst. It's horrible to think about, but having a buffer and insurance in time of crisis can really save money in the long run."
Read our guide if you're not sure how to write a will.
6. Letting influencers influence your spending
Social media isn't just addictive, it can also end up expensive. More and more brands are using social media influencers to sell their products, and they do it very well. But this temptation can be really difficult to avoid, especially if you tend to scroll through your feeds while tired, when your defences may not be as strong.
"It's very easy to be scrolling and get sucked in by a new outfit or a great discount code that spurs you to buy," warns personal finance expert Laura Suter. "But a discount is only good if you were planning to buy that item anyway, and just because an outfit looks great doesn't mean you need to buy it."
"A good tip is to leave the items in your basket for 48 hours – if you then decide that you still definitely want them you can click buy, but you'll often find you've lost interest."
7. Not shopping around
When life is busy, it's all too tempting to let your car or home insurance auto-renew. It's one less thing to worry and an easy tick on your to-do list. But over the year, you could spend hundreds of pounds more than you need by not shopping around for any of the insurance policies you buy each year.
Although shopping around for insurance might feel like a chore, comparison sites make it easy to scour the market and compare quotes within a matter of minutes.
Ryan Fulthorpe, a spokesperson for comparison site, Go.Compare, says: "In a recent survey, we found that shockingly, the majority of people – 56% – allow their car insurance to auto renew, and of these, one third don't shop around for different quotes before accepting their renewal price. With home insurance, 14% of people admitted spending just 10 minutes or less to renew their policy – which may or may not have included looking at the other options available."
But the shopping around rule doesn't just apply to insurance. Every time you need to buy something or pay for a service, like a mobile phone, broadband, or even a mortgage, take the time to make sure you aren't paying any more than you need.
8. Signing up for every TV service
There are so many good box sets to binge watch across Netflix, Amazon, Disney + and all the other streaming services. But it is possible to spend less on your telly habit without you or your kids missing out on your favourite shows.
Instead of signing up to them all, put them on rotation. Get the rest of the family on board and agree to one service at a time, watch everything you fancy and then switch to another service in a month or two's time.
And for ITVX or Channel 4, resist the urge to pay extra for ad-free TV. Go old-school and use the ad-break to make a cuppa or discuss 'whodunnit' instead.
Check out our handy guide for even more ways to save money on Netflix and other streaming platforms.
As well as being a mum, Rachel Lacey is a freelance journalist with more than 20 years' experience writing about all areas of personal finance and retirement planning. After 17 years at Moneywise magazine as both writer and editor, Rachel now writes for a variety of websites and newspapers as well as corporate clients. She is passionate about financial education and simplifying money matters for all.