When will energy prices go down and when is it worth looking for a new deal?
Will energy prices go down in 2022 or will they remain high into next year? Our energy expert explains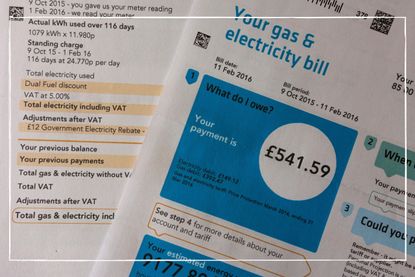 Millions of families have been wondering when will energy prices go down after months of sky-high bills and worries over how much our energy bills will cost (opens in new tab).
The government's new Energy Price Guarantee (opens in new tab), means that from 1 October 2022 you will be protected from any further huge price hikes while it is in effect.
The government's price guarantee overrides the energy price cap (opens in new tab) that has previously been set by energy regulator Ofgem. In August, Ofgem announced that the energy price cap would rise by 80% to £3,549 a year for average use – the highest it has ever been. And without the price guarantee, experts predicted that the cap would go up even more in 2023.
While the price guarantee stops prices going up, we are currently paying record sums for energy. Unfortunately, it's unlikely that UK households will see a significant drop in energy prices any time soon.
Tony Jordan (opens in new tab), senior partner at energy consultancy Auxilione, says: "My personal view is that we'll likely see markets react positively to the various interventions being proposed, but it's quite likely we will see market prices stay elevated for some time and could indeed rise further still depending on any of the above issues changing."
Households in need of help with energy bills will be keen to know when energy prices will start to fall. But unfortunately, there isn't a straightforward answer for now.
Will energy prices go down in 2022?
Wholesale energy prices (the price that suppliers pay to buy the energy they sell to their customers) are very unlikely to go down in 2022 – in fact, they will almost definitely be going up. Russia's invasion of Ukraine is largely to blame for this. This is because the conflict is pushing up global prices of commodities such as oil and gas.
The mismatch between supply and demand is also set to continue well into next year. Energy consultancy Cornwall Insight says that without the government's energy price guarantee, typical bills would be expected to be well above £4,000 during 2023.
Adam Shaw (opens in new tab), deputy director of the LSE Global Economic Governance Commission, says it's impossible to know with certainty when energy prices will fall. "Investors and economists can study trends and historical examples, but cannot predict the future. Energy markets tend to be cyclical. High energy prices encourage investment in the energy sector, causing overproduction of energy, pushing prices downward. Low prices inhibit production, demand starts to outstrip supply, and prices rise as the cycle begins again,"
"In the long run, more energy production should push prices downward. But if demand rises, the impacts of greater supply might be negated."
Gas is sold via future contracts – this is a contract obligating the buyer to purchase a specific quantity of natural gas at a future date and price.
According to the Institute for Fiscal Studies (IFS), the price of forward purchases of natural gas remains "significantly elevated over the medium term". It says this means the energy price guarantee – or a replacement scheme – will need to be extended for longer than the two years currently planned.
One thing that could cause energy bills to fall is if the government decided to cut VAT on energy bills – it's currently charged at 5%. Rishi Sunak said he would scrap VAT on energy bills for 12 months if he was made prime minister.
When will energy bills start to go down?
It's hard to predict when energy prices may fall as there are multiple complex reasons why energy prices have been going up (opens in new tab). Although still volatile, wholesale gas prices have started to fall amid signs that European countries plans to avert a winter energy crisis are taking shape. However, the wholesale prices are still about 12 times higher than they were at the start of 2021. While this situation remains, it's unlikely that we'll see prices fall.
Energy saving expert, Ava Kelly, from Energy Helpline (opens in new tab), says: "Oil price fluctuations expected in the next year have already been taken into account in wholesale gas prices, so we predict that wholesale gas prices will not decrease for around 18 months."
What happens in Ukraine – and the world's reaction to it – is a big factor. The UK government plans to phase out Russian oil imports by the end of 2022. It might do the same for gas. Whether the European Union and United States of America will impose similar sanctions is still to be decided.
The price of oil impacts electricity prices because it's one of the commodities used to power turbines in power stations. Global commodity prices impact how much UK consumers pay for gas and electricity. Check our guide that answers the age old question 'is electric cheaper than gas? (opens in new tab)'
However, energy expert Adam Shaw points out that it's not just the war in Ukraine that has pushed up energy prices: "Though Russia's invasion of Ukraine has certainly raised energy prices, especially gas prices in Europe, we must be sceptical of political rhetoric that attributes price shifts solely to foreign developments, not domestic policies. High energy prices are in part due to across-the-board high inflation."
For more information on how much your energy bills could change following the new price guarantee, use our handy calculator.
When should I look for a new energy deal?
There's not much point in looking for a new energy deal at the moment. Experts say people are generally better off staying on their current supplier's standard tariff rather than switching to a fixed-rate tariff (opens in new tab). Especially as variable rate tariffs are protected by the government's price guarantee.
Energy suppliers have mostly paused offering fixed-rate energy tariffs – while those that are available are expensive.
Until there are good deals available, a key factor to keep bills as low as possible is to know how to save energy in your home (opens in new tab). There are many quick and easy tricks you can apply which will prevent you wasting (and paying for) energy that you don't actually need to be using.
If you are struggling to pay your energy bills (opens in new tab), you're not alone and assistance is available. Speak to your supplier in the first instance.
When prices eventually come down, should I move to a fixed-rate or variable tariff?
Whether you choose a fixed-rate or variable tariff will depend on your circumstances and what's happening in the energy market.
When prices come down, you should compare both types of deal to find the best option. Using a price comparison site, such as our sister brand Go.Compare (opens in new tab) or ComparetheMarket, will help you find the best deal available when prices come back down.
You might also wonder whether you can benefit from cheaper electricity with a time of use tariff, but make sure you read our guide to whether electricity is actually cheaper at night (opens in new tab) before you commit.
Video of the Week: