This gluten free chicken pot pie recipe makes four individual pies but you can make one big sharing pie if you prefer.
For our pie filling you'll need some cooked chicken. We've specified breast meat but if you've got leftovers from a roast chicken that will work perfectly too. The filling and pastry can be made ahead and then you can assemble just before you want to cook. This makes the recipe ideal for when you're entertaining.
Ingredients
4 small, cooked, skinned chicken breasts, approx 450g
2tsp vegetable oil
2 onions, finely chopped
2 leeks, trimmed, rinsed and sliced
50g butter
50g gluten-free flour
600ml milk
For the pastry:
300g gluten-free plain flour
150g butter
1 free-ranged egg yolk (optional)
Method
Shred the chicken into strips and set aside. Heat the oil in a pan and fry the onion for 5 minutes until softened. Add the leeks and 2tsp water, then cook for 3 to 4 minutes until tender. Remove the onions and leeks from the pan and set aside. Add the butter to the pan and, when melted, stir in the flour. Cook for a couple of minutes to cook out the raw flour taste. Gradually beat in the milk until smooth and season with salt and pepper. Return the veg to the sauce then set aside to cool with some cling film pressed on top to prevent a skin forming.
To make the pastry put the flour and butter into a food processor and pulse until it looks like breadcrumbs. Add the egg yolk, if using, or 4-6tsp water. Blitz again for a few seconds until the mixture clumps together. Turn out onto a clean work surface and press into a neat disc. Wrap in cling film and chill for 15 minutes.
Set the oven at 220C (200C fan, Gas 6). Mix the shredded chicken into the cooled sauce and divide between four individual pie dishes or one large traditional pie plate.
Dust the work top with gluten-free flour. Divide the pastry into four and roll each piece out until 1cm larger than the top of your pie dishes. Trim off a 1cm wide strip around the edge of the pastry, and cut the strip into several smaller strips. Press the strips around the top edge of each pie dish (to support the pastry lid). Dampen the pastry with water then lift the pastry lids on top and press down well to seal. Crimp the edge between your finger and thumb and brush the pastry with egg yolk.
Cook the pies in the oven and bake for 25 minutes until golden brown.
Top tips for making a gluten free chicken pot pie
Try making a double batch of pastry so you can use it for future recipes. Wrap in clingfilm and freeze for a couple of months and simply defrost the night before you'd like to use.
The pastry can be used for other pies including sweet options like apple pie. We recommend sprinkling a little demerara sugar over the top once glazed as it will bring some sweetness and a delicious crunch. If you'd like some more tips, continue reading below.
How many calories in a gluten free chicken pot pie?
There are 1004 calories per portion of our chicken pot pie. For a full meal serve with steamed or roasted veggies on the side or a crisp salad.
How do you keep a gluten free pie crust from falling apart?
Although the egg yolk is optional, your pastry will have a better flavour, colour and texture if you can include it. The egg helps bind the pastry together which is important given the lack of gluten in the flour.
What is chicken pot pie filling made of?
The filling for the pie is essentially a creamy chicken casserole. We've included onions and leeks but you could use mushrooms, peas or even some blanched, diced broccoli if you like. If it's in season, asparagus is also a delicious option.
Although you can make the pastry by hand, we recommend using a food processor like this one from Ninja. Read the full Ninja 3-in-1 food processor review here.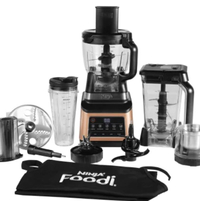 Ninja 3 in 1 Food Processor - View at Amazon
This food processor is sure to become one of your favourite and most used kitchen appliances. Alongside the classic blender setting, you'll find options to chop, slice, knead, and mix too. Cooking from scratch couldn't be easier and will make pastry prep a breeze.
We have lots more hearty gluten-free recipes for you to explore. You could also make our chicken and leek pie using the gluten-free pastry from this recipe. Alternatively, try Joe Wicks chicken pie if you can eat filo pastry.