Mary Berry's iced fairy cakes are perfect for bake sales, kids' parties, and picnics - an easy four-step recipe you'll certainly want to try.
It takes just 30 minutes to prepare and bake Mary Berry's deliciously sweet iced fairy cakes. The fairy cake sponge is made with a simple five-ingredient mixture of butter, caster sugar, eggs, self-raising flour, and baking powder - all of which can be easily measured out by your little helper if made with children. A quick all-in-one method ensures light and fluffy cakes and the sugar and water icing makes a speedy, yet effective decorating technique. Top with sweets of your choice and enjoy. Follow these step-by-step instructions for the perfect iced fairy cakes.
Ingredients
For the fairy cakes:
100 g (4 oz) softened butter
100 g (4 oz) caster sugar
2 large eggs
100 g (4 oz) self-raising flour
1 level tsp baking powder
For the icing:
225 g (8 oz) sifted icing sugar
2-3tbsp warm water
handful of sweets, to decorate
Method
To make these fairy cakes, preheat the oven to 200C fan/180C fan/gas 6. Place fairy cake cases into a 12-hole bun tin, to keep a good even shape as they bake. Or if you don't have a bun tin, you can line a standard baking tray instead, but just keep in mind that the cakes may not rise perfectly rounded as they won't have support from the bun tin to hold the mixture in place when baking.
Measure all the ingredients; 100g softened butter, 100g caster sugar, 2 large eggs, 100g self-raising, and 1 level tsp baking powder into a large bowl and beat for 2-3 mins with an electric whisk or wooden spoon manually until the mixture is well blended and smooth. Fill each paper case with the mixture using a tablespoon to ensure each fairy cake will bake to the same size.
Bake in the preheated oven for 15-20 minutes until the cakes are well-risen and golden brown. We would recommend checking the cakes at 15 minutes to make sure they are not browning too quickly on top - don't open the oven though or only open it slightly if you have to otherwise the mixture will sink in the middle and your fairy cakes won't rise properly. Once baked, lift the paper cases out of the bun tin and cool the cakes on a wire rack.
Once the fairy cakes are completely cooled, put the icing sugar in a bowl and gradually blend in the warm water until you have a fairly stiff icing. Spoon over the top of the cakes and decorate with sweets. Leave to set for 30 minutes or serve as they are.
Watch how to make Mary Berry's iced fairy cakes
Top tips for making Mary Berry's fairy cakes
Here are some of our top tips for making Mary Berry's iced fairy cakes at home. We've covered all you need to know about how to make fairy cakes with kids, how to change the color of the icing, and how to store your fairy cakes too. See our helpful tips for more.
How can kids help make these fairy cakes?
Kids can learn how to measure out the ingredients from flour to sugar to baking powder, they can crack eggs and hand whisk the mixture or attempt an electric whisk if they are older and with supervision of course. And once the fairy cakes are cool, they can make icing and decorate. It's a really straightforward starter recipe for beginner bakers with delicious results that the kids (and you) can enjoy together.
Fairy cakes are a great choice - particularly this recipe as its super simple, with only a handful of ingredients, and easy icing which takes all under 30 minutes (well, maybe a tad longer with little hands)
Can you make different coloured icing for these fairy cakes?
You can easily change the color of the icing on these cakes by adding a few drops of food coloring to the icing sugar and water mixture. We'd recommend substituting some of the water so the icing isn't too runny. It is best to choose gel food coloring too as it's a stronger, thicker consistency and will give the icing a brighter color.
How do you stop fairy cakes from burning?
It's simple, cover the whole tray of fairy cakes loosely with a sheet of tin foil or baking paper as this will keep the fairy cakes cooking, but will stop them from burning on top.
Check every 5 minutes by poking a skewer or sharp knife into the center of the cake. If the skewer comes out clean with no raw cake mixture, the fairy cakes are cooked. If the skewer has raw cake mixture on it, the cakes are not ready so repeat for another 5 minutes.
If you've baked the fairy cakes for 20 minutes and they are still not cooked all the way through, you may not have preheated the oven for long enough before adding the cakes - keep this in mind for next time.
Can you freeze fairy cakes?
Without icing or any edible decorations, fairy cakes can be frozen for up to three months in the freezer if stored correctly. Once cooled, wrap them in cling film or pop them into a freezable airtight bag and put them into the freezer.
Defrost at room temperature making sure they have completely defrosted through to the centre before serving. You can also store fairy cakes in a Tupperware or cake tin at room temperature on the kitchen side for up to three days.
Can you use plain flour instead of self-raising flour in this recipe?
If you don't have self-raising flour in your cupboard never fear as you can easily swap it for plain flour instead. All you have to do is make sure you up the amount of baking powder you add to the mixture to ensure the fairy cakes rise. So if using 100g of plain flour in this recipe, add 2 level teaspoons of baking powder instead of one.
What is the difference between fairy cakes and cupcakes?
Fairy cakes are much smaller than cupcakes and are often drizzled with icing instead of being topped with buttercream or cream cheese like cupcakes. As fairy cakes are smaller, they make a popular choice for kids - especially for birthday parties or as a treat snack.
Fairy cakes are similar to butterfly cakes in size and are sometimes decorated the same way as butterfly cakes too with pieces of the cake cut and displayed on the top of the sponge as 'wings'.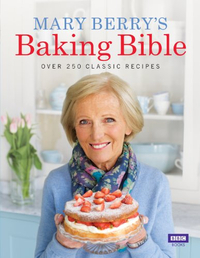 Mary Berry's Baking Bible by Mary Berry (BBC Books; Reissue Edition, £21) - View at Amazon
From classic afternoon tea bakes like Victoria sponge to wholesome British puds like bread and butter pudding, Mary Berry's Baking Bible is jam-packed with delicious, easy-to-follow methods and handy tips for beginner bakers all the way through to experienced cooks.
You might also like...
Mary Berry CBE is one of the most loved celebrity chefs in the country. In her early 80s, she's been on our screens showing us how to make the most delicious recipes and sweet treats for over 50 years! Mary is probably most famous for being one of the original judges on The Great British Bake Off, where she put contestants through their paces for nine years before leaving the show when it made its controversial move from the BBC to Channel Four.