This Moroccan chicken pie takes 25 minutes to prepare and is under 400 calories per portion.
Unlike Joe Wicks chicken pie, this pie has filo pastry on the base and sides, not just on top! The hearty filling has a delicious combination of North African spices like cinnamon, saffron and ginger. The sultanas bring a delicious sweetness but you could swap for dried, chopped apricots if you prefer.
Ingredients
4 large chicken thighs on the bone, skin on (about 500g/1lb)
1 onion, peeled and chopped
1tbsp finely grated fresh root ginger
1 green chilli, deseeded and chopped
1⁄4tsp ground cinnamon
Good pinch of saffron threads (or ground turmeric)
2 bay leaves
60g sultanas
2 medium eggs
100g ground almonds
90g butter, melted
270g pack filo pastry (we used Jus-rol)
About 4tbsp fresh chopped parsley
A good handful of flaked almonds
Method
Put the chicken thighs, onion, ginger, chilli, cinnamon, saffron and bay in a pan. Season well. Pour in 400ml (14fl oz) or more cold water (enough to cover the meat). Bring to the boil, then turn the heat down, cover and simmer very gently for 45 minutes, until the chicken is tender. Leave to cool for 20 minutes or until you can handle it.
Take out the chicken, remove and discard the skin and bones and shred the meat into large pieces. There should be about 250g (8oz). Chill.
Meanwhile, bring the cooking liquid to the boil, add the sultanas and reduce to 300-400ml. Take out the bay leaves. Beat the eggs, add the ground almonds then stir the mixture into the hot liquid. It will look curdled, but don't worry. Simmer for 5 minutes. Pour into a bowl. Add the chicken and cool.
Set the oven to 200C (180C fan, Gas 6). Brush some butter over the base and sides of a 21cm springform tin. Lightly brush each sheet of filo pastry at a time and layer them in the tin, at different angles, so that the sides are lined and there is plenty of overhang for the lid. Keep back one sheet. Add parsley to the chicken filling and spoon into the tin. Cover with half the sheet of reserved filo pastry then fold in the overhanging filo, brushing with butter. Cut the remaining pastry into 4 squares, butter and scrunch them on to the pie to fill in any gaps.
Put the tin on a baking sheet. Bake for 15 minutes, then sprinkle with the flaked almonds and bake for another 15 minutes, until crisp and golden.
Top tips for making a Moroccan chicken pie
This recipe is perfect for using leftover cooked chicken from your weekly roast. Use some quality fresh chicken stock to make the sauce instead of the poaching liquid. The pie is easier to remove from the tin and serve if left to cool for 20-30 mins. For more tips and serving suggestions, continue reading below.
What do you eat with Moroccan chicken pie?
This pie would be delicious served with a crisp salad or a selection of roasted vegetables. Peppers, onions, courgette and aubergine would all taste delicious. You could serve with a drizzle of tahini mixed with some water for a simple but flavoursome dressing.
What is a typical Moroccan dinner?
Perhaps the most famous and one of the most popular Moroccan dinner dishes is tagine. This is a dish similar to stew or casserole but it is packed with spices and vegetables and can be vegetarian or contain different meat, fish or seafood. It is cooked in a tagine which is a clay dish with a cone-shaped lid.
What can I use instead of almonds?
You can use 100g couscous instead of ground almonds. It will cook inside the pie and soak up all the juices keeping the pastry nice and crisp. You could sprinkle the pie with sesame seeds instead of flaked almonds or some pine nuts.
The first step of this recipe involves poaching the chicken in a saucepan. You'll want a pan with a matching lid like this stainless steel one from Le Creuset.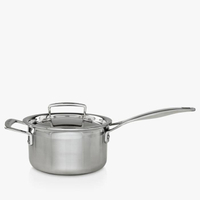 Le Creuset 3-Ply Stainless Steel Lidded Saucepan 16cm - View at John Lewis
This saucepan is made from stainless steel which looks great in any kitchen. It comes with a lid which is ideal for cooking the chicken for this recipe and stops too much liquid evaporating off. You can use the pan to cook vegetables, caramel or even a homemade cheese sauce for pasta too.
If you fancy a classic British pie, you can't beat our chicken and mushroom pie or a chicken pot pie. The Hairy Bikers steak and ale pie also ticks all the boxes when it comes to comfort food.
Parenting advice, hot topics, best buys and family finance tips delivered straight to your inbox.