Our minced beef pie with puff pastry is under 620 calories per portion and takes an hour to cook.
This is a classic, wholesome recipe that the whole family will love. Using lean beef mince keeps the calories and cost down but using a full fat product will make the overall recipe more flavoursome. Add more flour if you prefer a thicker sauce.
Ingredients
1-2 tbsp olive oil
2 onions, chopped
1 carrot, trimmed and finely chopped
500g lean beef mince
1 tbsp flour
300ml beef stock
320g sheet ready-made puff pastry
Beaten egg to glaze
Method
Heat the oil in a large frying pan, add the onion and carrots and cook from about 5 minutes or until softened but not coloured. Add the beef to the pan and cook for about 5 minutes, until the meat has browned.
Stir in the flour and cook for about a minute stirring, then add the beef stock. Bring the mix slowly to the boil, then reduce the heat to a simmer gently for about 20 minutes. If the mix is becoming too thick add a splash more stock.
Heat the oven to 200C (180C fan, Gas 6). Remove from the filling from the heat and leave to cool for about 5 minutes, then spoon the mixture into a 1 litre ovenproof dish.
Meanwhile take the pastry out of the fridge as instructed on the packet. Brush the pastry rim with water. Gently drape over the dish, pressing firmly onto the edges, and tuck in the excess. Pinch the rim with your fingers or the prongs of a fork.
Make several slits in the top of the pastry to allow the steam to escape, then brush the pie with beaten egg to glaze and bake in the oven for 20-30 minutes, or until the top is golden brown, the meat is bubbling and the pastry is cooked through.
Top tips for making minced beef pie with puff pastry
The pastry is easier to unravel if you remove it from the fridge around 10 minutes before you need to use it. We like to use the sheets of pastry but you can buy blocks if you prefer. They are often a little bigger and can work out more affordable.
Use the offcuts to make decorations for the top or brush with jam and roll up to make some sweet treats for after dinner.
Continue reading for more tips and ingredient ideas.
How do I thicken my pie filling?
Make sure you are using a quality beef stock when making this pie. This ensures there is a good level of gelatin in the sauce and will naturally thicken your pie gravy. You can add more flour to thicken the sauce if you need but it will change the colour of the sauce.
What can I add to the filling of a minced beef pie?
Add a handful of frozen peas before you cover the filling with pastry for a pop of colour and sweetness. You might also like to soften some finely diced celery with the onion and carrots. You could add a splash of Worcestershire sauce or a little Marmite to increase the umami factor of the final flavours.
Can I freeze a minced beef pie with puff pastry?
You can assemble the pie and freeze, well wrapped. We recommend making sure the filling is completely cool before topping with the pastry and wrapping in cling film. Egg wash before baking. You can cook it frozen but it may take a little longer, around an additional 5-10 minutes.
If you find chopping onions and carrots time consuming and difficult, consider using your food processor to do the chopping for you! It requires a little extra washing up but you can do it in bigger quantities and freeze for future use. Read our Ninja 3-in-1 food processor review to learn more.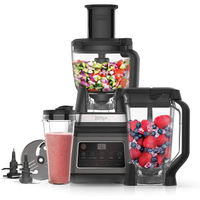 Ninja 3 in 1 Food Processor - View at Amazon
This food processor has lots of attachments to make all your cooking admin a little easier. You can use the blender to knead bread and chop ingredients in a hurry too.
Try our chicken pie recipe if you'd like something lighter or this Hairy Bikers steak and ale pie is another hearty option. We also have an excellent turkey and ham pie which can be enjoyed warm or cold.