The ergoPouch Baby Tuck Sheet Review
Add comfort, security, and warmth to your baby's cot or crib without the risks of loose bedding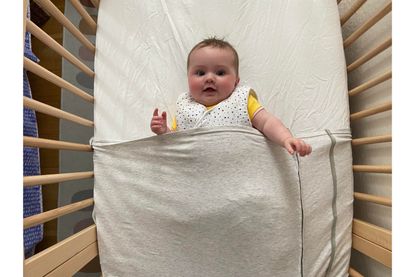 (Image credit: ergoPouch)
A safe blanket-alternative for babies who are not yet rolling over, the ergoPouch Tuck Sheet gave our tester peace of mind and helped her baby sleep more peacefully. She only wishes they made them for adult beds!
Reasons to buy
+

Supports naps and night sleep

+

Soothes the startle reflex

+

Baby appears comfy and secure

+

Lovely quality fabric
Reasons to avoid
-

Only available in 0.2 and 1 tog

-

Not suitable once baby starts rolling
The ergoPouch Baby Tuck Sheet is a cleverly-designed sleep product that slips over your baby's crib or cot mattress to provide an extra layer of fitted bedding for safe and cosy sleep.
Suitable for newborns and babies who have not yet started rolling over, the ergoPouch Baby Tuck Sheet is an alternative blanket that fits most standard crib and cot mattresses and is designed to be used over the top of a swaddle or sleeping bag. It's made from natural GOTS-certified organic cotton and bamboo to prevent overheating with elastane for stretch.
Safety is any parent's number one priority when it comes to getting a baby to sleepand the Baby Tuck Sheet has been tested and approved as safe by the Australian safety organisation INPAA.
Each side of the Baby Tuck Sheet is TOG-rated - you simply flip the sheet over to adjust the level of warmth provided. To comply with important safe sleep guidelines, the Tuck Sheet cannot be pulled over a baby's head or become untucked from the mattress. It's also adjustable with a double zip on each side so you can customise the fit for your baby and their mattress size. A room thermometer and What to Wear guide are included with the Tuck Sheet as helpful guidance for dressing your baby appropriately for bedtime.
Design

We asked Anna Bailey, Editor of Goodto.com, put the ergoPouch Tuck Sheet to the test with her baby daughter, Freddie. Keen to closely follow the latest safe sleep guidelines and avoid the risks of loose bedding, Anna wasn't initially sure she would be a fan of the Tuck Sheet. 'I was a bit skeptical at first, and thought it might be unnecessary given that Freddie has been sleeping quite happily in her sleeping bags - but the Tuck Sheet has actually been really useful in several unexpected ways,' Anna says.
Comfort and features
Firstly, using a Tuck Sheet helped our tester with transitioning her baby from a bedside crib to a much bigger cot. Although baby Freddie was ready to make the move, Anna wasn't sure how she'd cope - but found the Tuck Sheet eased the process considerably.
'My baby didn't seem to mind being in the cot too much at night, but she struggled to settle in it during the day,' Anna explains. 'So we tried the Tuck Sheet and she seemed to settle to sleep much more easily. I think the Tuck Sheet really helped her feel safe and secure in a bigger space - it's like a giant swaddle but with her arms free. And it also feels lightweight and stretchy, so it stops her from wriggling herself awake but it's not too restrictive.'
The ergoPouch Tuck Sheet also helped Anna's baby to nap in comfort, particularly once she started moving more in her sleep. 'Freddie has really found her feet lately - she loves lifting them in the air and grabbing them. Even in her sleeping bag, she likes to lift her legs and reach for her toes,' Anna explains. 'During one of her naps without the Tuck Sheet, I walked in to find she had twisted her legs around and they were poking through the slats in her crib. She didn't seem to mind, but it didn't look very comfortable for a good sleep! Having her under the Tuck Sheet has stopped her from doing this, so she gets a better nap.'
It can be tricky, especially as a new parent, to get your baby's clothing and room temperature just right for a cosy sleep without the risk of overheating. The Tuck Sheet also helped our tester with this. 'It's nice to have that extra level of warmth if needed (with the 1 TOG side) but equally, the 0.2 TOG side is light enough that I don't worry Freddie will get too hot when I just want her to feel more secure,' Anna explains. 'I also have peace of mind that the Tuck Sheet can't come loose so there's no risk of Freddie burrowing herself underneath it or pulling it over her head.'
Value for money
At £29.95, our tester feels the ergoPouch Baby Tuck Sheet is good value, particularly since it offers peace of mind that her baby is safe, cosy, and secure without the risks of loose bedding as a result of using it.
'We had no problems at all fitting the Tuck Sheet around Freddie's oval-shaped cot - it just tucked in securely underneath the mattress,' adds Anna. 'The fabric is really great quality too - super soft, and snug, and has washed really well.'
The only downside to using the ergoPouch Tuck Sheet, according to our tester, is that it's only available in a 0.2 and 1 TOG version. 'So if adding an extra layer of warmth is a priority, you do need to layer up the Tuck Sheet with an appropriately TOG-rated sleeping bag,' says Anna. 'Freddie is very happy in her sleeping bag though, so doubling up when she needs extra warmth has not been a problem for us.'
Related Features:
As a parenting specialist for more than 15 years, Heidi has written for most national newspapers and for a wide range of consumer magazines, including Mother & Baby where she was the Shopping Editor for six years, looking after regular consumer features including buying guides and gift roundups.