Breville Halo VDF126 5.5L Air Fryer review
A modern, energy-efficient air fryer by Breville with enough space to cook a 2.2kg whole chicken in just 90 minutes...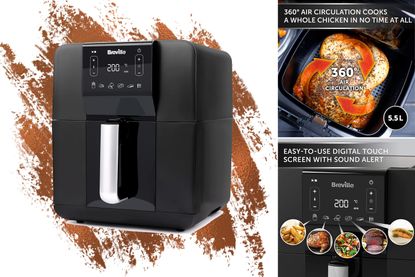 (Image credit: Future / Breville)
Make air frying a part of your everyday cooking with this easy-to-use machine alongside top tips, recipe suggestions, and an air fryer oven cooking chart which is super handy for beginners. The Breville Halo VDF126 5.5L Air Fryer is a versatile machine that is great for cooking anything from 700g of fries to a 2.2kg whole chicken. Perfect for large families.
Reasons to buy
+

Quick, easy to set up, and speedy to heat up too

+

Modern, sleek, and smooth exterior with a digital touchscreen

+

Versatile food options - choosing from a range of different functions e.g. chicken, chips, vegetable settings and modes

+

Not too loud or too noisy

+

Large 5.5L basket with divider options

+

Easy to use and set adjustable temperature and time settings

+

Auto turn off

+

360-degree air flow for even cooking and browning

+

Dishwasher-safe basket and divider
Reasons to avoid
-

Big and rather heavy - so you would need a good amount of kitchen surface area or storage to keep it

-

Air fryer basket divider wasn't very stable and could only be kept in one place when food was holding it up on either side

-

No window to view and check on food when cooking
Why you can trust GoodTo Our expert reviewers spend hours testing and comparing products and services so you can choose the best for you. Find out more about how we test.
If you're looking to jump on the air fryer bandwagon that has been sweeping the UK recently, then we'd like to introduce you to the Breville Halo 5.5L Air Fryer. A large, easy-to-use air fryer that is efficient in cooking as well as saving energy.
When it comes to choosing an air fryer it's all about selecting one to suit your family and your family's needs. If you plan on using one every day as an alternative to oven or microwave cooking then the Breville Halo 5.5L Air Fryer (opens in new tab) may be the right choice for you.
This large air fryer features an air fryer basket drawer, basket divider, preset functions such as steak, fish, and vegetable options as well as digital time settings, temperature, and manual mode if you want to override with your own personal preferences.
Breville (opens in new tab) prides itself on producing a range of high-quality kitchen appliances from kettles to blenders to sandwich makers to air fryers.
Breville claims itself to be "the kitchen appliance brand that delivers innovation based on consumer insights, empowering people's potential to do things more impressively or easily than they'd thought possible in their own kitchen."
With that being said, we put the Breville Halo 5.5L Air Fryer to the test to see if it really does live up to Breville's expectations particularly when it comes to efficiency and innovation.
Design
Capacity: 5.5L | Dimensions: 11.4cm D x 15.2cm W x 13.7cm H | Wattage: 1700 W | Colour: Black
Despite its large size, the Breville Halo 5.5L Air Fryer has a smart, polished look with a digital panel at the front of the machine to give it an even more modern feel. The air fryer draw spans across the base of the machine with an easy-to-use handle and click button to keep the draw locked in place during cooking.
"The machine itself was much bigger than anticipated, however when you've got it sitting on the kitchen side, especially if it's in place of a microwave for example, it looks the part," says Food Editor, Jessica Dady. "The whole air fryer can be wiped clean with a damp cloth so any unwanted dust or fingerprints are super easy to remove in seconds."
The digital panel at the front of the machine is easy to navigate with light-up icons such as chips, fish, chicken, etc. all of which are presets you can choose from when cooking. The time can be easily adjusted on the right-hand side of the digital panel by pressing the up and down button and the temperature can also be adjusted in the same way but on the left-hand side.
"I've not used an air fryer before so having the digital panel alongside the nifty air fryer oven cooking chart (in the guide booklet) made choosing the correct setting, super easy," says Jessica. "The time and temperature digits alternate on the display panel during the cooking process so you can check the temperature is as it should be and you can take a note of the time remaining too."
Comfort and features
As we've previously mentioned, the Breville Halo 5.5L Air Fryer features a range of versatile cooking options. The main preset modes include the following options; fries, chicken, vegetable, meat, fish, and manual mode. However, when you refer back to the air fryer oven cooking chart (pictured below), you can see there is a whole range of foods you can actually cook in an air fryer (opens in new tab) alongside these.
"The preset functions on the digital panel of the machine were really easy to navigate and make sense of - especially for a first-time air fryer user," says Jessica.
"Other than looking smart, and being super easy to use so you can get cooking straight away, I loved that this air fryer turns itself off once it's reached max cooking time. It also beeps a couple of times before the auto power off mode kicks in which gives you a real peace of mind - especially if you were elsewhere in the house whilst cooking is commencing."
Along with the preset functions, the 5.5L air fryer basket allows you to cook a large amount of food in one go - perfect for bigger families or bulk cooking. A few examples of how much this machine can handle include up to 1kg of chicken wings per use, up to 6 slices of garlic bread per use, and up to 1kg of jacket potatoes per use.
Value for money
An air fryer is a great choice for those looking to eat a little healthier with less oil in their diet as well as cutting costs as an air fryer is said to be much more energy efficient than your average oven. Not only that but this large family-sized air fryer would certainly take the fuss out of everyday cooking and is perfect for those looking to bulk cook or feed a large family.
At the time of writing the Breville Halo VDF126 5.5L Air Fryer is priced at £105.96, just over £100 on Amazon.
"I feel like the Breville Halo VDF126 5.5L Air Fryer is good value for money as you get a range of different modes and functions to choose from, it can cater for larger families cooking bigger meals - including a 2.2kg whole chicken. It's a great choice for those who feel they'd use it every day or as an alternative to your oven. Keep in mind that it does need kitchen surface area as its a big machine or it needs a significant amount of cupboard space for storing away," says Jessica.
Related Features:
Jessica Dady is Senior Content Editor at Goodto.com and has over 10 years of experience as a digital journalist, specialising in all things food, recipes, and SEO. From the best food hampers to cookbooks, from the best cake stands to baking sets, Jessica has a wealth of knowledge when it comes to must-have food products. A passionate baker, she spends much of her time creating celebration cakes for friends and family - particularly for her two lucky children.