Lakeland Digital Crisp Air Fryer 3L review
Versatile, quick, and convenient - we've put the Lakeland Digital Crisp Air Fryer 3L to the test...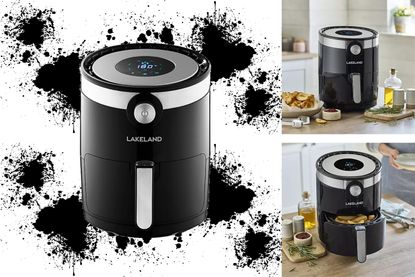 (Image credit: Lakeland)
The perfect air fryer for beginners, smaller families, or couples looking to jump on the air fryer bandwagon that is sweeping the UK by storm. The Lakeland Digital Crisp 3L Air Fryer is an energy-efficient machine, that is quick to heat, thorough in cooking, and good value for money too. A curvaceous machine that would certainly sit comfortably in the corner of your kitchen.
Reasons to buy
+

8 preset functions to choose from including functions to cook chips, fish, seafood, pizza, and more

+

Sleek, modern, curvaceous design

+

Easy-to-clean surface

+

Holds up to 500g of a variety of different foods

+

LED touchscreen display - easy to navigate

+

Easy to remove the basket with lock-in system for safety

+

Not too loud or too noisy

+

Good value for money
Reasons to avoid
-

The machine is large, despite only having a 3L basket, so will need significant surface space or storage space in the kitchen for it

-

No divider or extra accessories avaialble

-

No window to view and check cooking
Air fryers are becoming increasingly popular - the sought-after appliance of the year - and the Lakeland Digital Crisp 3L Air Fryer has become a top choice amongst Lakeland shoppers.
If you're looking for an energy-efficient, healthier way to cook dinner then an air fryer could be the right choice for you. An air fryer is an excellent investment if you plan on using it every day or most days as an alternative to oven or microwave cooking.
Before deciding on an air fryer, you need to consider how often you plan on using it as well as your family's needs - for example; how big is your family? Will you be able to cook for everyone in one use? Will it fit comfortably on your kitchen counter?
The Lakeland Digital Crisp 3L Air Fryer features a three-liter removable air fryer basket, as well as eight preset functions on a digital LED touchscreen at the top of the machine. You can choose from a variety of different cook modes making this machine perfect for versatility as well as being one of the best air fryers for a family of four.
Lakeland takes pride in its range of efficient, useful kitchen appliances - from air fryers to pressure cookers to soup makers and more.
Design
Capacity: 3L | Dimensions: 26 x 32 x 35cm H | Wattage: 1350W | Colour: Black
This 3-liter machine is ideal for smaller families or couples. The black, polished exterior and silver edges give this machine a high-quality look comparable to other sought-after air fryer brands.
"The Lakeland Digital Air Fryer is taller than it is wide so despite being big - like most air fryers are - it didn't take up as much counter space as we initially thought when we first removed it from the box," says Food Editor, Jessica Dady.
The digital panel at the top of the machine is where all the preset functions can be found. It is easy to navigate using the on and off button as a dial switching between each position, you then click the button to select your chosen preset function or to set the air fryer timer and temperature manually. The machine beeps when plugged in, when choosing each mode, and beeps 5 times to say the time is up and food is cooked.
"The LED touchscreen display at the top of the machine was brilliant. At first glance I thought it was a window looking into the food being cooked at the bottom of the machine, but as soon as you plug the machine in, it beeps and the touchscreen display is illuminated ready to use," says Jessica. "I thought it also gave the machine a modern, hi-tech look as well as making it super easy to navigate."
Once you're done cooking, the air fryer basket can be removed from the machine and washed easily. The base of the machine can be wiped using a damp cloth ready for the next use.
Comfort and features
The Lakeland Digital Air Fryer features a range of different preset modes choosing from the following:
Fresh Fries – for cooking home-made chips and sweet potato fries, and vegetables.
Fish – for cooking fillets.
Seafood – for cooking prawns.
Frozen Fries – for cooking frozen foods, including vegetables.
Pizza
Baked Goods – for cooking sweet treats like cupcakes.
Chicken – for cooking drumsticks, chicken breasts and other poultry.
Steak – for cooking meats like steak, pork chops and burgers.
You can also overrun the preset function by using the main on and off dial which you can turn to navigate through setting both the time and the temperature of your choice.
Whilst cooking, both the time and temperature flash at the top of the machine on a digital display panel, alternating between the two. The time counts down so you can keep a close eye on cooking - especially if you want to stop halfway through cooking to check on or shake the food.
"I was apprehensive about opening the air fryer basket draw mid-way through cooking and mid-way through the countdown as I thought I'd have to start the machine all over again," says Jessica. "I gave my potato wedges a shake and slotted the draw back into the machine. It beeped and then was straight back into the cooking mode with the correct time remaining. A very handy feature that ensures consistency when cooking."
The Lakeland Digital Crisp 3L Air Fryer cools down quickly after use. The exterior of the machine in particular is quick to cool and doesn't get too hot during use either.
"The exterior of the machine stayed warm to touch during cooking - not scalding or concerning with children walking around the kitchen so that gave me peace of mind," adds Jessica.
Like most kitchen appliances, this one comes with a very thorough guide explaining how to set up the machine, make the most out of it, use it safely, and cook food correctly and efficiently too. The manual not only includes valuable information on the air fryer, but it also includes a selection of recipes too such as buffalo cauliflower and sriracha chicken wings - a great little bonus.
See below for a few examples of cooking times taken from the Lakeland Air Fryer Cooking Guide which comes with this machine:
Swipe to scroll horizontally
Example Lakeland Digital Air Fryer Cooking Guide

| FOOD | AMOUNT (g) | TIME (min) | TEMP (C) |
| --- | --- | --- | --- |
| Steak | 100-500 | 10-20 | 200 |
| Pork chops | 100-500 | 10-25 | 200 |
| Burger | 100-500 | 15 | 200 |
| Sweet potato wedges | 300-500 | 15-20 | 200 |
| Homemade chips | 300-500 | 20-25 | 200 |
| Thin frozen chips | 300-500 | 20 | 200 |
| Frozen chicken nuggets | 100-500 | 10-15 | 200 |
| Prawns | 100-500 | 8-12 | 180 |
| Chicken breast | 100-500 | 15-20 | 200 |
"I am a novice when it comes to using an air fryer, so having the guidebook - not only to help me set the machine up quickly and successfully the first time round, it also included a really detailed cooking guide with an array of different foods and timings covered - along with additional information and top tips to make sure they are cooked to perfection," adds Jessica.
"The guidebook also included a couple of recipes to get you started including classic French fries and even cupcakes!"
Value for money
An air fryer is said to be much more energy efficient than your average oven and is a great choice for those looking to eat a little healtier with less oil in their diet.
At the time of writing the Lakeland Digital Crisp Air Fryer 3L is priced at £69.99 - with the original price being £119.99. "Sale price, or full price, I think that this air fryer is a good investment," says Jessica.
"I really loved the design and look of this machine, despite being bigger than expected. It was super easy to set up as soon as it was out of the box and was really easy to navigate, particularly as it has the digital display and pre-set functions to help you from the get-go. Plus everything I cooked - when following the cooking guide - came out wonderfully."
According to the Lakeland website, this air fryer comes with a 3-year guarantee for those who want to invest with peace of mind.
Related Features:
Jessica Dady is Food Editor at Goodto.com and has over 10 years of experience as a digital editor, specialising in all things food, recipes, and SEO. From the best food hampers to cookbooks, from the best cake stands to kitchen appliances, Jessica has a wealth of knowledge when it comes to must-have food products. A passionate baker, she spends some of her time creating celebration cakes for friends and family including her two lucky children.