Vactidy Nimble T6 review: this robot vacuum is my new favourite thing
Our Consumer Editor reviews the Vactidy Nimble T6 robot vacuum cleaner - and refuses to give it back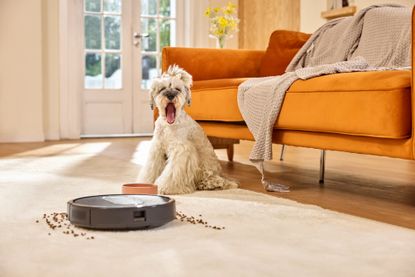 (Image credit: Vactidy)
Compact, clever, and remarkably efficient, the Vactidy Nimble T6 Robot Vacuum Cleaner is a brilliant entry-level buy if you're ready to let a machine loose on cleaning your floors. With a long battery life and three different modes which you can set via the smart app, this is the device you didn't know you needed - especially if you'd rather relax than vacuum.
Reasons to buy
+

Self-charging with long battery life

+

Adaptable to different cleaning needs

+

Smart app and voice control
Reasons to avoid
-

It doesn't entirely replace a standard vacuum

-

Schedule cleaning in advance is unnecessary

-

It can't vacuum stairs
The Nimble T6 robot vacuum from Vactidy is an affordable, entry-level option for anyone toying with the idea of investing in a robot vacuum. But does it live up to expectations? Happily volunteering to put it through its paces, our Consumer Editor resolved to find out.
When Vactidy asked if I wanted to review the Nimble T6 affordable robot vacuum - the latest launch from Proscenic's sister brand - I laughed out loud. I have three children, a muddy mountain-biking husband, two very fluffy cats and a significant family share in the furriest Golden Retriever you've ever seen. Oh, and we live by a sandy beach. Guess what my answer was?
As a Consumer Editor, I'm asked to review many products, but it takes a pretty special product for me to volunteer for the task. And I've made no secret of the fact that I believe a hoover can change your life. I was faithful to my loyal Dyson for years before a Black Friday fling led me to embark on a fulfilling new relationship with a Shark, which continues to impress me two years on. But - call me fickle - lately, I've been dreaming of trying life with a robot vacuum.
Vacuuming is a form of stress relief for me. (Don't judge.) In a world where so much seems awry and plans rarely go as they should, I take some existential comfort in being able to transform a crumb-ridden carpet or a floor full of pet fur in seconds.
But as my children have grown into teenagers (opens in new tab) I'm falling out of love with vacuuming. They hoover their own rooms now - hallelujah - and at the end of a long day at work I'd frankly rather slink into the sofa with a Chardonnay than shimmy around the kitchen with my Shark.
So I leaped at the Vactidy Nimble T6 review opportunity. And here's what I thought.
Vactidy Nimble T6 review: what's in the box?
The Vactidy Nimble T6 comes with absolutely everything you need to start cleaning and takes mere seconds to set up. Here's what was in the box when we unpacked it:
The T6 robotic vacuum cleaner
Remote control
Charging base
AC power adapter
Cleaning tool
4 side brushes
2 hepa filters
User guide
Copy of the 12-month warranty
Features
This is a high-quality robot vacuum at an affordable price.
Billed as the solution for efficient, effortless cleaning, the Vactidy Nimble T6 Vacuum Cleaner boasts a sleek, compact design. It's the sort of gadget that's stylish enough to leave out on display in your home without being showy or obtrusive.
And with 3 levels of suction power (including up to 2000Pa strong suction in max mode), it's designed to effectively pick up dust, debris, and pet hairs from both hard floors and low-piled carpets. In other words, it should be up to the task of keeping my chaotic household pretty spick and span.
You don't need to worry about the T6 bumping into furniture or falling down the stairs, as sensitive anti-collision and drop-sensing sensors prevent that. And since it measures just 2.89" high, you can be confident that it'll fit easily into hard-to-reach areas like under the beds and beneath the sofa.
These are the core features of the Vactidy T6 Robot Vacuum Cleaner:
Controllable via voice and smart app
Remote control is also included
4 cleaning modes including strong, standard, and quiet
Self-charging
Long battery life
Cleaning can be scheduled in advance
Non-stop cleaning
Design
The Vactidy Nimble T6 Vacuum Cleaner is one of the most affordable yet feature-packed models you can currently buy. This is the second product in Vactidy's portfolio following on from the Blitz V8 cordless vacuum.
I wasn't sure exactly how it would work and you could be forgiven for thinking that something so small and compact can't surely tackle the dirt and debris of 5 humans and 3 pets. But, it does.
A 360-degree wheel and two auto-spinning side sweeper brushes do lots of the work - they extend and rotate, which is quite a feat to witness, catching the dirt as they go.
I should add, in fact, that watching the Nimble do its thing is pretty entertaining. On more than one occasion we've enthralled guests (at least I think we have...) with our gadget's impressive display. It's the kind of thing that you know people go home and talk about buying themselves.
Making just 60dB of noise in quiet mode, it really is possible to put your feet up and continue watching TV whilst the T6 does the hard work all around you. In fact, doing exactly that with a hot cup of tea after dinner is my new favourite pastime. Forget doom scrolling social media, I just watch the Robot Vacuum tidy up for me and everything feels right in my world for those blissful moments of rest.
Using the Vactidy App, you can set daily cleaning schedules whilst away from home - although I'm not really sure I can see a scenario where I'd do that. Maybe if you realised while at work that friends were coming for dinner but even then, I can always find 10 minutes before guests arrive to set the Nimble to work.
The 4 distinct cleaning modes are a clever feature though. You can choose from auto cleaning, spot cleaning, edge cleaning, and complete room clean - or switch between them as required. This is handy if, for example, you want to spot clean the hallway after a beach walk or someone spills cereal on the kitchen floor.
My favourite feature, however, is the fact that you can use voice for hands-free control with Google Assistant or Alexa. You just say "Alexa, ask T6 to start clean" (2.4GHz WiFi only) and Nimble beeps into life. For those without smartphones, there's a remote control included instead.
Battery life
The battery provides a long run-time of 100 minutes in quiet mode, 80 minutes in standard mode and 60 minutes in max mode, so you can set the T6 to clean for extended periods of time without needing to recharge it.
The vacuum will eventually require a charge once it reaches 15% battery power, whereupon it automatically returns to the charging dock - an impressive journey that the whole family has enjoyed watching.
Efficiency
For easy maintenance, the T6 comes with a cleaning brush to aid users in removing any entangled hair from the device - although I have to admit to having misplaced this already.
It's also equipped with a large 500ml dust box which is convenient to remove and install, so there is no need to keep stopping the gadget to throw away dirt frequently. The T6's two-layer filter design will also filter out impurities and increase the lifetime of the smart vacuum robot.
I was surprised by how small the dust box is, particularly compared to the size of the dirt container on my Shark. I worried about whether it would be big enough to contain a full vacuuming session of dirt and debris but it has proved more than adequate, amassing an impressive gathering of dirt but never yet becoming over full.
Value for money
I asked friends and family to guess the price of the Nimble and no one came close - they all assumed it was considerably more expensive than it is. And that, I think, is the best bit about this device - as household gadgets go, it is relatively affordable.
Will it replace my Shark? No. I still find myself turning to my upright vacuum when I want to give the kids' rooms a thorough clean, for example. And as clever as a robot vacuum is, investing in a spare battery for your cordless vacuum is a game-changer in itself and considerably cheaper. The Nimble also can't hoover my stairs so there'll always be a job for Sharkie.
But it's not an exaggeration to say that the T6 Nimble has given me something priceless - the gift of time. Yes, I still have to hoover 'properly' from time to time and in other rooms of the house. But sitting down with a cuppa after dinner and my feet up for five minutes while the robot gets to work beneath me is a joy like no other. Those precious daily minutes of peace and quiet don't feel lazy or indulgent because the floor is literally getting cleaned. And that feeling alone makes this worth every penny of its price tag.
As a parenting specialist for more than 15 years, Heidi has written for most national newspapers and for a wide range of consumer magazines, including Mother & Baby where she was the Shopping Editor for six years, looking after regular consumer features including buying guides and gift roundups.