Prince Harry and Meghan Markle's 'inappropriate' request to the Queen that she REJECTED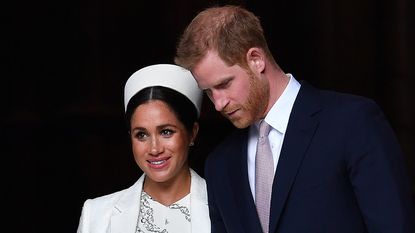 (Image credit: Getty)
Prince Harry and Meghan Markle are said to have made an 'inappropriate' request to the Queen that she rejected.
The Queen (opens in new tab) is said to have rejected Prince Harry and Meghan Markle's request to live in Windsor Castle after they married.
The Duke and Duchess of Sussex tied the knot in 2018 (opens in new tab) and shortly after this they put in a request to ask the Queen if they could live at Windsor Castle because they wanted somewhere bigger than Frogmore Cottage to raise a family.
But according to a royal insider, the pair faced disappointment when the monarch rejected the request they made about their home.
According to the Sunday Times, the report, written by Roya Nikkhah states, "The couple are understood to have set their hearts at first on Windsor Castle, and are believed to have asked the Queen if living quarters could be made available after their marriage (opens in new tab)."
But their request was turned down and expert Hugo Vickers told the Express why the Queen may have decided to deny their request, saying it might not have been "entirely appropriate".
https://www.youtube.com/watch?v=VbbOtkvLCnM
He explained, "There are empty bedrooms and suites in the private apartments within Windsor Castle which the Sussexes may have had their eye on, or perhaps some former living quarters in the castle grounds converted into other things.
"But I can see how it might not be entirely appropriate to have a young family living there."
After their lavish wedding, Prince Harry and Meghan were delayed moving into Frogmore Cottage due to the renovation work that was taking place but shortly after the birth of their son Archie, the couple stepped back (opens in new tab) as working members of the royal family and soon decided to fly the nest and set up a home (opens in new tab) for themselves and their family in the US.
And in 2021 the couple had their belongings cleared from the cottage (opens in new tab) with Princess Eugenie and Jack Brooksbank making it their home, where they now live with baby son August.
Prince Harry recently revealed the Queen was unlikely to meet daughter Lilibet-Diana (opens in new tab) any time soon due to it being too dangerous to visit the UK with his family.