How to make a pretty storage box
We show you how to make this storage box in our picture-led guide. Perfect for tidying up children's desks and your worktops, these boxes will help keep everything in its right place.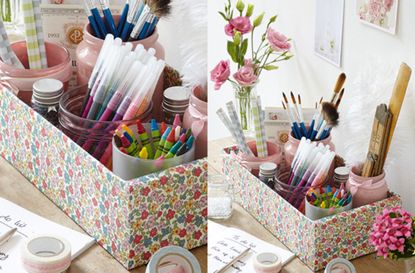 Does your house need a little bit more organisation? We know ours could! That's why we came up with this pretty solution to all those messy bits and bobs that usually find a home all over your desk or worktops.
This might just be a quick craft project but it's sure to save you hours of searching for that pen that you know you left somewhere, or the one pair of scissors you have left in the whole house.
If you've got kids then this makes the perfect desk tidy for them to keep all their school and craft bits and bobs in one place. You never know, it might even encourage them to keep their rooms a bit tidier! If you've got older children then you could have them make their own for a fun afternoon project to do one weekend.
All you need to add once you've made your box is jars and containers to separate out the things you want to store in it. We like a variety of different shapes and sizes to give an organic looking finish – plus recycled jam jars and plastic cups are free!
You will need
-Jam jars
-Oil-based paint
-Newspaper
-Ribbon
-Cardboard box
-Glue stick
-Wrapping paper
-Scissors
Step 1
Select jam jars that will fit in the box- we used different sizes to accommodate taller items like rulers and paint brushes.
Step 2
Fill jam jars with oil-based paint. Swirl it round until every area inside the jar is coated, then tip it upside down on newspaper. Leave for 1 hour, then turn right way up. Remove smears on the top edge of the rim at this point, then leave the jars overnight to dry. Add ribbon to the necks of a few jars.
Step 3
To cover the box, spread glue on the bottom and put it in the centre of a sheet of wrapping paper. Cut diagonal lines from each corner of the paper to each corner of the box and fold in to cover all four sides, taking the paper over the lip of the box. Glue in place inside the box. Trim any excess paper to neaten. If the cardboard shows through inside the box, patch it with any spare pieces of paper. Put your jars in the box and fill with stationary.
Jessica Dady is Senior Content Editor at Goodto.com and has over 10 years of experience as a digital journalist, specialising in all things food, recipes, and SEO. From the best food hampers to cookbooks, from the best cake stands to baking sets, Jessica has a wealth of knowledge when it comes to must-have food products. A passionate baker, she spends much of her time creating celebration cakes for friends and family - particularly for her two lucky children.