Your daily 10-minute workout challenge!
You'll be seeing results in just one month!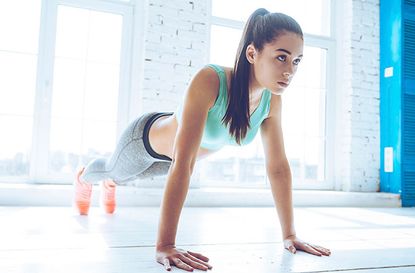 GoodTo newsletter
Sign up to the GoodTo Newsletter. You can unsubscribe at any time. For more information about how to do this, and how we hold your data, please see our privacy policy
Thank you for signing up to . You will receive a verification email shortly.
There was a problem. Please refresh the page and try again.
When it comes to 30 day challenges (opens in new tab), it's fair to say that some can seem a little extreme.
In fact, by using fancy names for different exercise moves and weird terms for our muscles, we're usually put off before we've even started!
It's hard to believe it, but just 10 minutes of high-intensity exercise (opens in new tab) every day can actually make a massive difference to how you look and feel. Not only will you be improving your fitness and health, but you'll start to look and feel stronger and leaner too. And quite frankly, who'd say no to any of that!?
To show you just how easy it is to get exercise into your everyday life, we've asked Nutracheck (opens in new tab) Fitness Expert Kelly Marshall to put together your very own 10-minute workout. And you won't believe how easy it is to follow! What's more it's completely free - no gym memberships or fancy equipment required.
https://pages.email.timeincuk.co.uk/jn2035/GTK10minexercisechallenge/capture/
Want your own FREE 10-min workout plan? Simply fill in the form above and it'll be sent straight to your inbox
Kelly says: 'Workout one targets legs in two different ways and the core muscles. This is complemented by workout two, which targets total body, upper body specifically and core in a different way. Together the workouts don't leave anything out, the whole body gets a decent high intensity workout. The result = total body benefit!'
To start your 10-min workout challenge:
Begin workout one on day one


On day two, switch to workout two


On day three of your workout challenge, have a rest day


On day four, go back to workout one


On day five, go to workout two. And so on! It really is that simple.

The best part? We guarantee that you'll know how to perform each and every one of the exercise moves mentioned in your 10-minute workout, so there'll be no excuse not to follow the plan every day for a month. By the end of the 30 days you'll be seeing real results!

Things to remember:
Make sure you warm up properly before you exercise (we don't want any aching joints or pulled muscles!)


If you find that you can't do as many of the reps in 10 minutes as the plan says, don't worry. It's about working as hard as you can for 10 minutes


Make the challenge as fun as possible by creating a 10-minute playlist of your favourite high tempo songs!

We'd love to know how you get on with your 10 minute workout, so let us know in the comments below
Kelly Marshall, Nutracheck Fitness Expert says 'It's true that you can't out-train a bad diet. To get the maximum benefit from your 10-minute workout, you need to make sure your nutrition is as focused as your exercise. The Nutracheck App (opens in new tab) is a must-have tool if you want to monitor your diet and track your calorie intake'.
If you are trying to lose a few pounds as well as tone up, the Nutracheck calorie counter App (opens in new tab) and website (opens in new tab) can help. Enter all the activity you do in the exercise diary and see how many calories you've burn. Record everything you eat in the Nutracheck food diary - the App is super-fast to use - and get the balance right to lose weight.