Why does my makeup look cakey? Foundation application tips for smooth-looking skin
Two pro makeup artists give their top tips to stop your makeup looking cakey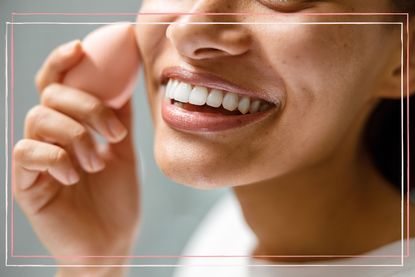 (Image credit: Getty Images)
Goodto Newsletter
Parenting advice, hot topics, best buys and family finance tips delivered straight to your inbox.
Thank you for signing up to GoodTo. You will receive a verification email shortly.
There was a problem. Please refresh the page and try again.
Wondering why your makeup looks cakey? There can be lots of different factors that cause a foundation to appear heavy or mask-like, or for it to cling in particular areas.
When you're someone who doesn't enjoy spending hours on their makeup or you're a mum running around after little ones (or maybe both), many of us don't have the time to fuss over foundation application. You want your makeup to be light and effortless, quickly giving you the look of someone who's just woken up from an unbroken eight hours of sleep, rather than worrying about concerns like cakiness, using a foundation shade finder or buying the wrong formula.
"'Cakey' is a term used to describe what your makeup looks like when it's sitting on top of your skin rather than blending into your skin," says Dana Abes, events team artist at KVD Beauty. "This can happen with too much foundation is applied, too much product is applied on top of your foundation, when you've not prepped your skin properly or if you're using the wrong tool." As Dana explains, cakiness is not just about your foundation and can be impacted by your skincare (you'll be needing your best moisturiser and best primer too), application techniques and other products you use.
Why does my makeup look cakey?
Unfortunately, there's no one answer to why your makeup can look cakey. The reason why your foundation could have a thick or uneven finish, or be settling into fine lines will be due to one, or maybe a combination, of the following factors:
You haven't prepped your complexion with the right skincare
You're wearing the wrong foundation for your skin type
You've applied your makeup in the wrong order
You've applied too much product
You haven't blended properly
You've applied foundation with your fingers rather than a brush or sponge
You've chosen a foundation that's too full coverage
How to fix cakey makeup
1. Start with good skincare
No matter how amazing your foundation is, if you're not starting with good skincare you're not going to get the results you're hoping for. "Great skincare equals great makeup," says Hollie Ellis, PRO Artist at Bobbi Brown. "Skincare is the most important part of your makeup routine because it not only helps the makeup to stay in place but will also help you to achieve a beautiful finish. Layering your skincare products in the right order will allow the makeup to glide onto the skin more seamlessly, and the more you look after your skin with skincare, the less makeup you will need to apply."
A good skincare routine will start with cleansing. To wash your face properly, this essential step should ideally involve a double cleanse at night, where you wash your face once to remove makeup, SPF and daily grime, and then a second time to give your pores a thorough clear-out. In the morning, just one cleanse is enough to refresh your skin and whisk away the residue of your best night cream. As a bare minimum, the other steps in your routine will be to moisturise day and night in order to keep your skin nourished and comfortable, and to apply the best sunscreen for your face to shield it from UV rays.
If you're serious about skincare, you might want to incorporate a couple of other products into your routine – an exfoliant and a serum. A liquid exfoliant is a product fuelled by skincare acids (not as scary as they sound) like AHAs, BHAs and PHAs, which work to break down the glue that holds old skin cells to the surface. With these unwanted cells removed, you'll create a smoother, softer base for foundation, with no rough patches for makeup to cling to. Serums are the part of your skincare routine that contain the highest concentration of active ingredients and are your opportunity really target any pressing skincare bugbears that might impact how your makeup looks. For example, the best vitamin C serum will fade sun spots, a hyaluronic acid serum will quench dehydration and a retinol serum will soften the fine lines that foundation can settle into.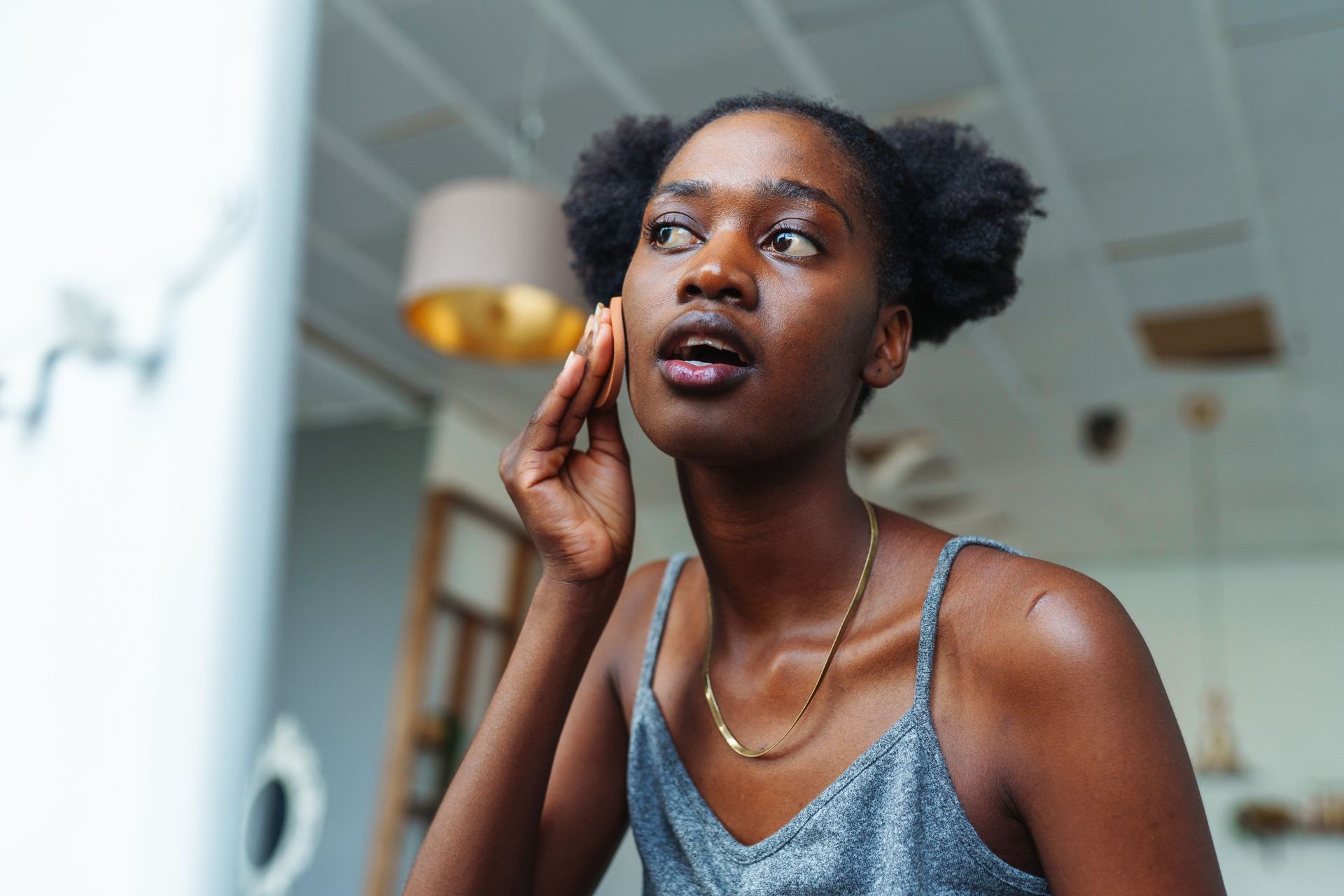 2. Think about your skin type
There are widely considered to be four skin types – dry, oily, combination and normal. Dry skin is characterised by a lack of oil, oily skin has too much oil (it's all sounding very Goldilocks here), combination skin has both dry and oily areas, and finally, normal skin is skin that's pretty balanced. "It is important to understand your skin type so that you can pick products that will work best for you," explains Dana. "If you have a drier skin type, then a foundation with a less matte finish would work best." You could also look out for something that has oil within the formula, or other added nourishing ingredients. "Oil-free formulas can be drying, so if you have a dry skin type make sure your skin is really moisturised before applying these types of foundations," adds Hollie. "If not, it can grip to areas of dryness and show texture."
Alternatively, if your skin is on the oily side, then matte finishes and oil-free formulas will be right up your street. Choose foundations that focus on "controlling surface oils which can break down your foundation and contribute to it looking cakey," says Dana. Combination skin is a bit trickier and may require a bit more experimentation to find a formula that keeps both the oilier and dryer parts of your complexion happy. Those with normal, balanced skin will have the pick of pretty much any foundation – lucky you.
3. Apply in the right order
There's a method to the magic of makeup, and you need to be applying your products in the right order to avoid a cakey finish. "A cakey finish can happen if you have used powders before creams, as the product can start to roll on top of the skin," advises Hollie. "It can also happen if you layer too many products on your skin, and it can become heavy-looking." As a general rule, we'd say liquid foundations are always preferable to powder ones, as they're lightweight and less clingy. If you do want to top your foundation with a dusting of powder, either to keep shine at bay or help set it in place, that's fine, but use sparingly and always make this the final step in your makeup routine.
How you apply it matters too. "When adding setting powder, try not to sweep it across your face," says Dara. "Pushing and rolling the product in the areas you want to set will stop the powder from looking like it's sitting on top of the foundation." The aim is for it to be an invisible, barely-there topper rather than something that people notice you're wearing.
4. Work in light layers
A good way to think about applying foundation is that it's a bit like painting a wall. If apply too much product at once, you're not going to get a nice even coating, and you're more likely to end up with streaks and visible brush strokes. "Working in light layers of product will prevent your makeup from looking cakey," says Dana. "Apply a small amount first and build in the areas that are necessary." For example, most people find that gripes like blemishes, redness and oiliness are more concentrated in the centre of their face rather than on the edges. Keeping this in mind will allow you to focus the majority of your application here, blending softly out towards your hairline and jawbone for a convincing, seamless finish.
You also want to avoid going too close to the eye area. "Avoid the under-eye area with your foundation application and keep this for concealer only," advises Dana. This is because the skin is thinner here, and therefore you want to be using a product that has been formulated with that in mind. Going too close to the eye area with your foundation can also look unnatural, and, if you're not careful, lead to stinging eyes if you accidentally sweep product into them.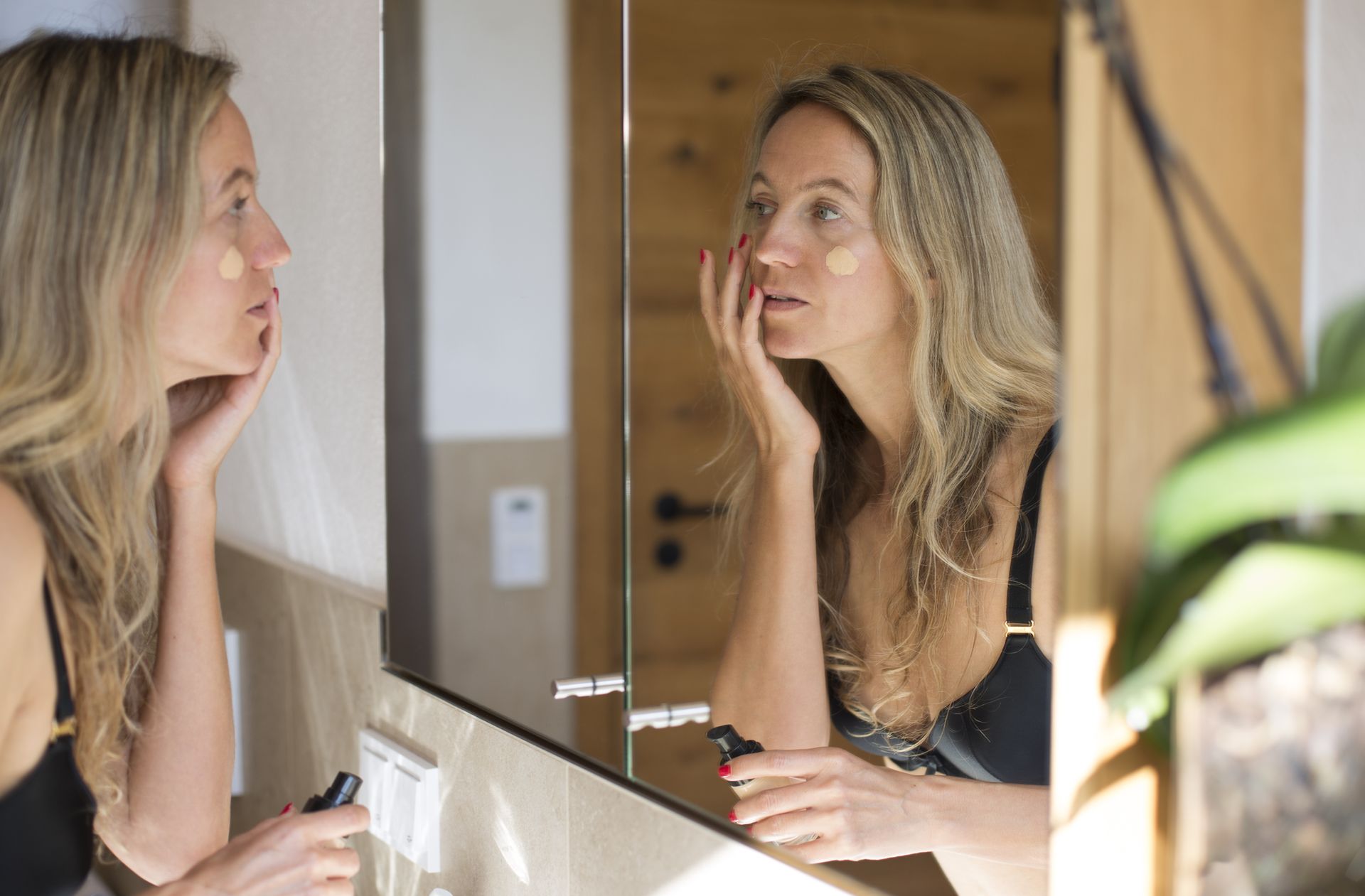 5. Blend it out
Ok, so you've applied your foundation in a hurry and now you're left with a cakey, congealed mass of makeup on your skin. Don't panic, it's easy enough to fix. "Take a pea-sized amount of moisturiser of primer, press it into the palm of your hands, or onto a sponge, and simply press into the skin in the areas where the makeup looks cakey or heavy," advises Hollie. "I love this technique as it just lifts off the product without ruining the makeup and instantly makes skin look like skin again."
If you're out and about and don't have any primer or moisturiser to hand, try water instead. "Taking a damp makeup sponge and lightly pressing over your foundation is a great way to remove excess product lying on top of your skin," explains Dana. "Make sure you squeeze the water out of your sponge though, you want it to be damp, not wet." If it's too saturated with water, you run the risk of creating watermarks in your foundation or accidentally rubbing it away.
6. Use a tool
It feels easy and intuitive to apply foundation with your fingers, but trust us, once you've picked up a sponge or a brush instead, you won't want to go back. "Always apply your product with a brush or a sponge," says Hollie. "They're an amazing way to get even coverage, they apply and blend the formula out more seamlessly than your fingers and it's less mess." If you're not convinced, try different application techniques on either side of your face. You'll quickly see how much easier it is to avoid a cakey finish with a brush or sponge.
7. Reconsider your foundation formula
If you're committed to your skincare, are considered in your foundation application and always blend but your foundation still ends up looking cakey, it might be time to trade in your chosen product. When shopping for a foundation, remember that low-coverage formulas will be the lightest, and full-coverage formulas are the heaviest, as this extra pigment and density is what makes them so effective at covering blemishes. Medium coverage is a middle ground between the two, and can often be sheered out to a lower coverage or layered up to full.
"Full coverage formulas are most likely to cake as they're thicker in texture and sometimes harder to blend on the skin," says Hollie. Instead, "if you are worried about foundation looking cakey, opt for a light consistency instead," adds Dana. The lighter your foundation, the less likely it is to create an unnatural finish.
---
We spoke to the following professionals:
Dana has worked as a makeup artist and ambassador for KVD for over five years, both internationally and at home in the UK.