Celeb bikini gallery
So just how toned are these celebs and reality TV stars? See them on their holidays and in their gardens and judge for yourself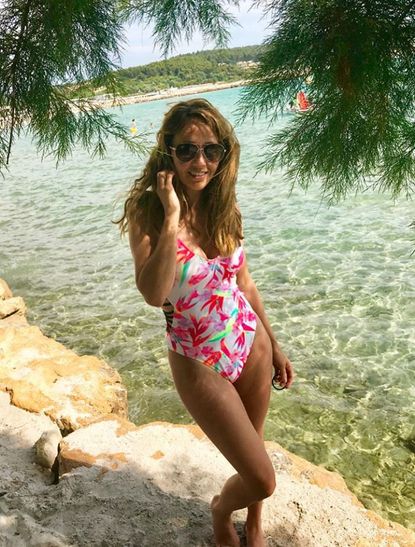 Goodto Newsletter
Parenting advice, hot topics, best buys and family finance tips delivered straight to your inbox.
Thank you for signing up to GoodTo. You will receive a verification email shortly.
There was a problem. Please refresh the page and try again.
So just how toned are these celebs and reality TV stars? See them on their holidays and in their gardens and judge for yourself
Davina McCall is well-known for her positive approach to diet and fitness, and regularly shares snaps to show off her healthy lifestyle. And it seems the star makes no exception during the holidays, if her latest uploaded is anything to go by!
Cutting an athletic figure in a sporty dark blue two-piece, Davina was snapped during a holiday to St Tropez with her family - and fans are seriously impressed by the 49 year old's body.
'You have worked so hard, you so earnt that body! In awe of you,' said one commenter, whilst another added, 'Jesus devina. Please help me look like u!'
The former Big Brother host and fitness guru has given us plenty of snapshots into her glamorous holiday, and she certainly hasn't been skipping out any training sessions whilst she's been away.
The mum of three has already uploaded pictures of her daily runs, and despite this snap being taken on her weekly rest-day, she revealed that she spent the day paddle-boarding with her son Chester.
Back on home soil, the star is constantly pushing herself in the gym and loves to exercise as often as possible.
Last year, she told This Morning hosts Ruth and Eamon, 'I fit in exercise wherever I can. This afternoon before the school run I will try and fit in ten minutes. I will work out to myself with the DVD as you can't get a personal trainer for ten minutes. Tomorrow I will do a quick workout at home.'
Samia Longchambon
Actress Samia best-know for her role as Maria in the hit ITV soap Coronation Street showed off this lovely printed swimsuit while on holiday in Greece.
Captioning the picture the actress wrote: '#Greece 'til next time... ❤️🇬🇷🏝 #paradise #turquoisewaters #hometime.'
Samia's fans went wild for the snap and several wanted to find out where they could grab the one-piece for themselves.
One fan wrote: 'This is gorgeous, love your swimsuit'. While another said: 'You look stunning @samia_longchambon & love the swimming costume xx'.
Thankfully for them Samia tagged the swimsuit as Victoria Secret and it costs around £50.
The high-street is booming with printed swimwear at the moment so if you can't find this exact one you'll definitely be able to find something similar.
Swimsuits are much more flattering than bikinis and the bold patterns are often very slimming too.
Denise Welch stuns in bikini snap
Denise always looks amazing in her bikini - and this snap of her proves it!
The 58-year-old Loose Women favourite shared this picture of herself catching some rays writing on her Twitter account: 'Staying sober. Staying slim. Staying sane. @LincolnTownley @LighterLifeFast @gordonwise xx'
Referencing her battle with alcohol, which she recently credited husband Lincoln with overcoming, Denise looks happier and healthier than ever.
The Loose Women star also tagged Lighter Life, the meal-replacement plan which helped her shed two stone, and maintain the loss for three years, in the post.
'LighterLife has taught me how to enjoy treats, in moderation, without slipping into bad habits of comfort eating again,' she says.
Well, whatever you're doing Denise, it's certainly working! Now, if only we could get a tan like that in the UK...
Lorraine Kelly makes her 'Bikini Promise'
Lorraine may be 56, but she says she's more confident in her bikini than ever - and looking at this picture, we can see why!
The TV presenter looked toned and trim as she launched her second Bikini Promise challenge, a franchise created by her ITV show to encourage everyone to feel confident and comfortable in their swimwear.
'For the finale of the Bikini Promise last year, I danced on the banks of the River Thames in my bikini with a fantastic group of women also in their bikinis,' mum-of-one Lorraine said. 'Who knows what will be in store for this year's finale!'
'I never thought I would feel confident enough to wear a bikini on national TV but if I can do it then you can too.'
This year's challenge has been dubbed the 'Bikini Challenge + One', with Lorraine explaining, 'This plan is all about feeling healthy, fit and happy. This year we want you to get your 'plus one' involved as well. It could be your partner, relative or best friend.'
We have to say, after seeing Lorraine's incredible bod, we can't help but feel inspired...
Denise Welch shares a snap from Majorca
We don't know what to look at first - Denise's new hair, or her amazing figure!
The 57 year old shared this picture of herself catching some rays in Majorca on her Twitter account, writing 'Bikini alert!!' I've realised I look so much like my mum it's brought a tear to my eye!! @lighterlife'
Denise sadly lost her mother on her birthday in 2012, making the resemblance particularly poignant.
She also tagged Lighter Life, the meal-replacement plan which she credits with helping her shed two stone, and maintain the loss for three years, in the post. 'LighterLife has taught me how to enjoy treats, in moderation, without slipping into bad habits of comfort eating again,' she says.
Well, whatever you're doing Denise, it's certainly working! Now, if only we could get a tan like that in the UK...
Danielle Lloyd: 2015
It's hard to believe that Miss Lloyd is mum to not one, not two, but three boys! Especially when you catch a glimpse of her taut tummy...
The former WAG, who divorced football player Jamie O'Hara last year after two and a half years of marriage, has been holidaying with girlfriends in the party capital of Ibiza, and sharing a few pics along the way!
31-year-old Danielle posted this snap of herself looking incredible in a fuschia pink bikini, captioning the pic: 'Bikini @annalous and my gorgeous new kaftan @designsbyangharadowen'
Looking gorgeous Danielle!
Lisa Faulkner
Looks like Lisa is having the time of her life on her summer hols, and we don't blame her!
The 43-year-old, who won Celebrity MasterChef back in 2010, has been enjoying a sunshine break with her chef boyfriend John Torode in St Tropez.
The loved up pair, who began dating when they met on his show three years ago, have been sharing many snaps from their holiday - and we just love this one of bikini-clad Lisa taking a dip in the sea! She captioned the photo: 'Happy holidays!!!'
Lisa, you look sensational!
Mel Sykes
How incredible does Mel look in a bikini!?
The 44-year-old-presenter, who's mum to Valentino, 11, and Roman, 13, has been enjoying a relaxing sunshine break with her family - and showing off her hard work with her diet and fitness regime in the process!
Stripping down to her bright pink bikini to reveal her impressive physique, she captioned the photo:
12th day of #eat.nourish.glow #nosugar #nocaffeine #nobooze etc feeling it me&mysons shadow
The star follows a low-carb, high protein diet. She recently spoke to Fabulous magazine about the reasons behind her regime:
'Anybody can look fit. If you train and eat well, then that's what happens. I'm no different. For me, it's just about feeling good and looking good and it gives me confidence. If I'm in a bikini, I feel good.'
Image: Twitter/
MsMelanieSykes
Vanessa Paradis
It's hard to believe Vanessa Paradis is 42 years old!
The stunning ex model, who has two children with ex Johnny Depp, was pictured looking happy and relaxed on the beach in Greece with her son Jack, 13. She chose a simple black bikini to show off her enviable figure, and doesn't she look amazing?
It's been reported that Paradis likes to stay trim by walking everywhere, exercising for 45 minutes a day. 'I love yoga or Pilates. I have tapes and I do it on my own', she says.
Vanessa and Johnny are also parents to 16-year-old Lily-Rose.
Lorraine Kelly
You've gotta love our Lorraine. The brilliant TV presenter stripped down to her swimwear live on her morning programme to show what body confidence really looks like!
And it's fair to say the 55-year-old mum of one looks absolutely incredible. Lorraine was joined by a group of volunteers who had all lost weight by following the show's Bikini Promise diet, and also flaunted their figures in beachwear.
The Bikini Promise was a five-week programme that encouraged the star's viewers to 'promise to be fit, healthy and wear your bikini with confidence no matter of your age, shape and size', with experts Sally Bee and Maxine Jones on hand to offer advice on everything from healthy homecooked food to exercise regimes.
Lorraine, who credits her own fabulous figure to regular Zumba classes, said, 'I feel I am in the best shape I have been in for a very long time. I'm a 55 year old mum and I feel that if I can wear a bikini then anyone can.'
It's not easy to look this good whilst dancing to 'Moves Like Jagger' in heels, but Lorraine smashed it!
Jessie J
Oh the life of a pop star! Not only do you get to spend your time in exotic locations - you get to look like this while you do it!
Now, we don't doubt that Jessie has had a lot of help maintaining this enviable bikini bod, but what we really can't take our eyes off is how relaxed and happy she looks. We reckon, no matter how you look in a bikini, this is how you should feel on the beach.
(And we may be trying a quickie
diet plan
before our hols just so we can feel a little better about the bod...)
Una Foden
Ladies, you may want to avert your eyes. Because not only has the 33-year-old Saturdays singer had two babies, but she only gave birth to son Tadhg four months ago!
Una has been enjoying a sunshine break with her rubgy hubby Ben Foden, and posting some happy snaps along the way. She captioned this bikini photo: 'Holiday Pose! #cheesy'
It's hard to believe the star has two children with a tummy that taut, but Una has spoken out in the past about her struggles to lose the weight she put on with her first child, daughter Aoife Belle, who she gave birth to in March 2012.
'I'm aware I'm getting a bit older and after having a baby I have to work harder', she told Women's Fitness magazine.
'My abs were the hardest part to tone after pregnancy. My tummy felt like jelly for a while and it's much more difficult to tone than it used to be.'
Well whatever she did the first time around certainly seems to have worked for the second, you look amazing Una!
Charlotte Crosby
Looks like reality TV star Charlotte couldn't wait to show off her recent three stone weight loss if the pic on the left is anything to go by!
The Geordie lass is in Australia filming Ex On The Beach and it seems she's packed a whole host of bikinis to flatter her new figure, which she achieved thanks to her best-selling fitness DVD: 3 Minute Belly Blitz. And the results speak for themselves! Slimming from a size 16 to an 8, her toned abs and slim figure are a far cry from her Geordie Shore days.
Denise Van Outen
Swit swoo! Denise, can we please, please look a little like this at 40 too? The stunning blonde, who turned 40 in May, shared this holiday snap of herself catching some rays in a lovely yellow bikini and some rather brilliant sunnies!
She captioned the photo: 'Loving @ElizabethHurley bikinis and beach cover ups on this mini break in Puglia Italy. #beachparty'
Denise - we wish we knew your secret!
Myleene Klass
All we have to say is 'WOW' Myleene! Doesn't the beautiful mum of two look fantastic?
Myleene couldn't resist posting this super-toned picture of her on holiday in South Africa wearing one of her own bikini creations designed for Littlewoods. The gorgeous presenter tweeted the picture with the caption: 'Lota love for my bikini. It's out next week in my #littlewoods range. Go treat yourselves girls xxx #preview.'
We can't think of a better advertisement for her new range (if only she could guarantee we'd look like this while wearing it too!)
Read our interview with the lovely Myleene here
Alexandra Burke
Alexandra Burke enjoys some downtime out and about on holiday in Miami.
The X Factor winner was spotted getting a piggy back through the water by a hunky male pal. Lucky her!
Helen Flanagan
Helen Flanagan might have been scared of the rickety wooden bridge on her entrance to the jungle, but after a few days in the I'm A Celeb jungle, it seems the Corrie star is feeling right at home!
Heidi Klum
Model Heidi Klum, who is 40 (yes, 40!) tweeted this pic of her relaxing in the sunshine. The mum of four wrote 'finally.....relaxation!!' and shared this rather gorgeous shot of her with her followers. Heidi, who split from Seal in January this year, is launching a new baby clothes range at Babies R Us in New York soon.
Lindsay Lohan
Actress Lindsay Lohan is currently playing Elizabeth Taylor in a new film about her life. Linds looked every inch the Hollywood star - and much happier than we've seen her for a while - as she relaxed with friends on the beach in LA.
Kym Marsh
Kym Marsh got the girls together and hit Marbella at the weekend for her hen party. She was all smiles as she posed by the pool, glass of fizz in hand, wearing a striped bikini. Not long 'til the big day now!
Check out all the latest celebrity hairstyles
Ashley Tisdale
Singer Ashley Tisdale spent her 27th birthday soaking up the sun on an exclusive Malibu beach in LA. Jealous, us?
Feel as good as Ashley with our look younger diet
Dakota Fanning
Not a bad way to spend the day - actress Dakota Fanning splashed about in a very revealing bikini on Brooklyn beach in New York while filming her latest movie, Good Girls Gone Bad.
Jennifer Lopez
Enjoying a family holiday in Rio with her twins, Jennifer Lopez showed off her killer bod in a white bikini. New boyfriend, Casper Smart, was on bucket and spade duty!
Naomi Watts
Proof that reaching your 40s is something to look forward to. Here's a very slim-looking Naomi Watts, 43, on a beach in Australia filming her new movie, 'The Grandmothers'.
She may not be a grandmother in real life, but she has had two kids, and apparently, no problem losing the baby weight!
Coleen Rooney
Our picture shows Coleen Rooney strutting her stuff in a pink, frilly bikini which is part of her new collection of swimwear from Littlewoods. (Not available until March - by the way.)
Want to see her lounging by the pool in a different two-piece? We thought so. Coleen Rooney in a bikini take two...
Coleen Rooney
We're not sure about the practicality of the heels 'n' lilo combo in this shot, but we love the bikini Coleen Rooney's wearing and are hugely coveting her flat tum. Are we the only ones?
Elle Macpherson
Elle Macpherson may be approaching 50 years old, but she's still got it. Looking perfectly proportioned in this bikini, Elle was out surfing for the day in Oz wearing a sexy cutaway wetsuit - although we did see a fairly extreme VTL (visible tan line). But when you look this good at 47, you don't care - we wouldn't!
Amy Childs
The Only Way Is Essex star Amy Childs isn't letting her stay in the Celebrity Big Brother house get in the way of her obsession to be tanned. Seen running lots prior to entering the house, she's proudly been showing off her fab toned bod in a number of summery bikinis during her stay.
Look great on the beach with a bikini holiday diet.
Gwyneth Paltrow
Mum of two Gwyneth Paltrow is known for her strict diet and tough regimes and she showed us how it all pays off while on holiday with the family in Sardinia.
Holiday panic diets
Eva Longoria
Eva Longoria topped up her tan on board a luxury yacht during a recent holiday with boyfriend Eduardo Cruz in Marbella, Spain.
Lose up to 13lbs in just two weeks with the South Beach Diet
Geri Halliwell
Geri Halliwell soaks up the sun whilst holidaying in Sardinia with her boyfriend Henry Beckwith.
10 flat stomach exercises
Stacey Solomon
Queen of the jungle Stacey Solomon looks abs-olutely fabulous as she takes a well-deserved break abroad.
Get the most out of your workout
Miley Cyrus
With all the dancing she does on tour, it's no wonder Miley Cyrus always stays in shape. Her dietitian has revealed for six days Miley will eat three main meals a day, with an even amount of all of the food groups throughout the day, then on the seventh day she can eat what she likes!
Most women can have up to 2,000 calories a day without putting on weight. See what you can get for under 100 calories
Lydia Bright
The Only Way Is Essex star Lydia Bright looks super toned on her recent trip to Marbella. She famously mentioned in the show's last series that she was following a 'No carbs before Marbs' diet to get the perfect bikini body, whilst also going on lots of runs to get those fabulous thighs.
Try our 12 ways to thinner thighs
Jess Wright
Jessica Wright is another star from The Only Way Is Essex who made sure she looked beach ready for her recent holiday in Marbella by doing lots of exercise and attending a military style boot camp.
Find your perfect diet with our quiz
Nicola McLean
Glamour model and reality TV-lover Nicola McLean was looking super-thin while in Australia working on the panel for ITV2's Get Me Out of Here Now show.
The reality star admitted earlier this year that she's recently overcome a battle with anorexia, but has been looking much healthier recently.
Amy Winehouse
While at a resort in Rio de Janeiro, Brazil, Amy Winehouse was snapped looking good in her bikini as she relaxed with a friend near the pool. She wore a colourful bikini and denim shorts.
Like Amy, find out how to beat the bloat
Heidi Klum
Even after having four children, Heidi Klum shows she still has an incredible bikini body.
The 37-year-old supermodel sported a black strapless swimsuit as she relaxed on board one of the world's largest motor yachts with her husband Seal and their children, Leni, Henry, Johan and Lou, off the coast of Italy.
Tone your tum just like Heidi's.
Abbey Clancy
The former Britain's Next Top Model star, Abbey Clancey, has been snapped showing off a series of stunning bikinis as she and Peter relaxed by the pool at the couple's luxury hotel. This pic was taken before she had daughter Sophia earlier this year, but it's safe to say she'll snap back to this bikini figure soon.
Check out our exercises for new mums video
Myleene Klass
Myleene looks gorgeous in a simple, black two-piece as she holidays in Australia. With a body like that, she's bound to shift a lot of M&S undies!
Stay cellulite free like Myleene with our tips for beating orange-peel thighs.
Josie Gibson
Big Brother 11's Josie took advantage of the good weather and topped up her tan in a gorgeous safari print bikini, while inside the house.
Shape up for summer with our range of bikini diets
Christine Bleakley
No sooner had Christine Bleakley and Frank Lampard touched down at Heathrow from South Africa then they were off again on a sun break to Sardinia, joining Lampard's cousin Jamie Redknapp and wife Louise at their swanky hotel. Doesn't she look great in her red bikini? Get advice on choosing the right bikini
Louise Redknapp
We've always thought Louise has a lovely, curvy figure and here she is showing it off on a sunny break with hubby Jamie in Sardinia. Louise has said before that exercise is really important to her and she does yoga and eats a sensible diet to keep toned and healthy.
Lucy Benjamin
Didn't know the cameras were there, eh Lucy? Yeah right!
She may not be displaying her finest acting talents in this snap, but there's no denying she looks red hot in her bikini. Lucy says she lost a stone of her post-baby weight through breast feeding and the second stone through watching her portion sizes and going to the gym.
Take a look at our busy mum's guide to staying fit and healthy
Courteney Cox Arquette
Looking at this picture makes it clear why Courteney Cox Arquette has got the lead role in a new TV show called Cougar Town. (In case you've been living under a rock, a 'cougar' is the word used to describe sexy older women who date younger men.)
Make sure you're doing the right exercise for your age group.
Lily Allen
When Lily was a size 12-14 she claimed to be happy about her weight. Although since dropping to a size 8-10 through hypnotherapy, she says she feels a lot healthier and better about her body.
Try our Think Yourself Thin Diet.
Kate Moss
Kate Moss is one of the most famous models in the world and her face and body have made her a millionaire many times over.
We can't promise you'll end up looking like her (most of that has to be genetic!), but find your perfect exercise regime and perfect diet with our quizzes to make the most of what god gave you.
Paris Hilton
It's lovely to see wallflower Paris Hilton coming out of her shell and strutting her stuff on the beach.
Get your body ready for summer with our bikini detox diet.
Heather Graham
Wow! Heather Graham seemed to defy her 40-years after showing off her incredibly slim and toned figure on a recent holiday. The Hangover star slipped into a pink string bikini and straw hat as she lapped up the Italian sunshine.
Going on holiday soon and need to shape up? See our holiday panic diets to help you get beach perfect in no time
Camilla Dallerup
We'd be jumping for joy, too, if we had a bikini body like Strictly Come Dancing's Camilla Dallerup!
Reckon you could shift a few pounds through dancing? Find out how with our Strictly Come Dancing to lose weight feature.
Lindsay Lohan
Lilo's skinny frame has caused fans concern in the past, and although she's hardly looking curvaceous in this picture, it's not the tiniest we've seen her look.
If you've overdone the dieting and would like to put on a few pounds, try our Weight Gain Diet
Geri Halliwell
Like loads of celebs, Spice Girl (or should that be Spice Woman?) Geri Halliwell has gone through times of being worryingly skinny.
But, since the birth of her daughter, Bluebell, nearly five, she's been looking healthier than ever. She puts her toned tummy down to lots of yoga. If you fancy giving it a go, try our simple yoga routines.
Britney Spears
It's so nice to publish a picture of Britney Spears looking fabulous. There was a time we thought this day would never come.
During her troubled times, Britney would binge on junk food, but she's managed to get her figure back by eating just 1,200 calories a day. 'It may sound like it's not much,' she says, 'but it's actually a lot of food if you eat the right things.'
Try Rosemary Conley's Amazing Inch Loss Plan which starts with a two-week stint of eating 1,200 calories a day.
Coleen Rooney
Snapped soaking up the sun in St Tropez (having just been whizzing round on a jet ski!), Coleen Rooney clearly didn't let her baby bump get in the way of having fun when she was pregnant with son, Kai.
If you're pregnant it's important to keep healthy, by eating the right foods and keeping active. Although we wouldn't necessarily recommend jet skiing...
Eva Mendes
Eva Mendes chooses an on-trend leopard-print cover up to go over her white bikini as she catches some rays on holiday in Italy.
The Hollywood star has been known to stay in shape by following the 5-factor diet and doing lots of cardio like walking and dancing.
Katie Price
Jordan doesn't need much of an excuse to get her kit off, so the lack of beach was never going to get in the way of her stripping down to her bikini.
Our pic shows her promoting her new line of equestrian clothing (although clearly not wearing it!) at The Clothes Show Live 2009.
The mother-of-three must have been working very hard to keep so slim. If you're having trouble shifting your baby weight, try our new mum's workout to do it safely.
Eva Longoria
Desperate Housewives star Eva Longoria has a naturally tiny frame, but has always claimed her toned figure is down to a balanced diet and exercise, particularly yoga.
Snapped here enjoyed the sunshine in St Tropez, it doesn't look like Eva's been indulging in her favourite Mexican dishes much lately!
Penny Lancaster
Penny married Rod Stewart in 2007, two years after giving birth to their son, Alastair. She then took part in series five of Strictly Come Dancing and says that she gained weight during the show due to the intense training. She's since had another son called Aiden.
Our pic of her on the beach in Sardina shows Penny's fabulous curves which are in perfect proportion to her 6 foot 2 inches frame.
Fancy trying dancing to stay fit?
Mel B
Look at those abs! Mel B must work hard to maintain a body that toned. We expect her four-year-old daughter, Angel Iris, keeps her on the go.
Here, she's pictured walking her dog along an LA beach - is that a Scary Spice doll he's mauling?
Tone your own tum so it rivals Mel's!
Cameron Diaz
Bit chilly Cameron? The sporty star loves to surf, as is obvious from her lean, athletic figure. We're wondering if Justin Timberlake's regretting their break-up.
Get arms like Cameron and bust those bingo wings.
Toni Collette
Now those are a pair of bikini bottoms! The 'In Her Shoes' and 'Little Miss Sunshine' actress doesn't have to worry about sucking in her belly when she's wearing a pair of jumbo pants like these. Bridget Jones would be proud!
Parenting advice, hot topics, best buys and family finance tips delivered straight to your inbox.
Trusted, informative, and empathetic – GoodTo is the ultimate online destination for mums. Established in 2007, our 15-year-strong archive of content includes more than 18,000 articles, 1,500 how-to videos, and 7,000 recipes.