Are air fryers toxic? We asked the experts for the truth about the TikTok rumours
A number of viral TikTok videos have been causing panic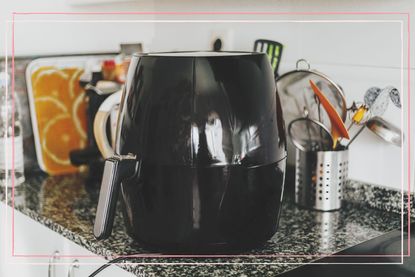 (Image credit: Getty Images)
We asked the experts if air fryers are toxic, after several viral TikTok videos caused panic among consumers.
If you're an avid TikTok user, then you've probably noticed a few videos cropping up that claim air fryers are toxic. These handy kitchen appliances have dramatically grown in popularity over the past year or so, partly because they are reported to be a low-cost way of making meals amid the cost of living crisis, and partly because there are so many things you can cook in an air fryer. And while many have previously questioned whether air fryers are healthy, it's only recently that some have wondered if they could be toxic.
Jim Finley, CEO of My Cleanse Plan, told us: "Research on the safety of air fryers is ongoing, and while there have been some studies that have raised concerns about the potential health risks associated with the use of air fryers, the overall consensus is that air fryers are generally safe to use." With that in mind, let's take a look at where the TikTok claims have come from...
Jim Finley is the CEO and founder of My Cleanse Plan, a health and wellness company focused on providing effective, science-backed nutrition and cleanse plans to customers around the world. With a background in nutrition and a passion for health and wellness, Jim has spent years studying the latest research and trends in the field of nutrition to develop My Cleanse Plan's unique and effective approach to healthy living.
Are air fryers toxic?
Most air fryers are not toxic. The TikTok videos that claim air fryers are toxic point to the Teflon coating as the health hazard, but modern Teflon is no longer manufactured with the chemical PFOA - meaning the vast majority of air fryers are safe to use.
Teflon is the brand name of a chemical coating (polytetrafluoroethylene), and is often used on cook wear as a non-stick coating. PFOA, which Teflon used to be manufactured with, has been linked to liver and kidney disease. However, Teflon manufacturers eliminated PFOA from all of their cookware in 2013, so any air fryers made after then will be safe to use.
Jim Finley, explained, "While it is true that some air fryers may produce harmful compounds when heated to high temperatures, it's important to note that not all air fryers are created equal.
"Some air fryers are made with materials that are more likely to release harmful chemicals when heated, while others are made with safer materials such as stainless steel or ceramic. Additionally, the type of food being cooked and the temperature at which it is cooked can also affect the formation of harmful compounds."
Even then, it's usually only when cooking at high temperatures of 500F (260C) or above that toxic fumes could be released, and most air fryers don't reach temperatures that high.
Do air fryers produce harmful chemicals?
Cooking food at high temperatures can in some instances produce chemicals. Oil can produce smoke and other potentially harmful chemicals at high temperatures, while starchy foods can produce acrylamide.
Jim Finley said: "One important factor to consider when using an air fryer is the type of oil that you use. While air fryers can reduce the amount of oil needed to cook food, it is still important to choose a healthy oil with a high smoke point, such as avocado oil or coconut oil, to minimize the formation of harmful compounds when cooking."
While air fryers are no more likely to produce these chemicals than cooking food in an oven, damaged non-stick coating in an air fryer can cause toxins to be released into the air and food. So, avoid using rough tools when cleaning your air fryer, so you don't damage the coating.
If you're really worried about the non-stick, consider an air fryer made from ceramic or stainless steel instead, like the Ninja Air Fryer MAX AF160UK (one of our best air fryers), which has a ceramic-coated pan and crisper plate.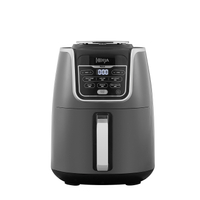 Ninja Air Fryer MAX AF160 - RRP £169.99 | Ninja
At 5.2L capacity, there's enough room in this gadget to feed a large family, plus there are six different cooking methods to choose from too; air fry, max crisp, bake, roast, dehydrate, and reheat, so you can make a range of meals.
Our Features Writer, Ellie Hutchings, recently put the Ninja Air Fryer Max to the test. She said: "You can cook whole meals for several people using this air fryer - and you can even bake desserts in it too. The range of cooking modes means there are pretty much limitless options in terms of what recipes you can try, so I can see myself using the Ninja air fryer really regularly."
Read our full review of the Ninja Air Fryer MAX AF160UK here.
What is acrylamide and should you be worried about it?
Acrylamide is a chemical that can be created by cooking processes including baking, air frying, and toasting, and it is considered a carcinogen - meaning it could cause cancer.
However, the claims that acrylamide causes cancer are based only on studies in laboratory animals, and there is no research linking acrylamide consumption to cancer in humans.
Acrylamide is most commonly found in foods that have a lot of sugar or amino acids, like potato chips and French fries, and during the heating process of these foods a series of chemical reactions result in the formation of acrylamide.
Antoaneta Dimitrova, cleaning services manager at Fantastic Services, explains, "Due to the way air fryers work, they produce fewer harmful chemicals than traditional frying methods. However, cooking certain foods, like potatoes, at a high temperature can still produce acrylamide."
Antoaneta has been part of the Fantastic Services family since early 2013. For the last 2 years, she has contributed her wonderful skills to the company as a Cleaning Service Manager, mainly for the services: Carpet and Upholstery cleaning, Domestic Cleaning, Oven Cleaning, Gutter Cleaning and Window Cleaning. She is a former graduate of the University of Greenwich.
How do I prevent acrylamide in my air fryer?
It's not necessarily the appliance that creates acrylamide, it because it can be naturally present in food.
In fact, when compared to deep frying, air frying food can actually lower acrylamide content by up to 90 percent, according to a 2015 study in the Journal of Food Science.
The Food and Drug Administration (FDA) recommends soaking starchy vegetables in water for around 15 minutes before cooking and making sure not to cook food at a too high temperature for too long to reduce acrylamide.
Antoaneta recommends soaking food for an hour. She adds, "You can also use a cooking spray or your favourite oil to coat the food before placing it in the air fryer. Needless to say, you need to avoid overcooking and burning food."
How to use your air fryer safely
Avoid using a non-stick air fryer if the material is damaged, scratched, or chipping, and make sure you use wooden or heat-resistant silicone utensils in your air fryer minimize the chance of scratching the non-stick coating.
You should never put plastic containers or Tupperware in your air fryer, or leave it plugged in when not in use. Make sure you familiarize yourself with the manufacturer's guide before using your air fryer.
As Jim Finley said, "It's important to follow proper usage guidelines when using an air fryer. This includes preheating the air fryer before use, not overcrowding the basket with food, and avoiding cooking foods that are high in fat or oil."
Looking for more air fryer content? Check out our round up of the best air fryer cook books, and find out how much it costs to run an air fryer too.
Video of the Week
Ellie is Goodto's Feature Editor, having joined the team as a Junior Features Writer in 2022, and covers everything from wellbeing for parents to the latest TV and entertainment. Ellie has covered all the latest trends in the parenting world, including baby names, parenting hacks, and foodie tips for busy families. She has a distinction in MA Magazine Journalism from Nottingham Trent University and a first-class degree in Journalism from Cardiff University, and previously Ellie has worked with BBC Good Food, The Big Issue, and the Nottingham Post, as well as freelancing as an arts and entertainment writer alongside her studies.