How to clean a dishwasher, according to cleaning experts
Our expert guide on deep cleaning your dishwasher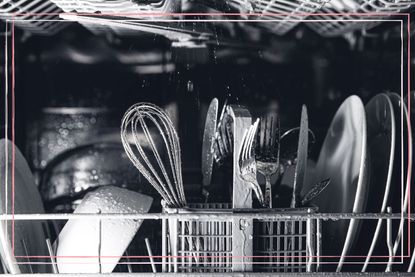 (Image credit: Getty Images)
How to clean a dishwasher is easier than it sounds, and we've asked the experts for their tips to keep this kitchen appliance sparkling clean.
Calling all fans of Mrs Hinch cleaning tips (opens in new tab), we've got an expert guide on how to clean one of the most overlooked appliances - the dishwasher. You might think your dishwasher cleans itself, but believe it or not they need a deep clean every once in a while. Unlike cleaning a microwave (opens in new tab) or cleaning an oven (opens in new tab), dishwashers are more complex to clean than other household appliances - which is why we've asked the experts for their advice.
Joyce French from DIY experts Home How (opens in new tab) told Goodto: "Learning how to clean and maintain your dishwasher properly is essential to ensure it runs efficiently. If left too long, limescale can build up in the machine or the filter may become clogged with bits of old food, which means that your dishwasher will have to work harder to clean the dishes and result in higher energy usage." Keep reading to find out how to clean a dishwasher...
How to clean a dishwasher
Step 1: Remove pieces of food daily
Any leftover food on your plates and cutlery can clog your dishwasher filter and get stuck to your crockery during a cycle, so make sure you remove these after each dishwasher use.
Joyce French told us: "When food collects in the dishwasher, this can leave some nasty odours, so get into the habit of cleaning away any bits of food left over after each dishwasher cycle."
"Pull out the bottom rack and look for any bits of food that may have fallen and become stuck in the filter well, screen, or heating element, and remove the food with your fingers or use a paper towel to wipe and lift them away."
Step 2: Remove the filter, utensil holders, and dishwasher racks
If you're giving your dishwasher a deep clean, you'll need to remove everything inside to really get at every crevice of the machine - but bear in mind you might need to use tools to remove some of the parts.
Once you've taken everything you can out of the dishwasher, place the racks and utensil holders in hot soapy water and leave to soak for at least thirty minutes, before giving them a good scrub to remove any old bits of food.
You could also use a toothbrush or toothpick to scrape out any debris lodged in small crevices.
Step 3: Clean the spray attachments
The dishwasher spray arms are responsible for distributing the water around the appliance so your dishes can be cleaned, but they can also get clogged with debris if you don't clean them regularly.
Mira Yordanova, owner of TopCleaningGB (opens in new tab), explains: "Ensure both water spraying attachments (on the roof and floor of the dishwasher) are clear of build-up or food waste. If any holes are clogged, a toothpick is ideal to clean them out. Once these attachments have been scrubbed, you can pop the filter back in."
Step 4: Use baking soda
If your dishwasher is looking pretty clean, and you just want to give it a quick spruce to keep it shiny and remove any unpleasant odours, then this quick baking soda trick is the way to go.
Mira explains: "If you're after a standard clean, simply sprinkle baking soda onto the floor of the dishwasher and set to run on an eco-cycle."
Step 5: Use vinegar
However, if you're after a deeper clean, try using vinegar to clean (opens in new tab) your dishwasher. Mira suggests filling a small bowl with 250ml or 1 cup of white vinegar and placing on the top shelf of the dishwasher before running a hot water cycle - without a tablet or detergent.
Joyce French reminds us to make sure the bowl you use is dishwasher safe, and adds that you could even try the baking soda method with a short cycle after you've cleaned your dishwasher with vinegar, to give the machine and extra deep clean.
How to clean a dishwasher filter
Cleaning your dishwasher filter is essential to preventing food waste becoming trapped in the filter and getting stuck to your dishes. Luckily, dishwasher filters are easily cleaned with hot water and a soft brush.
Joyce French explains, "The dishwasher filter is located below the bottom spray arm. Start by pulling out the bottom rack so that you can easily access the dishwasher filter. If you're not sure how to remove the filter, check the user manual for your dishwasher or take a look on your manufacturer's website for more information."
To clean the dishwasher filter, she says: "Once you've removed the filter, rinse it under hot water. Use a soft toothbrush to scrub the plastic frame and mesh screen and rinse it once more to ensure it's completely clean."
How to clean the outside of a dishwasher
Make sure you clean the outside of your dishwasher using warm soapy water, because while cleaning the inside of your dishwasher might be essential to keeping your dishes clean, it's also important to clean the outside to keep your kitchen mess-free and hygienic.
Joyce told us, "Residue and splatters can build up on the door of the dishwasher. Use a damp microfibre cloth to wipe the interior surface of the door as well as underneath the door, around the edges of the door, the controls area, and the handle. Gently scrub any dirt or gunk from the rubber seal around the door using an old toothbrush and some warm, soapy water."
How often should you clean a dishwasher?
Joyce says, "It's important to give your dishwasher a good deep clean once a month."
Cleaning your dishwasher regularly prevents limescale build up in the machine and also stops the filter getting clogged with bits of food, which reduces the efficiency of you dishwasher and may result in higher energy usage.
In between each deep clean, try Mira's bicarbonate of soda trick to keep the inside of the machine odour-free.
How to keep your dishwasher clean
Scrape off and pre-rinse your dishes before loading them in your dishwasher.
Deep clean your dishwasher quarterly.
Clean your drain filter periodically.
Run occasional vinegar and baking soda cycles to kill bacteria and keep your dishwasher smelling fresh.
Avoid overfilling the racks so water and soap can easily pass through the dishes.
If you use cold cycles regularly to save energy, run a hot cycle now and again to kill the bugs.
Related features:
Video of the Week
Joyce French has worked in the cleaning industry for over twenty years. Joyce specialises in domestic cleaning and works closely with HomeHow.co.uk (opens in new tab) to provide expert cleaning knowledge to homeowners, tradespeople and news outlets.
Top Cleaning GB Ltd was established in 2004 as Top Cleaning UK, a family run business. Today Top Cleaning GB is still owned and operating professional cleaning company serving and covering the entire London. Since 2004 they have built an enviable reputation for providing professional, high quality and cost-effective cleaning services right across London.
Ellie joined Goodto as a Junior Features Writer in 2022 after finishing her Master's in Magazine Journalism at Nottingham Trent University. Previously, she completed successful work experience placements with BBC Good Food, The Big Issue and the Nottingham Post, and freelanced as an arts and entertainment writer alongside her studies. In 2021, Ellie graduated from Cardiff University with a first-class degree in Journalism.