Jennifer Ellison wows fans with impressive three stone weight loss
The mum-of-three has gone from a size 18 to a size 10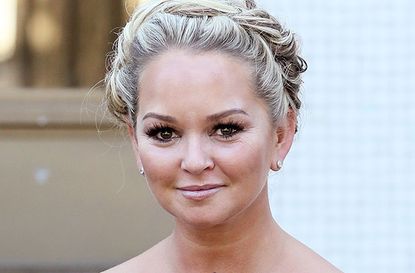 Jennifer Ellison has wowed fans by showing off her impressive weight loss in a recent Instagram post.
The mum-of-three, who is married to boxer Rob Tickle, uploaded a split picture of before and after she shed three stone, and her 61,000 followers were quick to applaud her efforts.
'Huge achievement you should be very proud and an inspiration to others!' one exclaimed, whilst a second added: 'Well done you look beautiful before & after. Wishing you and your beautiful family all the happiness, love, luck, good health, kindness, friendship and all the peace in the world'.
It's not the first time Jennifer has given a candid update about her weight loss journey. Back in February, she told followers that she was already two stone down and feeling much happier in herself.
'Today I felt brave enough to take a pic after training without a big baggy top over!!!' she said at the time. 'I've gone from a size 18 to a 10 in just over 3 months! I still have a long way to go to get back to what I was was but 2 stone lighter and 27 inches of body fat later im feeling SOOOO much better!'
'Thanks to the most amazing trainer ever Tony Swift for keeping our sessions amazing and challenging and to my training partner Rob Tickle whos absolutely smashing the results too!'
At the beginning of 2017, Jennifer took part in Discovery's Celebrity Fat Fighters, alongside The X Factor's Stevi Richie and EastEnders actor Riley Carter-Millington, and appears to have continued her hard work since the cameras stopped rolling.
And the show wasn't her first time overhauling her lifestyle on TV - in January of the previous year, she shed one-and-a-half stone after cutting sugar out of her diet while taking part in ITV's Sugar Free Farm.
At the time, she admitted that she could previously drink up to eight cans of Coke a day - a habit which caused her weight to rise to 14 stone.
'I really neglected myself and took no time for myself at all, and I didn't look after my fitness or my health,' she explained. 'I consumed a lot of sugar with sweets and chocolate. It just kept me going through the day when I'm really busy.'
'But the worst thing for me was cans of Coke. I'd have six to eight cans of Coke a day, which is terrible. You don't think about sugar in a drink. You think it's not that bad because it's liquid, but it's actually worse.'
In a typical day, Jennifer said she would reach for a can of fizzy drink for breakfast, followed by another can with sweets like jelly beans or a Mars bar for lunch.
'People can say they are a drug addict or an alcoholic but if you say you're addicted to sugar you get laughed at. But it's actually causing a greater problem for people and the NHS.'
'It was just really shocking and quite disturbing when you're confronted with it and the consequences of it and what could happen. The thing was, I wasn't even really eating a lot. I was just snacking on rubbish. I wasn't actually sitting down and eating pizza or a big roast. It was just wasted calories.'
Jennifer, pictured on ITV show Sugar Free Farm, used to drink up to eight cans of cola a day
Jennifer managed to tackle her addiction to the sweet stuff by taking part in Sugar Free Farm, which follows a group of celebrities giving up sugar while living on a farm for two weeks to grow and enjoy their own fresh, healthy produce.
However, it wasn't an easy process, and her withdrawal symptoms were so debilitating that at one point, she needed medical attention.
'I got hit the hardest with withdrawal, as my sugar intake was the highest', she recalled. 'I was picking carrots on the farm and every time I bent down I felt like someone was standing on my eyeballs. I felt physically sick.
'I had the worst headache I've ever, ever felt. If you've ever detoxed, take that feeling and times it by 10. We were detoxing from processed food, sugar, alcohol, everything.
'My sugar was the highest intake out of everyone taking part, which was really disturbing. It made me feel quite sick actually.'
Jennifer, pictured in September 2015, is no stranger to a celebrity diet
Jennifer said after the process that the lifestyle changes she learned on the show had not only benefited her but her entire family.
'It's educated me about making the right choices as a wife and a mum. I've learnt more about cooking and looking after myself.'
Trusted, informative, and empathetic – GoodTo is the ultimate online destination for mums. Established in 2007, our 15-year-strong archive of content includes more than 18,000 articles, 1,500 how-to videos, and 7,000 recipes.