The 14-day tummy flattening diet plan
We all want a flat tum, and with this easy-to-follow plan you can do it the healthy way!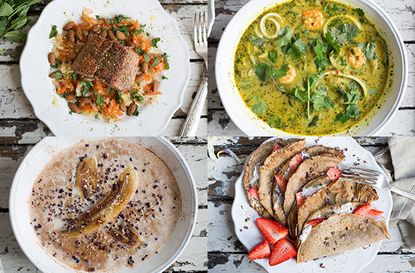 GoodTo newsletter
Sign up to the GoodTo Newsletter. You can unsubscribe at any time. For more information about how to do this, and how we hold your data, please see our privacy policy
Thank you for signing up to . You will receive a verification email shortly.
There was a problem. Please refresh the page and try again.
Is it just us or does the battle of the bulge (and mainly, the belly bulge) always feel like an impossible one to win?
We start off with the best of intentions, reading up on the latest diet (opens in new tab) fad and excitedly spending two weeks' worth of shopping money on one haul of must-have 'health' foods and gadgets. Only to quickly realise that, no, we're not going to be able to drink nothing but a glass of juice for longer than two days and, no, we're not so sure that taking a pill to lose weight is the answer we were looking for...
With summer just around the corner, the image of figure-hugging tops and swimsuits is looming closer, and we're more keen than ever to make this year the year we find a healthy diet plan we can actually stick to, rather than a fad diet that will leave us feeling more gross than gorgeous.
Enter nutitionist and blogger Madeleine Shaw, and her refreshingly, well, healthy way of getting clued up on eating better and losing belly fat for good (opens in new tab).
Madeleine is a nutritionist, blogger and all-round health buff! Madeleine believes that by eating simple, delicious (and affordable!) food that's good for you, your body won't feel deprived while keeping it in tip-top condition.
Madeleine uses her healthy eating regime to targeting the side effects of IBS (irritable bowel syndrome) which means her plan is perfect for those looking for a way to debloat and a flatter tummy in no time.
Her two-week planner (which is less about dieting, and more about long-term healthy eating) avoids bloating foods such as sugar and wheat, and concentrates on bloat-free foods. The meal plan contains whole foods, healthy fats and fresh protein, to keep your energy levels up and reduce cravings for sugary food.
Sound like your kind of belly-fat-busting plan? Follow her two-week daily meal suggestions and you'll be well on your way to beating the bulge in no time!
Madeleine's 14-day tummy-taming diet plan
Madeleine Shaw is an ambassador for the Better with BRITA campaign. For more recipes, healthy tips and videos visit www.brita.co.uk/betterwithbrita (opens in new tab)