VB6 Diet: can you really lose weight being vegan before 6pm?
Beyonce has been following a vegan diet for 22 days and a new photo she posted on her Tumblr shows her looking more radiant than ever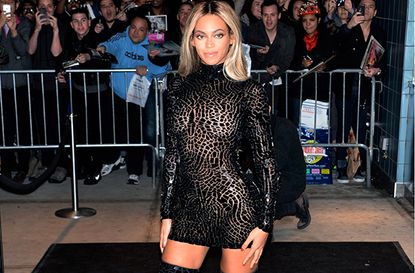 Most of us would wince at the thought of going vegan, but how about this for an idea - what if you only had to stick to it at breakfast and lunch and could still eat what you like in the evening?
Beyonce has done just that and has become more toned as a result. She posted a picture on her Tumblr of her looking hotter than ever. Both her and Jay Z have been following a strict Vegan diet for 22 days and the results are amazing!
The Vegan Before 6 or VB6 Diet is the latest weight-loss craze sweeping America. Its premise is that you avoid all meat, fish, dairy and processed foods before 6 o' clock at night, making yourself, effectively, a vegan before 6!
The idea came from US food writer Mark Bittman. He's been writing food columns for newspapers since 1980 so knows a thing or two about food and yet when his doctor told him his cholesterol was too high and he was in danger of contracting diabetes, he embarked on a new way of life and VB6 was born.
What are the rules of the VB6 Diet?
There really are very few, apart from the obvious. Try to eat a diet rich in plant foods and free from meat, dairy, poultry, fish or seafood before 6pm. Thereafter you can eat what you like. Bittman also recommends trying to cut back on 'white foods' and not filling up on processed, sugar-filled nasties (even if they are vegan) throughout the day. Most pastas are a no-go anyway as they tend to be made from egg, but white bread and chips should also be avoided.
How much weight can I lose going VB6?
After embarking on this new eating plan, Mark Bittman lost 15lbs in the first month. After several more months, he was down 35lbs and lighter than he'd ever been. On top of that he was sleeping better, had reduced his cholesterol and felt much healthier.
What are the pros of being vegan before 6?
It's not actually that limiting! If you think about it, you've only got to get through breakfast and lunch in your new vegan mindset and then your evening meal is yours to eat what you like. There's no calorie counting, food diaries or weighing and measuring - just good, honest healthy eating throughout the day. You'll probably save a fair bit of money on your food shop too not to mention the benefits for the environment. After all a vegan in a 4x4 has a smaller carbon footprint than a meat eater on a push bike!
What are the cons of the VB6 Diet?
Well, if you're a big meat-eater you might struggle at first but like every change in life, it'll just take a little while to get used to. You could always ease yourself into VB6 by still eating some fish at first while you get used to new cooking styles and ingredients. Bittman is keen to point out this is a healthy way of life, not a fad diet so participants should imagine they're going to be vegan before 6 for a reasonable stint of time.
What can I eat on the VB6 Diet?
It's recommended that you cook for yourself where possible (and remember, it's just during the day) because then you know exactly what you're eating. Here are some VB6 food types you're likely to get pretty familiar with: - Salads - Vegetables - Fruits - Nuts - Pulses - Rice - Quinoa - Bulgur Wheat - Brown bread - Soya milk or yogurt
What can't I eat on the VB6 Diet?
- Eggs - Milk - Cheese - Pasta - Quorn products (they contain milk and egg) - Meat - Poultry - Fish - Seafood - Chocolate
VB6: Vegan before 6 recipe ideas
To help you get started we've raided our bank of tasty vegan recipes so you can get going with VB6 straight away.
VB6 breakfast recipes
- Sunshine breakfast smoothie - 2 slice of wholegrain toast with Vegemite - Fresh fruit salad
VB6 lunch and dinner recipes
- Roasted tomato soup - Hugh Fearnley Whittingstall's ratatouille - Vegetable stew - Quinoa and butternut squash salad - Quick chickpea and sweet potato curry (pictured) - Baked aubergine
VB6 treats and snacks
Where to next? - 5:2 Diet: What's all the fuss about? - The Mediterranean Diet - Vegetarian Diet
Charlotte is founder and Editorial Director of The Forty-Five. The former NME Editor has written for goodto.com, The Face, Red and Marie Claire. With 15 years experience in journalism Charlotte has covered most bases when it comes to content people want to consume.