You only need 10 minutes to create this easy autumn makeup look - it's great for the school run (and you probably already own all the products)
Looking for an easy autumn makeup look that doesn't require a makeup artist worthy skillset? We can help with that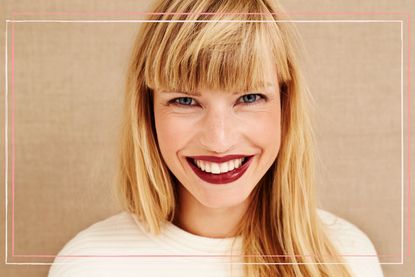 (Image credit: Getty Images)
If you want to learn how to create an easy autumn makeup look that'll take just minutes to perfect, you're in the right place.
You've probably done your big wardrobe switch-up by now, swapping lightweight linens for cosy knits, but have you made any changes to your makeup? If you're a busy parent, you probably don't have time for a lengthy routine before rushing off to the school run, which is why we're all about quick and easy tips this autumn. All you need is six products - including one of the best red lipsticks - and 10 minutes to spare to master this look.
Taylor Frankel, co-founder of makeup brand Nudestix, reveals "For autumn, I always focus on using products with a natural, dewy finish to maintain a fresh and radiant complexion and other cream-based products to avoid the problem of makeup looking cakey?" You might need to go for a lighter shade of base too, in which case a foundation shade finder will help you find a spot-on seasonal match.
And in good news for coffee lovers (and let's be honest, who isn't relying heavily on caffeine to keep them afloat right now?) – one of the biggest trends this autumn is aptly named latte makeup. "Think creamy formulas in warm brown and golden tones used on the eyes, lips and cheeks," says Frankel. "This monochromatic look is super easy to achieve and looks great on all skin tones." By sticking with a relatively select colour scheme, you don't have to think so much about which shades go together, meaning you'll look instantly co-ordinated with very little effort.
How to create an easy autumn makeup look
You will need:
Moisturiser
Lightweight foundation or tinted moisturiser
Brow gel
Cream bronzer
Cream blusher
Berry-toned lipstick
Optional extras:
Hyaluronic acid serum
Hydrating face mist
Mascara
Step 1: Start with skincare
"Great makeup always starts with great skincare, and you need to ensure it's giving all the hydration you need," recommends Rachael Divers, resident makeup artist at Face The Future. Icy temperatures outside and moisture-zapping central heating inside mean our skin is more prone to dehydration during the colder months. This, unfortunately, means you're also more likely to experience things like rough texture, dullness and amplified fine lines – none of which make an ideal starting point for your easy autumn makeup look. Our advice is to apply a hydrating serum containing hyaluronic acid to quench your skin's thirst after cleansing and then top with a layer of moisturiser to seal all that moisture in. If your skin is extremely parched, "you might also find it useful to add extra hydration with a face mist during the day," adds Divers. Regular exfoliation (once or twice a week) will also help to create a smooth, fresh canvas.
Step 2: Smooth on a dewy base
Thanks to a slip-and-slide combination of sweat and humidity, it can be difficult trying to get your foundation to stay put during the summer. In the autumn, we don't have the same weather to contend with, and our skin is naturally less oily, so there's no need for such a long-lasting or heavy-duty base. "Opt instead for a lightweight, hydrating foundation or tinted moisturiser that provides natural-looking coverage without settling into fine lines or sticking to dry patches of skin," advises Frankel. Dewy, glowy and fresh are all your base buzzwords here. "Try a hybrid foundation that incorporates skincare benefits too," adds Divers. "Sometimes your skin can look a little lacklustre in the autumn months so these dewier formulas will really help to give it a healthy glow." Applying with your fingers is often the fastest route, but taking a few extra moments with a brush will reward you with an even, streak-free finish.
There's also no less need for setting powders, saving you time (and money) in your routine. "You may have been used to wearing more setting powder to lock your base in during the summer but in autumn and winter skin is naturally drier – unless you have a naturally very oily skin type," says Divers. "If you were finding that your skin was looking cakey with your regular products, try cutting down on powder to see if that helps."
Step 3: Brush up your brows
This autumn's brows are less about precision and more about fluffiness, meaning they don't require hours of painstaking pencilling in to achieve. "The laminated brushed-up brow look is sticking around for the season," says Divers. "Think undone brows that look effortlessly chic." To achieve this, all you need is a brow gel. If your brows are naturally quite full, or you get them tinted, then a clear gel will be fine, but if you need to fill in any areas of sparseness then it's best to choose a tinted formula. Or, alternatively, you can still use a brow pencil to fill in any gaps with hair-like strokes first. Then, using the spoolie brush of your brow gel, brush your brows upwards towards your forehead. The sticky fibres in the formula will hold them in place.
Step 4: Add bronzer and blusher
So many of us ditch bronzer and blusher when autumn arrives, which is counterintuitive when you consider that this is when sun-starved skin is most in need of livening up. "Bronzer can add warmth and definition to the face, mimicking the appearance of a healthy, sun-kissed complexion," explains Frankel. "In the colder months, I'd recommend embracing the 'less is more' approach by starting with a minimal amount of product and gradually building up as needed." For a convincing finish, it's best to apply to the places the sun naturally hits, which are our forehead, the tops of our cheekbones, the bridge of the nose and the chin. Cream formulas are more forgiving and easier to blend with fingers or a brush compared to powders. Remember that "the same shade of bronzer is unlikely to be the perfect match all year round, so select a slightly lighter shade for the winter months." As for blush, it's best applied to the apples of your cheeks (the chubbiest part) in a shade that imitates how you naturally flush. "A gorgeous flush of blush will really perk up your complexion this autumn," adds Divers.
Step 5: Apply a latte-toned eye
As we've already mentioned, latte-toned makeup is a big trend for autumn and works really well on the eyes. "Think soft brown, golden and caramel hues," says Divers. For maximum synergy with minimal effort, we recommend using your cream bronzer as an eyeshadow. Simply swipe across your lid and blend upwards towards the crease until you've created a smooth finish with no harsh lines. To make your lashes look longer and your eyes more awake, you might want to finish with a quick coat of mascara.
Step 6: Finish with a berry lip
The ultimate shade to finish off your easy autumn makeup look? According to Divers, it's all about berry tones. "They're super popular this season, from just-bitten stained lips to bold and bright finishes," she explains. If going too bright or too dark feels like a step too far out of your comfort zone, "use your lipstick as a stain for a more wearable look," Divers advises. "The best way to do this is either by blotting your lipstick on a piece of tissue after application and then adding a lip balm over the top, or by applying your lipstick with your finger to gently disperse the colour and press it onto your lips." Simple.
Looking for more beauty tips? If you're looking for some skincare updates, learn what does retinol do for your skin or check out our roundup of the best eye creams and the best night cream. Looking for some new-season hair inspiration? Read our guide to youthful hairstyles.
We spoke to the following make-up experts:
Taylor Frankel is the co-founder of cruelty-free cosmetics brand Nudestix and it's sister brand Nudeskin.
Rachael Divers is a makeup artist and beauty writer, currently working as Resident Makeup Artist at beauty retail website Face The Future.
Parenting advice, hot topics, best buys and family finance tips delivered straight to your inbox.
Jess Beech is our Beauty Editor, working across Goodto.com, Woman & Home, Woman, Woman's Own, Woman's Weekly and Chat. Joining just after she graduated from the University of East Anglia with a BA in English Literature back in 2013, Jess has been a part of the team for over 8 years. Over that time she's tried her hand at most subjects – covering diet, health, cookery and even a stint on real life crime before settling on beauty and fashion a couple of years ago. Her average day in the office is spent tracking down high-street copies for all your favourite celebrity looks or testing the latest beauty launches to see if they really do live up to the press release. Although she writes across a wide range of topics, when it comes to beauty it's always a new hair product that catches her eye first. Whether it's a new frizz-fighting shampoo or a game-changing gadget, she's first in line to try anything that might help tame her own unruly mane. When Jess isn't at work you're likely to find her busily making plans for her next holiday, trying out yet more beauty products or (reluctantly) heading to the gym. Oh and she's a sucker for reality TV too – just don't call her when Love Island is on.