Blake Lively and Ryan Reynolds have welcomed their fourth child
Blake Lively and Ryan Reynolds are now parents to four little ones!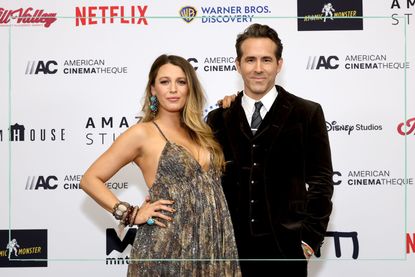 (Image credit: Getty Images)
Blake Lively has revealed that she and husband Ryan Reynolds have welcomed their fourth child together.
Taking to Instagram on Super Bowl Sunday, Blake subtly revealed that she's given birth by sharing a picture of her wearing jeans and a tight top with no sign of a baby bump, with Ryan and his mum.
Blake, who confirmed she was pregnant (opens in new tab) with baby number four in September 2022, captioned the shot, "Puppy Bowl Sunday 2023. been busy." Neither she or Ryan have revealed the gender or name of their newborn as yet.
Confused fans were quick to comment on the picture, with one asking, "Wait did you have the baby?"
Another commented on how amazing Blake looks, writing, "She discreetly gives birth and then looks like this right afterwards in a tight shirt. She's good at this."
A third follower wrote, "I mean, jealous you fit into jeans. My last baby is 96 months and I'm still wearing leggings."
Another added, "Epic post! I knew the baby had arrived. Great job keeping your life private (as you can). Bravo."
Blake and Ryan, who married in 2012, were already parents to three daughters, James, eight, Inez, six, and three-year-old Betty.
They've kept details of their fourth pregnancy relatively quiet, with Blake only sharing two Instagram posts about the pregnancy while she was expecting.
Back in September, she announced that they're expecting their fourth child while asking paparazzi photographers to leave her and her family alone. Sharing a series of snaps of her blossoming baby bump, Blake wrote, "Here are photos of me pregnant in real life so the 11 guys waiting outside my home for a sighting will leave me alone.
She added, "You freak me and my kids out. Thanks to everyone else for all the love and respect and for continuing to unfollow accounts and publications who share photos of children. You have all the power against them. And thank you to the media who have a 'No Kids Policy'. You all make all the difference. Much love!"
And in January, she shared a side by side image of her in a crop top before pregnancy and during and joked, "been doing @donsaladino 's workout program for months now. Something isn't working."
Meanwhile, Ryan spoke on the Today Show a few months ago about how he and Blake chose to keep all their babies' genders a surprise. He said, "I don't know [the sex of the baby], we never find out 'til [they're born]."
He added, "I know girls, so I'm kind of hoping that, but I'm ready for whatever happens."
And speaking about having a fourth child, he said in a separate interview, "I'm very excited. We'd have to be, you know, you'd have to be a moron to do this four times if you didn't like it. It's gonna be nuts, but we're very excited."
Congratulations, Blake and Ryan!
Entertainment writer - contributor
Robyn is a freelance celebrity journalist with ten years experience in the industry. While studying for a degree in Media and Cultural Studies at London College of Communication, she did internships at Now and Heat magazines. After graduating, she landed a job at Star magazine, where she worked her way up to features editor. She then worked at Future as Deputy Celebrity Content Director across Woman, Woman's Own, Woman's Weekly and Woman & Home magazines.