Clarkson's Farm locations: Where is Diddy Squat farm shop and restaurant?
Here's how to visit in real life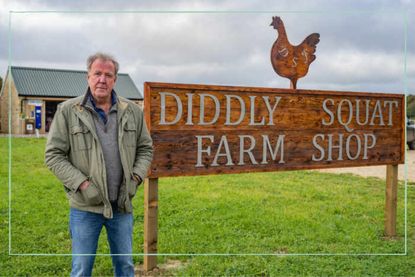 (Image credit: Future/Amazon)
Read on for details on where Clarkson's Farm is and other show locations such as the Diddly Squat farm shop.
With Clarkson's Farm season 2 (opens in new tab) just released, many of us are spending our weeknights snuggled on the sofa and chuckling away as we binge episode after hilarious episode of the farming-show-come-comedy. The Amazon Prime show - which became a surprising hit after series one dropped in July 2021 - sees the former Top Gear presenter's venture into farming, shining a light on the often unglamorous and unprecedented situations today's farmers find themselves in.
In an effort to balance the books, Clarkson extended his farm to open a farm shop and accompanying restaurant - though it hasn't exactly been smooth sailing along the way, with objections and anger from some members of the local council and community. Here's details of the Clarkson's Farm filming locations for the first and second series - and the upcoming Clarkson's Farm season 3 (opens in new tab).
Where is Diddly Squat farm shop?
Diddly Squat Farm shop is based on Clarkson's farm near the TV presenter's home in Chipping Norton, Oxfordshire. The shop officially opened in 2020.
Everything sold in the shop is produced on the farm, or comes from neighbouring villages. You can expect to find milk, honey, rapeseed oil, and jams and chutneys that all originate on site. Local villagers maintain the shop's supply of cakes, sausage rolls, and scotch eggs. Some produce and gifts are available to buy online (opens in new tab) for delivery.
Diddly Squat shop: Opening times
Monday: CLOSED
Tuesday: CLOSED
Wednesday: CLOSED
Thursday: 9:30 am–4:30 pm
Friday: 9:30 am–4:30 pm
Saturday: 9:30 am–4:30 pm
Sunday: 9:30 am–4:30 pm
The Diddly Squat farm shop re-opened on February 10, 2023 after closing for a winter break. If you're hoping to pay a visit, make sure you visit between Thursday and Sunday when it's open.
"We re-open on Feb 10. Nice car btw" Clarkson tweeted (opens in new tab) on Feburary 3, 2023, after seeing a photo he had been tagged in after they had visited when it was closed. No doubt during the break, Clarkson has enjoyed a new role as grandfather, after his daughter Emily gave birth to her first child.
Where is Diddly Squat restaurant?
Jeremy Clarkson's Diddly Squat - which opened in July 2022 - was based in a barn on Clarkson's farm. However the restaurant closed in October 2022 and remains permanently shut following an enforcement order from Cotswolds council officials.
In January 2023, the former Top Gear star confirmed that he has no plans to re-open the Diddly Squat restaurant. In a letter to West Oxfordshire District Council, Clarkson stated "I no longer wish to open a restaurant."
"Contrary to some of the claims being made, I do not want to turn Diddly Squat Farm into Disneyland. It is, after all, where I live," the letter continued.
In response, the council had asserted aspects of the restaurant were "visually intrusive and harmful" to the Cotswolds Area of Outstanding Natural Beauty, citing parking, increased traffic, toilets and the dining experience itself as problematic.
"It is a win for the community," said one local resident. "I would like the whole thing shut down. We are just a small village and Diddly Squat Farm is in the wrong place.
"We have been plagued with traffic since he arrived. He caused massive upset with these restaurant plans. It's just the arrogance of what he thinks he can get away with."
A cracking start to the week. Great to enjoy @JeremyClarkson's new Diddly Squat Farm restaurant this evening. Beef, beef and lots of local beef! 🐮👌#ClarksonsFarm pic.twitter.com/egIuVSsl9zJuly 11, 2022
See more
In Clarkson's Farm season 2, viewers saw the former Top Gear star's battle to open the restaurant. Planning permission for the enterprise was initially rejected by the local authority when Clarkson had first applied for it in 2021. However, Clarkson proceeded to open the restaurant in July anyway, saying he had found a "delightful little loophole" allowing him to proceed.
Less than four months after the Diddly Squat restaurant opening, an enforced closure notice was given by West Oxfordshire District Council. At the time, representatives for Clarkson said they would appeal the finding, calling the council's decision as "excessive". However Clarkson's letter this January now confirms that the restaurant will remain permanently closed with no plans to persue the project further.
Why is Jeremy Clarkson's farm called Diddly Squat?
The name Diddly Squat refers to the farming land's lack of productivity. This was communicated to Clarkson by the previous owner when he first bought the land back in 2008.
Clarkson's farm was already farmed by a local man named Howard. When Howard retired, Clarkson had the idea to farm the land himself, and have a documentary crew follow him. The land had not been productive when farmed by Howard, or by Clarkson, and he chose to rename it 'Diddly Squat'.
The phrase 'diddly squat' is thought to originate from American slang. The initial phrase was 'doodly-squat', with' doodle' meaning to defecate, and 'squat' referring to the act of squatting in which to defecate. At some point the phrase 'doodly squat' morphed into 'diddly squat', which is how it is commonly used today, meaning 'the least amount'.
How much did Jeremy Clarkson pay for Diddly Squat?
The actual amount remains undisclosed, but there has been speculation. Showbiz CheatSheet (opens in new tab) reported Clarkson paid £6,000,000 for the site. The Express (opens in new tab) on the other hand, arrived at the more conservative estimate of £500,000.
The publication suggests that 1000 acres of land has the approximate value of £500,000, and Diddly Squat farm is 1000 acres in size. However, they acknowledge multiple factors can impact the price of land - location being one of them. With Oxfordshire being one of the most expensive counties, the price could have been considerably higher.
Video of the Week
Emily Stedman is the Features Editor for GoodTo covering all things TV, entertainment, royal, lifestyle, health and wellbeing. Boasting an encyclopaedic knowledge on all things TV, celebrity and royals, career highlights include working at HELLO! Magazine and as a royal researcher to Diana biographer Andrew Morton on his book Meghan: A Hollywood Princess. In her spare time, Emily can be found eating her way around London, swimming at her local Lido or curled up on the sofa binging the next best Netflix show.