When is Clarkson's Farm season 2 coming out? Release date confirmed
There's been an update on the future of Clarkson's Farm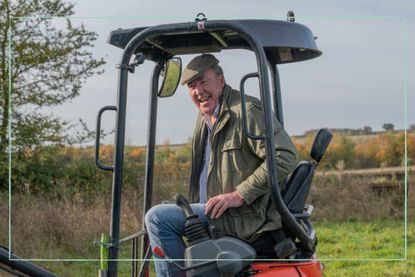 (Image credit: Future/Amazon Prime)
Amazon have shared a Clarkson's Farm season 2 release date for 2023 and we've got all the details on the upcoming series and Clarkson's Farm season 3 (opens in new tab).
Many of us laughed our way through the first series of Clarkson's Farm when it was released in July 2021. The documentary series shone a light on the difficulties faced by those in the farming industry, leaving many viewers stunned by the cost and scale of running Clarkson's farm and it's locations (opens in new tab), with copious amounts of time invested for little monetary return. Highlighting Clarkson's own foray into farming, the show also made a star of young farming contractor Kaleb Cooper who has become quite the TV personality since. The end of series 1 saw Clarkson open a farm shop on the site, with a restaurant shortly following - though we've got an update for you for those that were thinking of visiting.
Whilst the wait for Clarkson's Farm season 2 is almost over, the future of the show has been put into jeopardy following Clarkson's comments about Meghan Markle (opens in new tab). Published in The Sun newspaper last December, the presenter faced an almighty public backlash after, which is said to have affected his working relationship with Amazon.
When is Clarkson's Farm season 2 coming out? Release date confirmed
Amazon Prime have confirmed that Clarkson's Farm season 2 will be released on February 10, 2023. It's thought that all 8 episodes will be available to watch in one go, as was the case with season 1.
Speaking about what season 2 will bring, Dan Grabiner, Amazon Studios' head of UK Originals, said "We're just going into the edit now and it's looking very good. More Kaleb Cooper, more Gerald. You can understand a little bit more of Gerald this time. I think maybe every season, you'll understand a few more words of Gerald."
Fans had been eager for an update on when the second season would drop for some time - considering Clarkson's Farm season 1 came out in July 2021. Jeremy Clarkson responded to one curious fan on Instagram (opens in new tab) one year on in June 2022: "Filming ends in mid-July. So it should be edited and ready to go early in the new year."
There was an expectation the show's popularity would see it immediately renewed. When this didn't happen, social media was alight with unfounded rumours it had been cancelled.
Clarkson responded to these on his Twitter account (opens in new tab)on July 21, 2022, saying "I can reveal now that contrary to various silly reports, the farming show was never cancelled. Amazon was just as keen as us to get cracking".
Whilst fans have yet to see the latest installment of Clarkson's farm, the 62-year-old has posted updates on farm life via his social media accounts. He also released a book Diddly Squat: 'Til The Cows Come Home (opens in new tab) in September 2022.
Will Kaleb return for Clarkson's Farm season 2?
Yes, Kaleb Cooper has confirmed he will return for Clarkson's Farm season 2. Posting some first-look images to his Instagram (opens in new tab) page, Cooper shared a picture of Clarkson driving a tractor, and himself led across the front of it. He captioned the photo "Excited to share a first look at the second series of Clarkson's Farm!"
The breakout star of the farming series, quiet local Kaleb now has a social media following of over 1 million, where he shares details of his life with his fiancee and young son Oscar. Kaleb got down on one knee to Taya on Christmas Day in 2022.
Kaleb's popularity also led the young farmer to pen a book. The World According to Kaleb (opens in new tab) was released on October 13, 2022.
Where can I watch Clarkson's Farm?
Clarkson's Farm is exclusive to Amazon Prime Video (opens in new tab). Here you'll be able to catch up with the first series of the farming show and watch Clarkson's Farm season 2 when it drops in February.
An Amazon Prime membership which includes Prime Video, can be purchased for £7.99 per month. This includes all Prime benefits, such as next day delivery, and music streaming. Alternatively, a Prime Video only subscription can be purchased for £5.99 per month.
Video of the Week
Lucy is a multi-award nominated writer and blogger with six years' experience writing about entertainment, parenting and family life. Lucy has contributed content to PopSugar and moms.com. In the last three years, she has transformed her passion for streaming countless hours of television into specialising in entertainment writing. There is now nothing she loves more than watching the best shows on television and telling you why you should watch them.