Ed Sheeran court ruling: What was the verdict and why was he in court?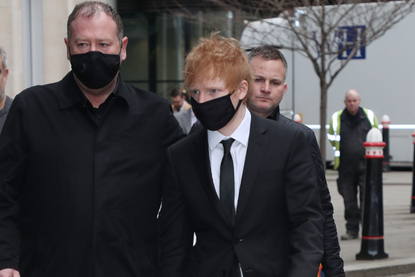 The Ed Sheeran court ruling over the 'Shape of You' dispute has been given at London's High Court after the singer stood trial to defend claims about his songwriting.
The 31-year-old Shape of You hitmaker has been pictured attending court various times since March 8th wearing a black suit and tie with white shirt and matching black face mask to attend a copyright claim hearing.
The singer-songwriter's tour is due to start next month and he is due to play several dates across the UK to promote his = album (opens in new tab) but before then, we look at what was the verdict and why was he in court...
Ed Sheeran court ruling - what was the verdict?
Ed Sheeran has won his High Court copyright trial against two songwriters who claimed he had copied portions of his 2017 hit single Shape of You after a judge gave his ruling. Giving his verdict on Wednesday (April 6th) following a trial in March, Mr Justice Zacaroli said Sheeran "neither deliberately nor subconsciously" copied a hook from the song when writing the "Oh I" phrase for Shape Of You.
The judge concluded that while there are "similarities" between the OW (Oh Why) hook and the OI (Oh I) phrase, there are also "significant differences" and that "such similarities are, however, only a starting point for a possible infringement action".
He also said that "compelling evidence" had been provided to show that Shape Of You "originated from sources other than 'Oh Why', and that claims Sheeran had heard the song before writing his own were "no more" than "speculative".
Ed and two of his co-writers - Snow Patrol's Johnny McDaid and producer Steve McCutcheon, known as Steve Mac released a statement, following the ruling.
It reads, "There was a lot of talk throughout this case about cost. But there is more than just a financial cost. There is a cost on creativity. When we are tangled up in law suits, we are not making music or playing shows.
"There is a cost on our mental health. The stress this causes on all sides is immense. It affects so many aspects of our everyday lives and the lives of our families and friends. We are not corporations. We are not entities. We are human beings. We are songwriters. We do not want to diminish the hurt and pain anyone has suffered through this, and at the same time, we feel it is important to acknowledge that we too have had our own hurts and life struggles throughout the course of this process.
"There is an impact on both us and the wider circle of songwriters everywhere. Our hope in having gone through all of this, is that it shows that there is a need for a safe space for all songwriters to be creative, and free to express their hearts. That is why we all got into this in the first place. Everyone should be able to freely express themselves in music, in art and do so fearlessly.
The statement continued, "At the same time, we believe that there should be due process for legitimate and warranted copyright protection. However, that is not the same as having a culture where unwarranted claims are easily brought. This is not constructive or conducive to a culture of creativity."
"We are grateful that Mr Justice Zacaroli has delivered a clear and considered judgment which supports the position we have argued from the outset. 'Shape of You' is original. We did not copy the Defendants' song."
The statement went on to say how they respect the music of others and found it "so painful" to hear someone "publicly, and aggressively, challenge your integrity."
They gave thanks to the messages of 'love, hope and support' from songwriters everywhere and added, "Thank you also to our publishers, who stood shoulder to shoulder with us at every step of the way. We are privileged to do what we do, and we know that. We want to live in a world where we are free to do what we do, openly and honourably.
While this has been one of the most difficult things we have ever been through in our professional lives, we will continue to stand up against baseless claims, and protect our rights and the integrity of our musical creativity, so we that can continue to make music, always.
"Our message to songwriters everywhere is: Please support each other. Be kind to one another. Let's continue to cultivate a spirit of community and creativity," it concluded.
Ed also released a video statement following the verdict to explain how to case had taken its toll on the songwriting industry.
You can watch the video in full below...
Why was Ed Sheeran in court?
Ed Sheeran has found himself at the centre of a copyright battle at London's High Court where he is accused of copying portions of his 2017 hit single Shape of You from another artist. The 31 year-old singer-songwriter released the track back in 2017 and it was a number one hit but the star is accused of copying the hook for the track which goes 'Oh I, oh I, oh I' from Sami Chokri's 2015 single Oh Why.
Sheeran and his co-authors launched legal proceedings in May 2018, asking the High Court to declare they had not infringed Mr Chokri and Mr O'Donoghue's copyright.
In July 2018, Mr Chokri and Mr O'Donoghue issued their own claim for "copyright infringement, damages and an account of profits in relation to the alleged infringement". Mr Sutcliffe accused Sheeran and his co-writers of issuing what he called a "slapp suit" intended to "intimidate" his clients with the burdensome cost of a legal defence "until they abandon their claim".
"No I wanted to prove I was right," Sheeran replied. "I'm trying to clear my name here."
In court on Tuesday, Ed sang elements of Nina Simone's Feeling Good and Blackstreet's No Diggity to illustrate how the melody is commonplace in pop music. You can hear the hook in question 1 minute 16 seconds into Ed's Shape of You...
https://www.youtube.com/watch?v=JGwWNGJdvx8&t=76s
While the other song it's claimed to be like is 38 second in...
You can hear the clip of Sami Switch's Oh Why, released in 2015, has a slower tempo but the repeated hook "oh why, oh why, oh why, oh" sounds similar to Sheeran's song.
Chokri and O'Donoghe's legal team have argued it was "extremely likely" Sheeran heard the song before Shape of You was written in October 2016.
But Sheeran and his co-writers deny this. Ed said he didn't know of Sami Switch at the time and hadn't heard the song before he was accused of ripping it off.
https://www.youtube.com/watch?v=a3VDY6ttikM&t=40s
Is Ed Sheeran going on tour in 2022?
Ed Sheeran is going on tour in 2022 he will be playing 49 UK dates for his + - = ÷ x Tour starting in London on March 21st and ending on July 1st. The tour will see Ed perform at the Electric Ballroom before moving on to Brighton, London, Dublin, Cork, Limerick City, Belfast, Sunderland, Manchester, Glasgow, and finishing in London playing Wembley Arena on July 1st.
Ed shared the full dates of his tour on his Instagram, including the dates of his international tour playing Zurich, Munich and Frankfurt. He captioned it, "@maisiehpeters will be the support act on the first leg of my '+ - = ÷ x' tour this year and @wiffygriffy will be joining me in the last 3 cities in Germany and Switzerland. If you haven't yet, grab your tickets now at www.edsheeran.com/tour Make sure you only buy from official vendors."
Who is Ed Sheeran's wife?
Ed Sheeran confirmed in 2019 that he had married Cherry Seaborn. Cherry was Ed's childhood sweetheart and went to the same Suffolk high school together, having known each other since they were aged 11. At the time the pair were just friends, however, despite Ed reportedly having a crush on her Cherry had a boyfriend at the time. She excelled in athletics, specifically field hockey.
After leaving school the pair went their separate ways with Ed pursuing a career in music, while Cherry studied science at Durham University where she led the hockey team to two British University championship victories in 2012 and 2013 before studying overseas in the US where she attended Duke University.
After a spell working inWall Street for accounting firm Deloitte, their paths crossed in 2015 after a chance meeting in Manhattan.
Cherry moved back to the U.K in 2016 where she transferred to the London office so she could be closer to Ed.
Speaking about their early romance, Ed told People, "I went on tour again, and then I went to Taylor's 4th of July party. I was texting [Seaborn], and she was like, 'I'm in Rhode Island at a 4th of July party,' and I was like, 'So am I.' I kinda said to Taylor, 'Can I invite one of my old schoolmates?' The rest is history." What a way to kick off a relationship!
The couple welcomed their first child Lyra in September 2021 (opens in new tab) but just months later and Ed and his daughter tested positive for Covid-19 (opens in new tab).
What is Ed Sheeran's net worth?
Ed Sheeran's net worth is £220m which is a £20m increase on his net worth in 2020, according to The Sunday Times Rich List 2021. With much of the music industry mothballed during the pandemic, Ed chose a perfect year for time off the road. But the Halifax-born singer's enormously popular back catalogue ensured the money still rolled in for Britain's wealthiest young musician. His latest album = features hit Visiting Hours (opens in new tab) will be featured when he tours.
Related video
Senior Entertainment Writer
Selina is a Senior Entertainment Writer with more than 14 years of experience in newspapers and magazines. She currently looks after all things Entertainment for Goodto.com, Woman&Home, and My Imperfect Life. Before joining Future Publishing, Selina graduated from the University of Sheffield in 2006 with a degree in Journalism. She is fully NCTJ and NCE qualified and has 100wpm shorthand. When she's not interviewing celebrities you can find her exploring new countryside walking routes, catching up with friends over good food, or making memories.