Nicky Hilton is expecting her third child with husband James Rothschild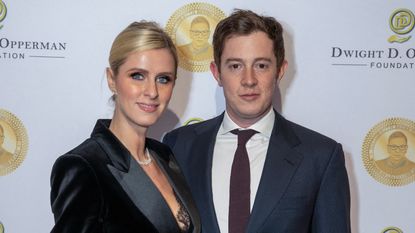 (Image credit: Getty)
Nicky Hilton has confirmed she is expecting (opens in new tab) her third child with her husband James Rothschild.
The socialite is sister to Paris Hilton, who is undergoing IVF (opens in new tab) to have twins with partner Carter Reum, and will be adding to her own family after sharing her happy news.
The author and shoe designer is already mum to daughters Lily Grace Victoria, aged five, and Theodora 'Teddy' Marilyn, aged four, and she confirmed to People that she was pregnant with her third child and is due to give birth (opens in new tab) this summer.
While her representative confirmed Nicky Hilton is pregnant, the sex of the baby (opens in new tab) is still unknown.
Nicky and James tied the knot in the summer of 2015 at Kensington Palace, and she previously described herself as "the luckiest mommy in the world" as she shared a beautiful snap of her and her daughters playing on National Daughter's Day.
In April last year, Nicky Hilton was almost destined to be pregnant as she admitted she loved spending more time with her children during lockdown.
In a Q&A she revealed, "I strangely liked the not leaving the house for days at a time. There was something so cozy about being locked down with my family. That quality family time was definitely the silver lining of the pandemic."
And in February 2020, she said that motherhood had taught her "Patience and being the best version of yourself."
But also admitted she struggled with "mom guilt".
She explained, "I think all moms suffer from mom guilt. I think we could all do better at that and it's important to still do the things you love. Don't let your children completely take over your life. Navigate that balance and find that balance.
"Whenever I do work trips, I'll feel guilty about leaving the children," she said.
"But at the same time, I think it's also setting a good example for your children about working on what you're passionate about. I want to lead by example."
You can watch a Q&A with Nicky and her sister Paris below which was filmed last January ...
https://www.youtube.com/watch?v=RGeuWF7teLs
Congratulations Nicky and James!