When will Doctor Who return? Plus, what we know about the show's 60th anniversary
The show will return for its 60th anniversary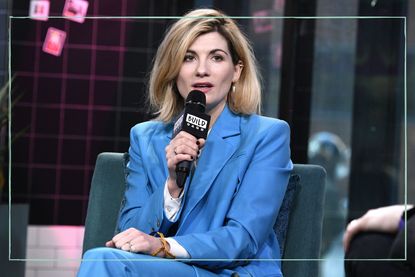 (Image credit: Getty Images)
Following a surprising regeneration for the recent series finale, fans are asking when will Doctor Who return?
Jodie Whittaker has just wrapped up her time on the show with a special episode of Doctor Who for the BBC's centenary. Though most fans have been asking who is the new Doctor Who (opens in new tab) since Whittaker - who recently gave birth to her second child (opens in new tab) - announced her plans to leave the show, the finale has thrown up a whole load more questions.
To viewers' surprise, old fan favourite David Tennant appeared on screens following Whittaker's regeneration scene - not Ncuti Gatwa, who has been confirmed as the next Doctor. Though the BBC had already announced that Tennant would be making a return, it was not revealed that it would be as the Doctor, and the revelation has left fans with burning questions about what happens next. So, with millions wondering when Doctor Who will be back on screens, we reveal all you need to know...
READ MORE: Is there a Doctor Who Christmas special in 2022? (opens in new tab)
When will Doctor Who return?
Doctor Who is expected to return in November 2023, for three special episodes marking the show's 60th anniversary. These episodes will see David Tennant return as the Doctor, alongside other former cast members Catherine Tate and the late Bernard Cribbins.
On 23 October 2022, right after Jodie Whittaker's final episode aired, the BBC released a teaser trailer for the upcoming special episodes, featuring both Tennant and Tate, as well as Ncuti Gatwa, star of Netflix's Sex Education, who has been confirmed as the next Doctor.
While Gatwa was previously thought to be taking on the role of the 14th Doctor after Whittaker's departure, it has now been revealed that he will in fact be the 15th, and that David Tennant's return makes him both the 14th Doctor as well as the tenth - a role he held from 2005 - 2010.
The BBC has said that Ncuti Gatwa's will take over the role following the 60th anniversary, and that his first episode will air "over the festive period" in 2023.
Doctor Who 60th anniversary: What we know so far
The BBC have been keeping their cards close to their chest when it comes to Doctor Who's 60th anniversary, but one thing we do know is that it will see the return of screenwriter Russell T Davis.
He was responsible for Doctor Who's revival in 2005 but left the show in 2010, handing over to Steven Moffat. He is also the writer and creator of It's a Sin, the award-winning Channel 4 series depicting the lives of a group of gay men and their friends during the HIV/AIDS crisis, starring Olly Alexander in the lead role.
Russell T Davies said following the recent Doctor Who finale: "If you thought the appearance of David Tennant was a shock, we've got plenty more surprises on the way! The path to Ncuti's Fifteenth Doctor is laden with mystery, horror, robots, puppets, danger, and fun! And how is it connected to the return of the wonderful Donna Noble? How, what, why? We're giving you a year to speculate, and then all hell lets loose!"
When pressed about the plot of the specials involving David Tennant and Catherine Tate he didn't give much away, saying "Maybe this is a missing story. Or a parallel world. Or a dream, or a trick, or a flashback. The only thing I can confirm is that it's going to be spectacular, as two of our greatest stars reunite for the battle of a lifetime."
Who will be in the 60th anniversary of Doctor Who? Confirmed cast members
David Tennant
Catherine Tate
Ncuti Gatwa
Neil Patrick Harris
Yasmin Finney
Neil Patrick Harris joins the Doctor Who cast as part of the show's 60th anniversary ❤️❤️➕💎Read more here ➡️ https://t.co/FzfBl0DaWm pic.twitter.com/Lzfc5kwLXOJune 13, 2022
See more
David Tennant revealed that his return for the 60th anniversary came about from a series of watchalongs called Doctor Who: Lockdown! during the Covid pandemic. He, Russell T Davies and his former co-star Catherine Tate, began to float the idea of a reunion between themselves, which eventually became a serious proposition.
Tennant told BBC News: "Me and Catherine would text, 'Wouldn't it be fun to do it again?' And Russell would say, 'We could do a one off, maybe they'd let us.'
He added, "Suddenly Russell let us know that he was taking over the show again and he would be back fully in charge and would we come and play a little bit for him?
"I don't know if we gave him the idea to take Doctor Who back but certainly we thought if he's doing it, we can't let these young people have all the fun."
Where can I watch Doctor Who 2022?
Doctor Who airs on BBC One in the UK, and is available to watch on catch up on the BBC iPlayer.
Meanwhile, HBO Max (opens in new tab) has the rights to stream the modern era of Doctor Who in the US. With an HBO Max subscription, which costs $14.99 a month, you can stream the 13 seasons aired since 2005.
Video of the Week
Ellie joined Goodto as a Junior Features Writer in 2022 after finishing her Master's in Magazine Journalism at Nottingham Trent University. Previously, she completed successful work experience placements with BBC Good Food, The Big Issue and the Nottingham Post, and freelanced as an arts and entertainment writer alongside her studies. In 2021, Ellie graduated from Cardiff University with a first-class degree in Journalism.